Advertisement

The tussle between two factions — led by Mulayam Singh Yadav and son Akhilesh — to gain control of the ruling Samajwadi Party in the poll-bound Uttar Pradesh became bitter on Monday over the claim for its election symbol, cycle….reports Asian Lite News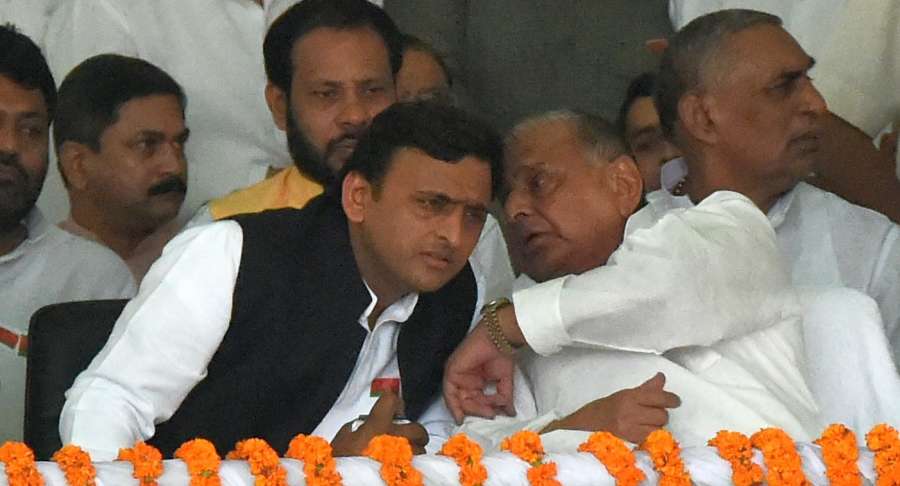 According to sources, both factions are to to meet the Election Commission of India in Delhi to claim that they were the actual Samajwadi Party.
While the Akhilesh faction was sending party national General-Secretary-turned-mentor Ram Gopal Yadav as its emissary to the poll panel, the other faction was being led by Mulayam Singh himself.
The party founder would be accompanied by loyal younger brother Shivpal Singh Yadav and Rajya Sabha member Amar Singh, who returned mid-way from his New Year family vacation in London.
Before leaving from here for Delhi, Mulayam Singh told the media that the party belonged to him as he enjoyed the support of the people of India's most populous state.
At an emergency national convention on Sunday, Akhilesh upstaged his father as the party chief and appointed himself as the Working National President. He also replaced state unit chief Shivpal Yadav with his loyalist and legislative council member Naresh Uttam.
The convention, declared illegal and unconstitutional by Mulayam Singh, also expelled Amar Singh from the party.
In the night, a tense Mulayam Singh's blood pressure was reported to have shot up and a team of doctors was requisitioned for a medical check-up.
In Delhi, the party sources said Akhilesh will show the poll panel video recordings, papers and resolutions signed by at least 40 per cent of party workers — the number required to call an emergency convention as per Samajwadi party constitution.
The faction was also relying on Ram Gopal Yadav's skills as a man who was instrumental in drafting the constitution of the party 25 years back.
Mulayam Singh was also depending heavily on the very same constitution and the clauses within it to put forth an argument that the national convention called in haste was in contravention to the laid down rules of the party and hence anything that happened in it was invalid.
The sources said Amar Singh, who arrived in Delhi from vacation in London, was also to lining up a battery of legal eagles and constitutional experts to pitch in for the Mulayam Singh faction.
Reacting to his expulsion from the party, Amar Singh told reporters: "Once Mulayam had said that I am in his heart not in the party. So, if Mulayam expels me from his heart then it will be saddening for me. The party does not matter to me."
All eyes were now on the final call the poll panel would take.
According to constitutional experts, in all likelihood, the poll panel could freeze the party symbol and allot new symbols to both factions to contest the state assembly elections scheduled to be held this year.
This might come as a blow to both sides as the party symbol of 'cycle' was a well established brand.