Advertisement

With Holi, the Festival of Colours, concluding, it seems to be time for some fireworks in the Samajwadi Party (SP), which was humbled by the Bharatiya Janata Party (BJP) in the just-concluded Uttar Pradesh assembly elections….A special report by Mohit Dubey

  for Asian Lite News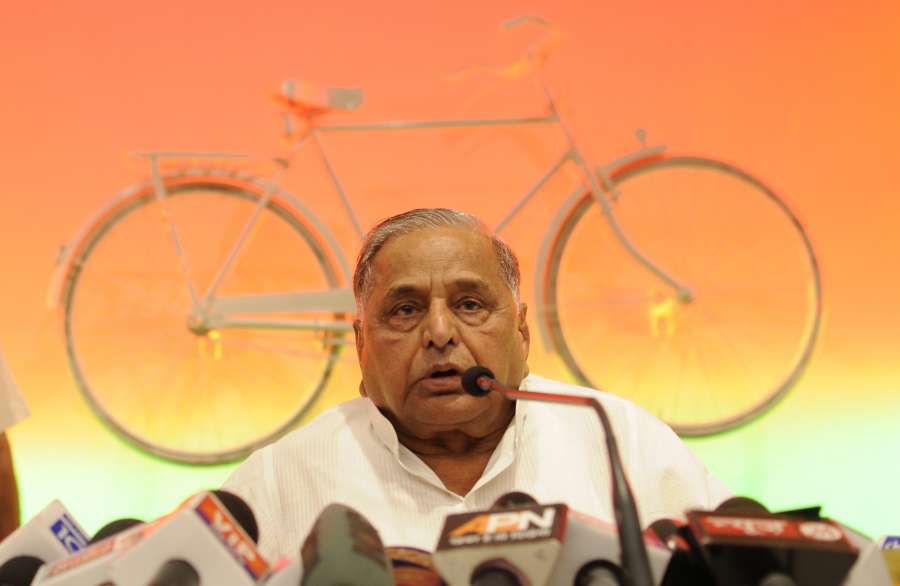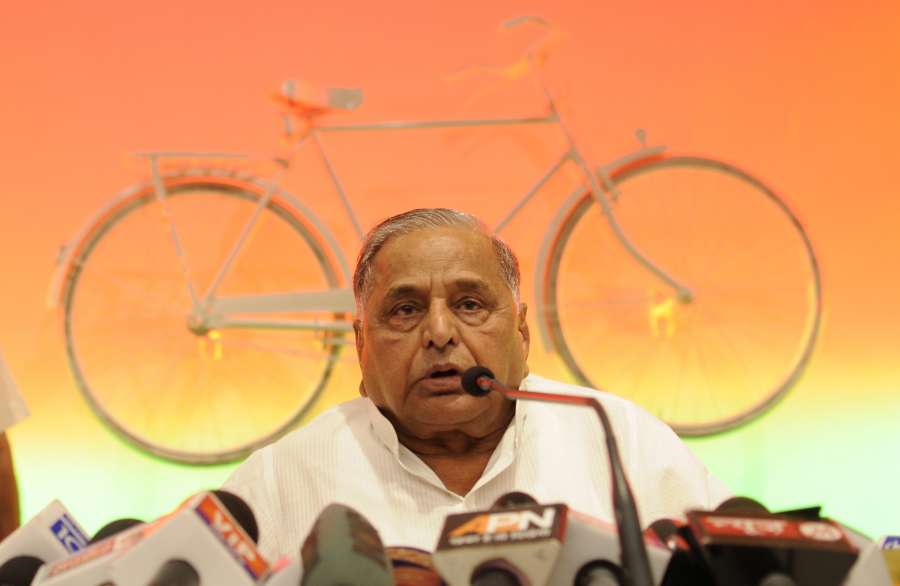 Reduced to an all-time low of 47 in its 25th year, rumblings have begun in the erstwhile ruling party, which now has a hugely diminished aura and numbers in the 17th Vidhan Sabha. The first murmurs were heard even as results poured in on Saturday and it became evident that the SP would touch a new low and the BJP a new high — a landslide of 325 seats along with its allies.
It was only after the results were announced that SP founder Mulayam Singh Yadav, who was edged out by his Chief Minister son, Akhilesh Yadav, as the national president of the party on January 1, went, for the first time, to the Janeshwar Mishra Trust — which housed the war room of the Congress and SP alliance.
A stone's throw from his sprawling 5, Vikramaditya Marg, bungalow on Panch Bangalia, the tense-looking Yadav chieftain reportedly had gone to meet with and console party workers. He, however, was there for just five-odd minutes and left when he saw his son. Akhilesh, though, is said to have hurriedly pulled himself together and touched his father's feet.
Mulayam said nothing and just drove away. He later left for the airport and flew to Saifai, their native village, for the annual Holi celebrations, almost a ritual for the family.
Akhilesh Yadav left a little later and took the Agra-Lucknow Expressway to drive with his family to Saifai. Enroute, he met some supporters who had gathered along the route. "We will see what went wrong, do not lose heart," he told the young men in a bid to lift their spirits.
Akhilesh, after the rout at the hustings, rued that he never knew people would vote him out so badly despite the work done by his government in the past five years. "Main samajh gaya hoon ki vote samjhane se nahin, bahkane se milta hai," (I've understood that votes are gained by pulling wool over people's eyes) he said.
He also taunted the voters by saying: "I guess people did not like the Expressway and were rather looking for a bullet train to come to Uttar Pradesh." A reference to one of Prime Minister Narendra Modi's pet schemes.
Insiders say the swords are out and soon a "pitched battle would be fought in the open" in the SP. Shivpal Singh Yadav, who was locked in a bitter feud for power within the party since October last year and was completely sidelined in the assembly elections, is now waiting for his turn to strike.
Shivpal, who won from Jaswantnagar yet again with a huge margin, now stands vindicated. During the infighting, he had openly told Akhilesh that he was on a suicidal mission with the likes of Ram Gopal Yadav and the young brigade that included Udayveer Singh, Sanjay Lathar, Sunil Singh Sajan and other close aides. Both Mulayam and Shivpal had forewarned Akhilesh about having any truck with the Congress.
Akhilesh, however, rode roughshod over this advice and not only promoted his close aides, did whatever uncle Ram Gopal said and joined hands with Congress, even going to the extent of giving the alliance partner 105 of the 403 seats. The Congress had 28 legislators in the outgoing house and is now down to a mere seven, its worst-ever performance in Uttar Pradesh.
An angry Mulayam never campaigned for SP candidates and stuck to canvassing for Shivpal and daughter-in-law Aparna Yadav. Shivpal was not asked to campaign either, and Akhilesh and Dimple were the only star campaigners in the staggered polls.
The extent of anger in the now-divided family can be gauged by the fact that it was for the first time that Shivpal did not turn up for the Holi do at Saifai, where every year the clan meets and celebrates the festival in style.
After the party's rout, Shivpal has said openly that this was not the defeat of the Samajwadi Party, but a defeat of "ghamand" (arrogance). He chose to stay put in Etawah and play Holi with his fans and supporters.
Mulayam, it is said, drove off to Lucknow as son Akhilesh arrived in Saifai. The whereabouts of Ram Gopal Yadav are not known.
Just before the last phase of polling in Uttar Pradesh, Mulayam's second wife Sadhna Gupta, in an interview to a television agency, had slammed Akhilesh for "showing disrespect to neta ji". The interview, many political observers here had inferred, was a "signal of things to come post polls".
While Mulayam, in an informal chat on Holi eve, told some close aides that Akhilesh alone could not be held responsible for the rout, and added that "anger of Shivpal and Amar Singh was understandable", he is also learnt to be very cut-up with Akhilesh.
He privately holds him and him alone responsible for the party's disastrous show at the hustings, a close aide informed.
Mohd Azam Khan, a party stalwart and one of the founding members of the SP, was spotted weeping openly at a public meeting in Rampur on Sunday. Unable to take the loss, he was addressing a gathering of supporters when he broke down.
Akhilesh has called a meeting of the newly-elected party legislators on Wednesday and it is likely that any future strategy will then be spelt out. For now there is an ominous silence in the Yadav clan and in the SP, which, many feel, could be the proverbial calm before the storm.