Advertisement

At an election rally in Uttar Pradesh, when Congress Vice President Rahul Gandhi imitated the "mitron" idiom of Prime Minister Narendra Modi, the audience burst into laughter and cheered him for well over a minute….writes  Mohit Dubey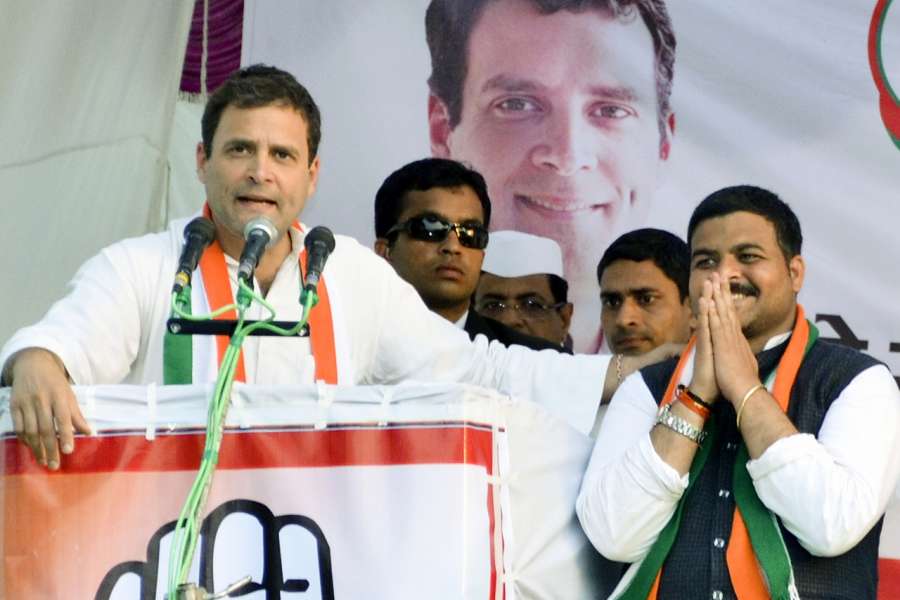 The Uttar Pradesh polls could well be the defining moment for the Gandhi scion who is looking more confident, combative and expressive.
Sample this:
At his first joint presser with Akhilesh Yadav at a five star property in Lucknow, when a reporter introduced himself as a representative of the No. 1 channel, Rahul jokingly took him on.
"Arre aap to Modi ji ho gaye, aap hi number one, aap hi number two our aap hi number three, aur koi nahin," he said as the crowd of hacks burst into peels of laughter. As the laughter continued, even Akhilesh joined in.
At two rallies — Fatehpur and Rae Bareli on Friday — the Gandhi scion targeted Modi with a Bollywood punch. "When Modi ji came two-and-a-half-years back he was in the (Shahrukh starrer) 'Dilwale Dulhania Le Jayenge' mode, but now he has turned into a Gabbar (of Bollywood classic 'Sholay' fame).
With party President Sonia Gandhi unwell and not showing up to campaign, the stubble-sporting, jeans- and kurta-clad 46-year-old Rahul Gandhi seems to be on a high. He and his sister Priyanka played a key role in stitching an electoral alliance with the ruling Samajwadi Party.
The young Gandhi's mannerisms, interactions and speech delivery have considerably improved, say aides. Even cynical Congress supporters agree.
"I am quite delighted at what I am seeing and hearing," says Ali Hasan, an old-time Congress supporter from Chowk. "It is certainly a more mature, humble Rahul."
He pointed out how during the roadshow in Lucknow's old city, Gandhi appeared in control despite the presence of Chief Minister Akhilesh Yadav.
"His style of connecting and communicating has certainly improved. He is more direct in his attacks, candid in his replies," said a veteran journalist.
The state unit of the Congress, which has lived in political wilderness for more than two decades, has found a sudden spring.
An office attendant at the Uttar Pradesh Congress Committee office said that the changes in "Rahulji's style" had triggered hope in the rank and file.
At the dozens of election rallies and three roadshows Gandhi held with Akhilesh Yadav in Kanpur, Agra and Lucknow, the crowd sensed the new avatar of Gandhi and his new-found confidence.
Nazneen, a physiotherapist in Lucknow's Hussainganj area, said: "He is so good looking. The only thing that made him a 'pappu' was his lacklustre oratory and poor confidence. He seems to have overcome that. I am certainly bowled over by his charisma."
At Haridwar in Uttarakhand, a tense situation arose when his cavalcade was passing through a place where hundreds of BJP supporters started jeering Gandhi and shouting "Modi, Modi".
Gandhi smiled from atop the bus he was travelling in and remarked he was happy that BJP members too had come to hear him. There were smiles on both sides and the road show continued uninterrupted.
His jibes at Narendra Modi — he peeps into others' bathrooms, he heads a suit-boot ki sarkar — have endeared him to the crowds and forced the Prime Minister to respond, almost every day.
Till now the Modi camp was not even noticing the Congress leader. Or so it claimed.
The change in style comes as a soothing balm for the besieged Congress workers in the state where staggered assembly elections began on February 11.
Will the Gandhi aura turn into votes for the SP-Congress alliance and dent Modi's appeal? The answer will come on March 11 when votes polled in Uttar Pradesh and four other states get counted.