Advertisement

While the Indian army fights a proxy war on the country's borders, Defence Minister Manohar Parrikar now faces a shadow war on his home turf, the Panaji assembly seat, when Goa votes on February 4….writes  Mayabhushan Nagvenkar in his column 'News Analysis'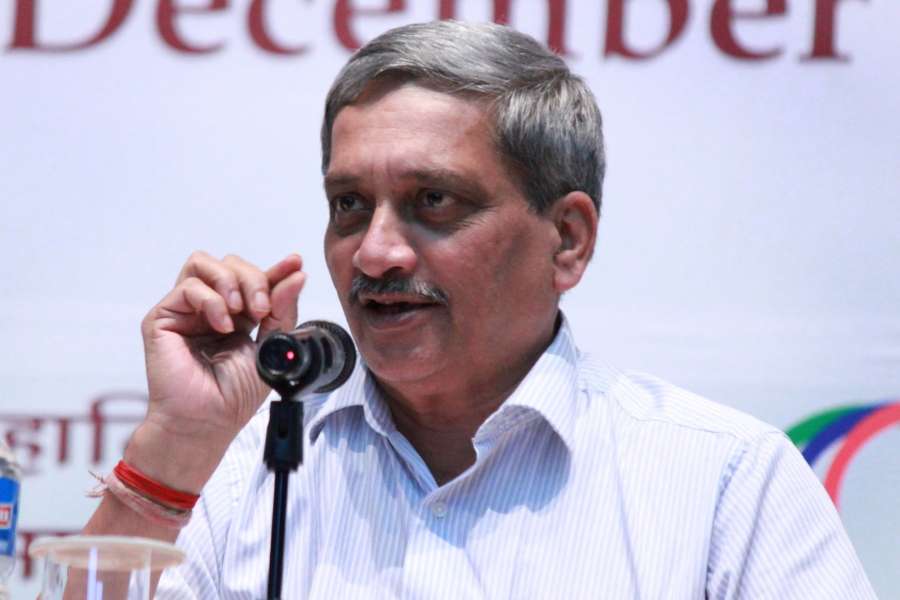 Taking on the BJP is Parrikar's political guru, former state RSS chief Subhash Velingkar, who earlier unveiled his electoral weapon — one that is expected to give Parrikar a substantial niggle in the run-up to the election where the BJP is desperately fighting to hold on to power.
The Goa Suraksha Manch (GSM), a Velingkar-backed outfit, named modest city businessman Krishnaraj alias Raju Sukerkar, known as one of Parrikar's closest friends and aides, as its candidate for the Panaji seat.
The Sukerkar residence — Sukerkar Mansion in the heart of Panaji — is one address Parrikar has regularly frequented in all his political avatars, as MLA, as opposition leader, as Chief Minister and now as Defence Minister, where witnesses say, 'Raju' and he often chat over the latter's favoured snack of phulka (light oil-less roti) and black tea.
Sukerkar does not deny his friendship with Parrikar but adds that he is contesting the Panaji seat against Parrikar's nominee and outgoing MLA Sidharth Kuncolienkar on the instructions of his guide and guru Velingkar, and as a matter of principle.
"We have a friendship, but friendship, ideology and politics are three different sections which should not get mixed up… GSM is 110 per cent convinced that whatever I do is sincere," Surkerkar told IANS, shortly after his candidature was announced.
Asked about his chances of winning, he said: "However experienced one is, in politics an election is an election. Until counting day, it is tough for everyone. Judging by the reactions of the people and the support of the people, my victory appears certain."
Apart from his friendship with Parrikar, Sukerkar was also involved in a big-ticket land transaction with Parrikar's son Abhijat some years back.
Sukerkar's willingness as a Swayamsevak to take on a friend of decades in Parrikar, who represented the Panaji seat from 1994 to 2014, is only an indication of how complex the coming election is expected to be.
About 10 political parties and a ost of independents are expected to field candidates for the 40 seats.
With the Congress staving off the fledging Aam Aadmi Party from gnawing away at its minority vote bank, with the regional parties — the Maharashtrawadi Gomantak Party (MGP), the Goa Vikas Party, the Goa Suraj Party and sundry others weaving and bobbing about, and with the once-confident BJP now having to scramble to keep the Hindu vote intact, the campaign and the electoral contest is expected to be a nail-biting one.
On Tuesday, the contest for the BJP just got a lot tougher, with the GSM, MGP and Shiv Sena launching a pre-poll alliance, with Velingkar as its convener. It will contest 37 seats.
Of particular interest is the battle between Velingkar, who is regarded by both his fans in the Sangh and now foes in the BJP as Bhishma Pitamaha of Goan politics, and his most celebrated pupil and master-strategist, Parrikar.
After mentoring dozens of top state BJP leaders, including Chief Minister Laxmikant Parsekar, Union Minister of State for AYUSH Shripad Naik, over three decades, Velingkar is a man on a mission to defeat the BJP in these elections.
He has been co-convener of a pro-regional languages front, which has been critical of the state BJP, and Parrikar in particular, for their alleged betrayal of regional languages over English as a medium of instruction in Goa's primary schools.
The campaign resulted in his sacking as Goa Sangha Chalak and from the managing board of RSS-run schools in the state.
With the introduction of Sukerkar as Velingkar's man against Parrikar's hand-picked candidate in Kuncolienkar, the former RSS man may have just turned Parrikar's political backyard into a mine-field of sorts where the Defence Minister may have to tread carefully.
The BJP for now appears to be taking Velingkar's move in the right spirit. Asked to react to Sukerkar's candidature in Panaji, BJP spokesperson Premanand Mahambrey said: "All is fair in love and war."
The result will be known on March 11.