Advertisement

Call it Varanasi, Banaras or Kashi — the city is little bothered about life around and takes it as it comes. But when it comes to politics, everyone has a strong view on the subject. With voting for the state assembly polls due here only days ahead of the Holi festival, the streets of the holy city are abuzz with discussions, rumours, and diverse viewpoints….A special report by Saroj Kumar for Asian Lite News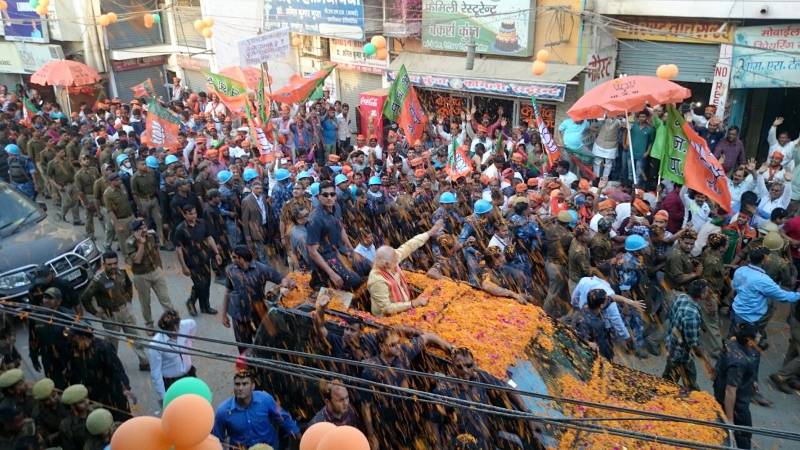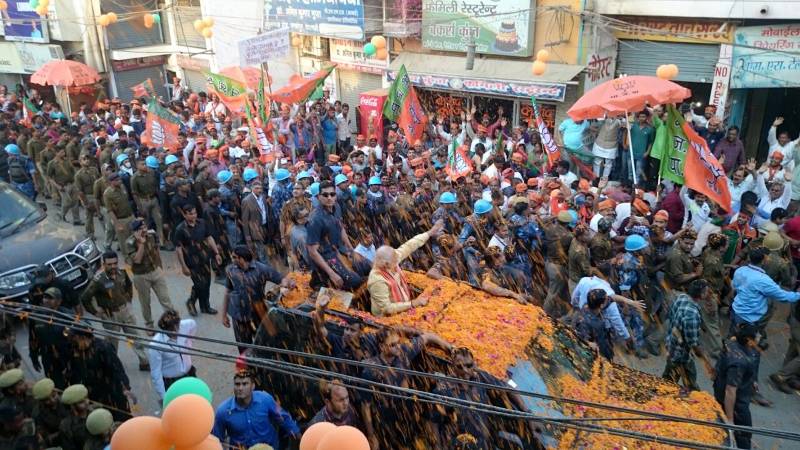 The hectic road shows of Prime Minister Narendra Modi, Chief Minister Akhilesh Yadav and Congress Vice President Rahul Gandhi have further convulsed the political discourse in the historic city and the areas around, which go to polls on March 8. Every single paan shop, tea joint and prominent chowks here has groups of people animatedly debating who is going to win and why.
The city's Godolia Crossing, which fell on the route of Prime Minister Modi's road show on Saturday, has several crushed hemp and hemp-mixed "thandai" joints, including Raju Thandai Corner. This popular Corner witnesses a large gathering fiercely debating and exchanging views every evening, that too in the local dialect.
A day after Modi's road show, middle-aged Ram Kumar Yadav said: "Guru, Modi's road show has charged up the atmosphere. There were huge crowds in his road show…looks like Akhilesh-Rahul will be given a run for their money…"
Pat came the reply from Vijay Jaiswal, almost of same age: "O hello, don't under-estimate Akhilesh-Rahul. Did you see the crowd in their road show? It was no less. They had a real impact on the people…or else Modi wouldn't have stayed put in Varanasi for full three days."
Another to join in was Akhilesh Sharma, who added a fresh angle to the debate: "Boss, Bahenji (Mayawati of the Bahujan Samaj Party) is nowhere to be seen, no?"
The fourth participant, Chanchal Vishwakarma, gave an "exclusive information": "Arrey, don't you know? There's a 'setting' between BJP and Behenji…BJP is supporting her wherever they are weak. You take it from me, after polls, they will come out in the open."
"In Pindara seat, BJP is supporting Behenji. Finally, BSP will support BJP (to form the government)…"
Bharatiya Janata Party's Dr Awadhesh Singh, Bahujan Samaj Party's Babulal Patel and Congress' Ajay Rai are contesting from Pindara constituency of Varanasi district.
Jaiswal jumps in: "Bhai, we are also hearing similar things about Congress and BSP. Maybe, that is why they are not talking harshly of each other's candidates. Don't be surprised if Congress backs Behenji to form the government…"
By now, all the four had gulped down their "thandai" glasses, and so pushed off on their motorbikes.
Going by the adage "where there's smoke, there's fire", the reporter went round to check the talk and rumours about tie-ups flying thick and fast in the city. He contacted a senior Rashtriya Swyamsevak Sangh (RSS) functionary.
Preferring anonymity, the RSS leader said: "We have also heard about such talks doing the rounds in Varanasi, but it's baseless…though we are always ready to support good people. It's election time and it's Holi time…so don't trust all that you hear on the streets."
The Congress leaders also rejected such tie-up possibilities. A state-level leader said: "We are hearing about the possibility of BJP-BSP post-poll alliance. But talks of Congress-BSP alliance are entirely baseless. We have a tie-up with Samajwadi Party, and we will stick to that."
So, if you are in Varanasi these days, do keep in mind: Some talks are only for ears, others may be given some thought, while the rest are mere Holi-eve poll gossip — flowing out of the 'thandai' glasses.