Advertisement

It's been a colourful campaign in this high-profile seat abutting Delhi with BJP's Pankaj Singh, son of union Home Minister Rajnath Singh, locked in a triangular contest with candidates of the Samajwadi Party and Bahujan Samaj Party….writes Sidhartha Dutta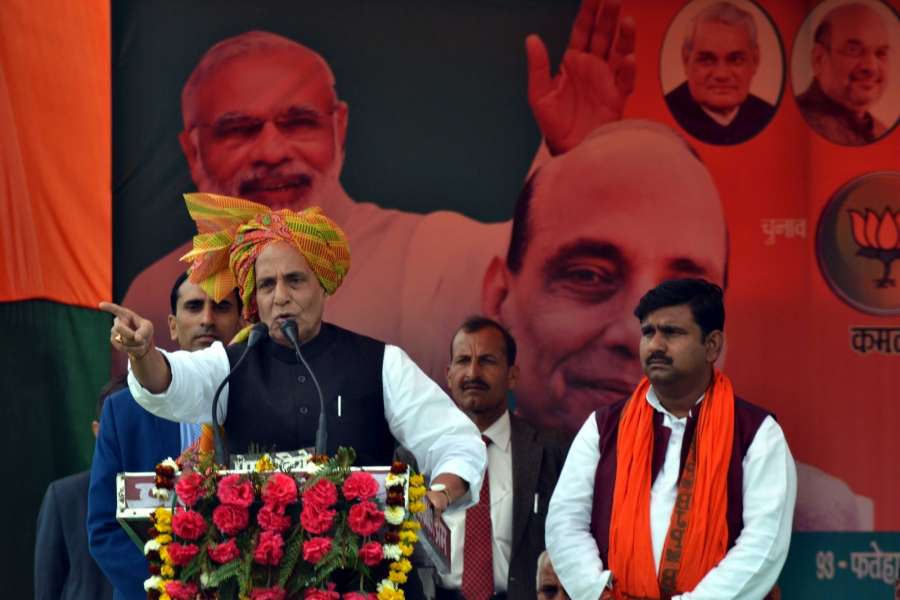 The election is vital for Pankaj Singh, 38, as he is making his debut in an assembly poll.
The outcome and its margin are likely to have political ramifications for his father who has been a Chief Minister of Uttar Pradesh. BJP's victory in the previous two assembly polls in Noida has given some momentum to Pankaj Singh's campaign, but residents here say that BSP's entry has made the contest tight for him.
The BSP has fielded a new candidate Ravikant Mishra, a Brahmin, while Samajwadi Party's Sunil Choudhary had contested an earlier election.
The three contenders campaigned extensively on Thursday, the last day of electioneering for the first phase elections across 73 constituencies in Western Uttar Pradesh.
Noida is a relatively new assembly seat, carved out as a separate constituency from Dadri in 2012.
Enthusiasm among voters was evident with many shops and houses sporting party flags. While posters were placed tactically near major roundabouts, auto drivers were also flying party flags on their vehicles.
BJP's Mahesh Sharma, who is Union Minister of Tourism and Culture (Independent Charge), won the seat in 2012. After Sharma was elected to the Lok Sabha in 2014, the seat was won by BJP's Vimla Batham in the by-election.
Batham acknowledged that she was initially "deeply pained" over being denied the ticket but later came to terms with it when she was promised "bigger responsibility" by the party, she told. She has been campaigning for Pankaj Singh.
According to locals, the BJP's election margin was less in 2012 when the BSP contested and more in the 2014 by-election when the Mayawati-led party did not put up a candidate.
"BSP's presence has made it tougher for Pankaj Singh as the party has a committed support base. The BJP got more votes in 2014 compared to 2012. The BJP is strong in the urban sectors, while BSP is strong in rural areas," Baljit Singh, a resident of Morna village, told.
"Gurjar votes are getting divided in three everywhere. Most of the Gurjars will give their vote to BJP, some to SP and a few to BSP," he added.
Mahesh Sharma polled 77,319 votes in 2012 while BSP's Omdutt Sharma got 49,643 votes and finished second. Samajwadi Party's Sunil Choudhary got 42,071 votes.
In 2014, when the BSP did not contest and the SP replaced Choudhary with Kajal Sharma, the BJP got 61 per cent (1,00,433) votes. Sharma polled 41,481 votes.
The BJP's rivals are also banking on a possible split in its votes as Batham was denied ticket. Batham's supporters, who were earlier upset, have now reconciled and accepted Pankaj Singh as the candidate.
The SP and BSP have termed Pankaj Singh as an "outsider."
"Replacing the sitting MLA will also have an impact in the elections. They (BJP) have brought an outsider, while I belong to Noida. People will vote against them," Choudhary told during his tour of Morna village in Noida.
BSP's Mishra said he will get votes from all sections as party leader Mayawati has the reputation of being a strong leader who is harsh on anti-social elements.
"They (the people) want Noida to be free of crime and Behenji (Mayawati) had worked towards this during her rule. My contest is with the son of the country's Home Minister. I belong to a humble family and my father is a retired bank employee. We will get votes from all caste and communities and from rural and urban areas," the BSP candidate said, adding that his agenda was development.
Pankaj Singh, who has been touring both urban and rural areas, said the BJP was putting up a united fight and "all were together". "The campaigning has been going good. It looks very positive," Singh told.
Asked about Vimla Batham, Singh said he has her support. "We go for campaigning together. We are all together," Pankaj Singh, who was active in the youth of the BJP since 2002, added.
Noida has about 5.2 lakh voters, nearly four lakh of whom are urban. Gurjar, Jat and Dalits are among major communities here and it also has a substantial migrant population.
Kishan Kumar, a businessman in Atta Market, said that demonetisation of Rs 500 and Rs 1,000 notes does not appear to be going against the BJP at least in the urban areas.
"Demonetisation was a good decision. There were some difficulties but that did not make such a difference," he said.
Kumar added that the BJP was more strong in urban parts of the constituency while the BSP and SP have their pockets of strength in the rural areas.
Uttar Pradesh goes for seven-phased election for its 403 assembly seats from February 11 to March 8.