Advertisement

There is no wonder in one getting emotional when reaching back home where he has all the good memories of his growth and the people in your hometown the main pillar behind your achievements. Prime Minister Narendra Modi was also thinking in the same way when he returned to Rajkot where he made his first victory in parliamentary politics….reports Asian Lite News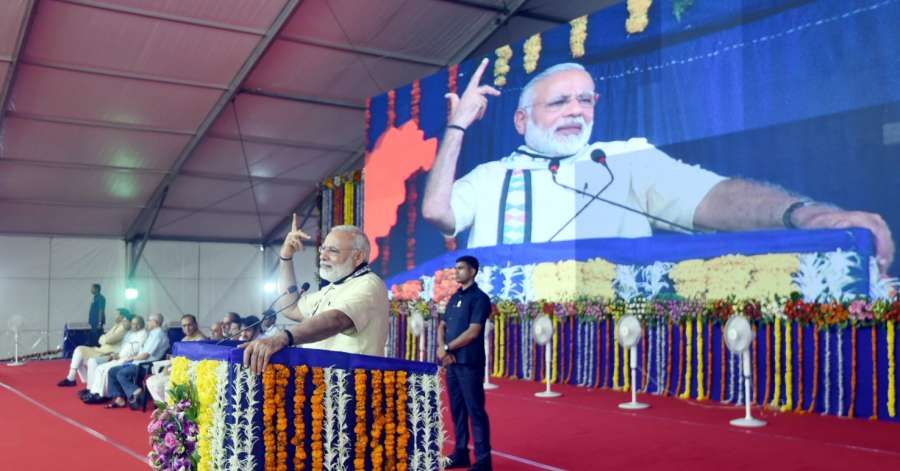 Special selfie zones in the backdrop of surgical strike hoardings, light and sound shows, countless cut-outs and cheering crowds greeted Prime Minister Narendra Modi as he was given a victor's welcome in Gujarat's Rajkot city where he won his first election in February 2002.
The 12-km road show in Chief Minister Vijay Rupani's hometown created a Diwali like atmosphere, with the entire city decorated with colourful lights to celebrate the arrival of the Narmada waters at Aji Dam, a major source of drinking water for the people there, in the presence of Modi.
A heavy downpour failed to prevent thousands from thronging to see the Prime Minister. Moved by the warm welcome, Modi climbed out of his official car to greet and wave at the surging crowds.
Modi landed in Gujarat on Thursday morning on a two-day visit.
Before the roadshow, the Prime Minister attended a function at Aji dam to celebrate the arrival of the Narmada water and attended a function to distribute kits and aids to differently abled persons for whom Modi has coined the term 'divyang jan'.
He came down heavily on the previous Congress-led UPA government saying they never showed any concern for the differently-abled persons.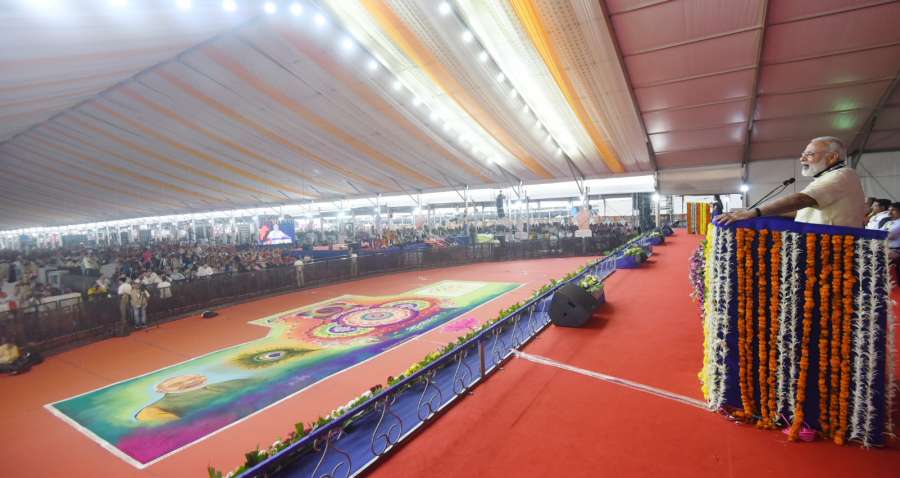 Modi said from 1992 till 2014, when he became the Prime Minister, only 55 camps were organised in different parts of the country to distribute kits to the disabled.
Ever since the BJP-led government came in power in May 2014, more than 5,500 such camps have been held for the over 7.50 lakh differently abled persons in the country, he said.
"It shows the present government's sensitive approach to the problems faced by different sections of the people."
He became emotional during the speech, saying Rajkot had a very important place in his political career.
If the people of Rajkot had not sent him to Gandhinagar, he would perhaps have not made it to New Delhi, Modi said, referring to the first election he fought from Rajkot II assembly constituency in February 2002.
Modi became the Chief Minister of Gujarat in October 2001, got elected as a legislator to the assembly from Rajkot II constituency in a by-election.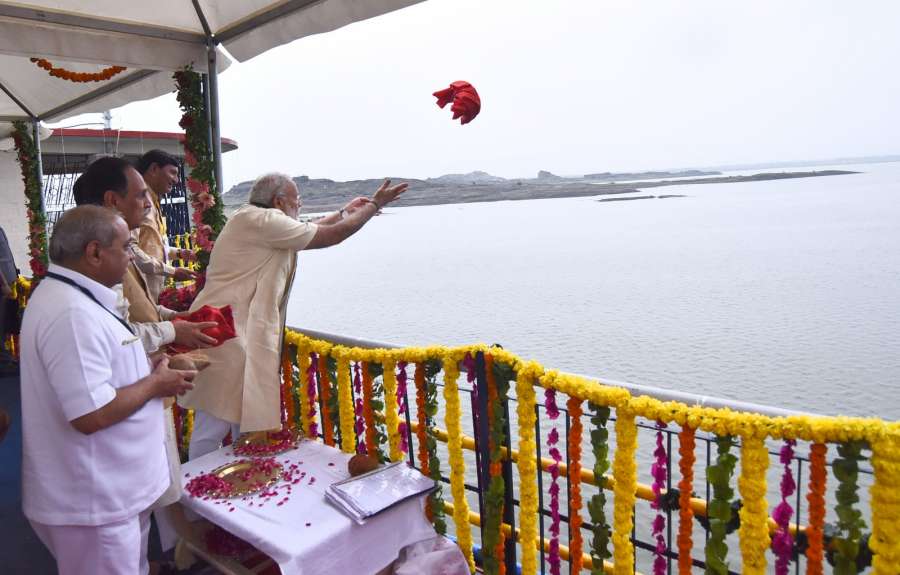 The seat was vacated by current Karnataka governor Vajubhai Vala, who traditionally represented the assembly constituency.
The site of Aji dam that has been filled with waters from Narmada as part of the Narmada project was cheered by the locals.
The Aji damn got filled to the brim only 11 times in the past 40 years and so the arrival of waters for the parched Rajkot city assumes significance.
Modi suggested to farmers of the region to shift to drip and sprinkler irrigation to avoid draining out aprecious water.
Referring to "housing for all", Modi said: "We have a dream that in 2022, when we celebrate 75 years of independence, every Indian shall have a house of his own. The work is massive, it is difficult and I know that. However, whatever has not happened in 70 years, can happen in five years."