Advertisement

The burning issues that have remained at the centre of national discourse ever since the NDA government came to power — intolerance, Uniform Civil Code, reservation for Muslims, changes in textbooks, Hindutva and Hindu Rashtra — and the views of Rashtriya Swayamsevak Sangh (RSS) on these were extensively explored at a discussion at the Jaipur Literature Festival (JLF)….writes  Saket Suman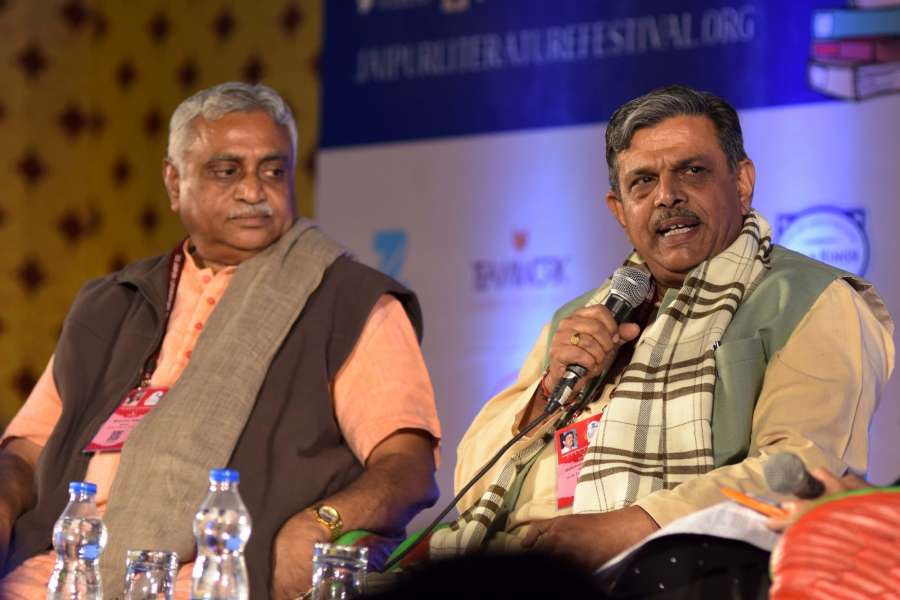 In the closing session on the second day of the ongoing lit fest "Of Saffron and the Sangha", Manmohan Vaidya, head of RSS' communications department, and Dattatreya Hosabale, the organisation's joint general secretary, participated in a discussion with journalist Pragya Tiwari, attended by Rajasthan Chief Minister Vasundhara Raje among others. Chanting Sanskrit slokas, quoting RSS ideologues and delving on the ideology of the RSS, the two engaged in over an hour-long discussion even as many in the audience disagreed, while others cheered in approval.
On the idea of nationalism, as defined and understood by the RSS, Vaidya said: "The idea of nationalism is alien to India. RSS believes in an idea of common national identity. For RSS, it is the people that make the nation. You can join RSS and for that you do not have to leave your faith, but you have to believe that there exists a way of life beyond your faith too."
Vaidya, when asked by the moderator (Pragya Tiwari) to share his views on intolerance, as many of the affiliates of the RSS have been accused of being intolerant, said: "People have diverted from core issues so there are problems. Intolerance exists among those who are against Hindutva and diversities."
"Hindutva is about bringing everyone together. We do not believe that everyone should accept one faith but coping with all diversities and yet living harmoniously and working in the interest of the nation is what RSS wants to achieve," he added.
The RSS leader was then interjected by the moderator and asked to comment on minority reservations, on Muslim minorities particularly. "It has been widely held that no reservations should continue for too long as it begins to be taken for granted. On Muslims, we have seen that 68-70 per cent of the Muslims live in Bengal, Bihar and Uttar Pradesh, which in themselves are very 'pichre' (backward) regions. So their poor socio-economic status is well understood."
"These issues are to be addressed within the community. What is keeping them behind. This should be done for all communities, not just for one," Vaidya said.
Elaborating further, he said: "The subject of reservation has been there for SC/ ST in a very different context. There should not be any reservation for any community for a long time. There should be more opportunities, more education for everyone, but more than that is complete appeasement and that is what has been seen."
On acts of violence by affiliates or supporters of RSS, Hosabale responded by condemning it. "Any violence is wrong and particularly if it is against any particular community. No question of condoning because the RSS has never supported violence.
"If some people are out there to attack the RSS then it is but human to retaliate. Now RSS people are being attacked in Kerala but the state government is not doing its duty. We see that if somebody from one particular community is attacked then it makes all the noise, but when RSS is attacked, nobody talks about it," Hosabale said.
Vaidya also said that the education system should be revamped, based on "the ethos and history of our nation", while blaming "the left liberals" for hijacking the intellectual space right from the Nehruvian era to the contemporary times.
"The left liberals are intolerant. They do not want others to enter the space dominated by them. They do not want to discuss and debate but only to blame and criticise. They pulled out of this event because we are coming," he said.
Kerala CPI-M leader M.A. Baby and journalist-cum-author Raghu Karnad, who were listed as Speakers at the JLF, earlier pulled out of the festival after the inclusion of these two top leaders of the RSS.
The duo also claimed that the RSS has no say in who gets the ticket from BJP.
"The RSS has no say in who gets the ticket from the BJP. It is the party's decision. If I had asked her (pointing towards CM Vasundhara Raje), she would have given ticket to three-four people. But I never asked her to do so," said Vaidya.
It is for the first time that RSS occupied a prominent place at the popular literature festival. It had drawn a flak on social media for this even before the festival began.
JLF producer Sanjoy Roy told IANS that it was done to "maintain balance" and to ensure that "the festival is open to all voices."