Advertisement

Deep wounds and white patches on their skin are common among people in this tiny West Bengal speck bordering Bangladesh. The disease turned deadly for many, and the culprit was drinking water that contained arsenic — a toxic substance that can lead to chronic poisoning once it enters a human body….writes Rupesh Dutta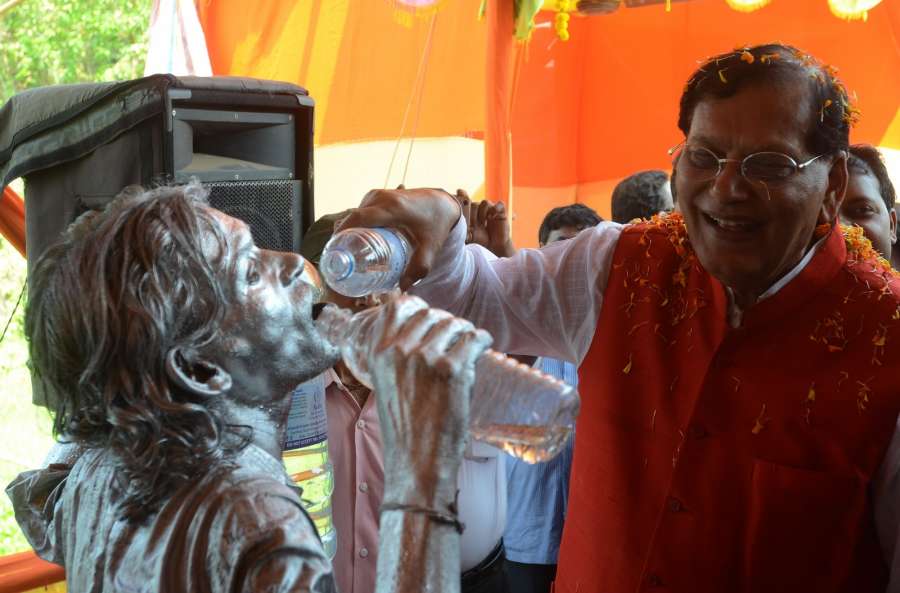 Many of the 2,000 villagers living here were forced to migrate to nearby places before they tried, in vain, every attempt to rid the water of poison. The cost was high. They had to pay for every drop of purified water they would fetch from distant towns or cities.
But life started changing for them two years ago when Sulabh International Social Service Organisation (SISSO), in collaboration with a French company, 1001 Fontaines, installed a Rs 20-lakh pond-based water treatment plant in this village of North 24 Parganas district.
Gopal Krishna Das, 56, was one of the hundreds of victims with deep white wounds and shinny patches on their skin.
"We have seen the worst. Not just diseases, arsenic has even claimed the lives of our people, especially when we didn't know what this exactly meant. The water from the treatment plant… has given us a new hope," Das said.
Now, every villager in Madhusudankati gets purified water for free. But those from other nearby villages — Teghoria, Bishnupur and Faridkati — pay 50 paise for a litre and Rs 11 for a jar of 20 litres. The money collected is used to pay salaries to local employees for maintenance of the plant.
Brindeshwar Pathak, 74, the founder of SISSO, said the entire problem of arsenic-contaminated water was widespread in the state and could be solved if the West Bengal government took interest and replicated the model.
"The uniqueness of this project is that the water from the plant is affordable. The 'Sulabh Jal' project converts contaminated pond water into safe drinking water and can be sold at only 50 paise per litre in villages and nearby cities along the Bangladesh border," Pathak said, adding that they could afford 20 more similar projects in other parts of the country.
According to SISSO, the water from ponds or rivers is pumped into an overhead reservoir. It is then collected in a tank where a chemical, alum, is mixed at a desired rate.
The settled water is then passed through a slow sand filter, before being collected in a clear water reservoir. The water is then passed through activated carbon filters and membranes of varying sizes.
"This removes the finest contaminants from the water which will be treated with UV rays to make it totally bacteria free. The resultant treated water, which is free from all pathogenic micro-organisms, is then poured into 20-litre bottles and sealed. The consumers either collect the bottles from the kiosk or it is delivered to their houses," said Pathak.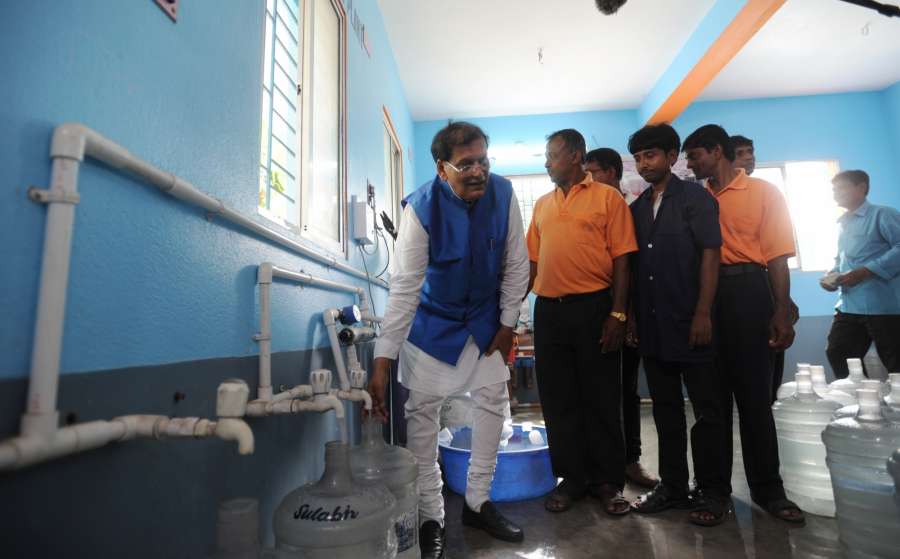 SISSO has initiated similar projects in four other parts of West Bengal — Suvasgram, Bangaon, Murshidaba and West Medinipur. All the plants are maintained by village-level committees, who have also employed locals for the maintenance and home delivery of water bottles up to a radius of 15 km on e-rickshaws.
Dilip Sarkar, a veterinarian who developed skin cancer due to arsenic water, said villagers earlier used to buy water bottles from the nearby town. The cost was high and travelling daily was tiresome.
"We tried several measures earlier to get purified water from towns which had helped in the reduction of skin diseases," Sarkar said, recollecting how many in the villages who were unable to travel daily and buy water caught the diseases.
"With the discontinuity in the intake of filtered water, the skin diseases relapsed," he said, showing his wounds that "are getting better now".
According to the World Health Organisation (WHO), arsenic is a natural component of the earth's crust and is widely distributed throughout the environment — in air, water and land. It is highly toxic in its inorganic form.
Long-term exposure to inorganic arsenic, mainly by drinking contaminated water, eating food grown or even prepared with this water, can cause skin lesions and cancer.
WHO says inorganic arsenic is naturally present at high levels in the groundwater of a number of countries, including Argentina, Bangladesh, Chile, China, India, Mexico, and the United States.