Advertisement

A transporter from Delhi, who had come to collect his payment from the CFL bulb factory in Noida Sector 11 which was gutted in Wednesday's fire, has been missing since, with his family fearing that he could be one of the victims….reports Vishal Narayan for Asian Lite News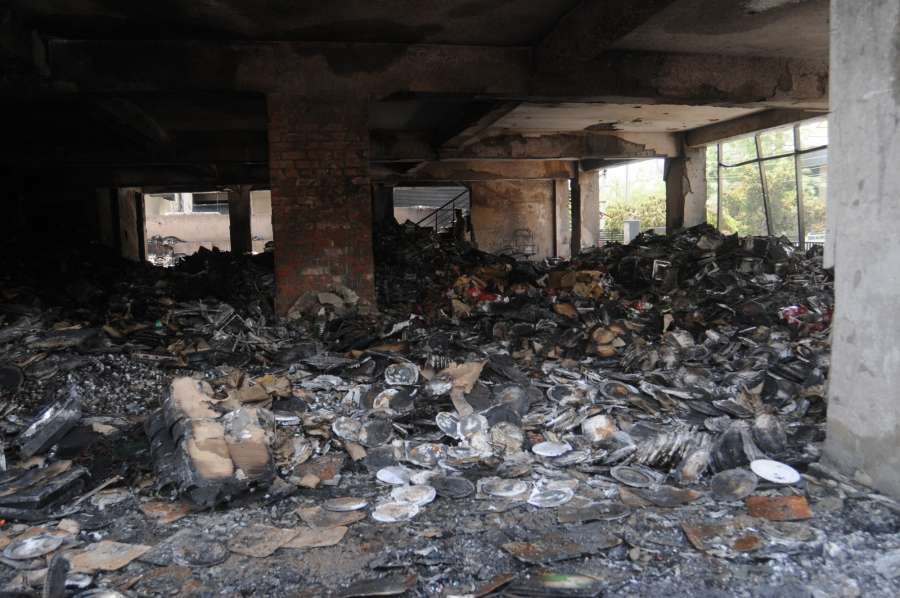 The transporter, whose relatives did not want him to be named, had come to collect payment at the Excel Greenwich company, and is now suspected to have perished in the blaze.
"He had come to collect payment here. We haven't heard from him since then," Jitendra, a relative who also worked for the transporter, said, outside the gutted building.
"We heard of the fire in the afternoon (Wednesday) and tried to call him, but his number was unreachable. When we reached here after some time, neither the police nor the fire officers told us where the casualties had been taken. We visited hospitals at random but with no success," he added.
The missing man belongs to Dungargarh, in Rajasthan, and lives in Shastri Nagar area of north Delhi. He has two sons who refused to talk to the media fearing that the 'news' may reach their family members who are unaware of the incident.
His relatives were later taken by the police to hospital for DNA test.
Four bodies have been identified since Wednesday from among six people who died in the fire, a police official said on Thursday.
"The identity of four persons has been ascertained and their bodies have been handed over to their relatives. We are trying to find the identity of the other two through DNA by matching with those who have approached us," Vinay Praksh Singh, Station House Officer, Sector-24, Noida, said.
The missing man's uncle, who was also there to seek police's help in locating his nephew, said that since Wednesday night they have visited several hospitals — ESI Hospital in Sector-24, Ambedkar Hospital in Sector-31, Prayag Hospital in Sector-41, and Vinayak Hospital in Sector-27 — in an attempt to find him.
He said that they looked for him till 2 a.m. in the area.
According to the man, a woman who was an eyewitness to the incident told them that the transporter was the person who first found out about the fire that started on the first floor, and ran upstairs to inform others.
Bharatiya Janata Party (BJP) leaders Satish Mahana and Mahesh Sharma also visited the site and promised swift action against the negligent parties responsible for the tragedy.
"It's a very sad and very unfortunate incident. We care for people … That's why I am here," Mahana told media before leaving for the fire office located in sector-2 for further "inquiry".
Those injured and the bodies of the deceased — charred beyond recognition — were taken to Metro Hospital in the vicinity immediately after the incident. The casualties were later shifted to District Hospital in Sector 30.
At the time of the incident, there were more than three dozen people working inside. Among the dead were five men and one woman. Many people, including the HR manager of the company, remain missing, an official had earlier said.