Advertisement

Udaipur's city airport could see the arrival of its first international flight soon. This is likely to increase more tourists to the city of lakes, reports Rahul Laud for Asian Lite News

According to a leading Indian government minister Jayant Sinha, minister of state for civil aviation, announced plans for Maharana Pratap Airport to start handling international arrivals and departures during a visit to the city recently The airport, which lies 20km to the east of Udaipur in the state of Rajasthan, currently offers domestic flights only. At the moment, any locals, tourists or business passengers wishing to reach international destinations must change planes in Mumbai, New Delhi or Ahmedabad in order to access connecting flights.
According to a report by the Udaipur Times, the minister made his announcement during a visit to Udaipur Municipal Corporation premises where he helped launch the city's new Smart Card initiative. In a speech he indicated Maharana Pratap Airport could be awarded international status within six months.
It's likely that the first international flights would be to destinations within the Middle East, resulting in far shorter journey times for passengers travelling to long-haul destinations including the UK and America.
Tourism chiefs will be hoping for a major knock-on effect if the plan to introduce international flights to Maharana Pratap Airport goes ahead. Udaipur, known as both the Venice of the East and the City of Lakes, is already a huge draw for foreign and domestic tourists. The romantic city's stunning location on the banks of Lake Pichola makes for unforgettable sunsets, while its rich history and breathtaking architecture have helped to cement Udaipur's place as one of India's premier heritage and cultural destinations. The city's photogenic landscape and buildings led to Udaipur featuring heavily in the 1983 James Bond film Octopussy.
Overlooking the lake is the City Palace Museum, the area's most-visited tourist attraction. The 200,000 sq ft museum forms part of Udaipur's palace complex, which dates back to 1559, and has been home to 23 successive Maharanas of Mewar, the world's oldest serving dynasty. Now managed by the Maharana of Mewar Charitable Foundation (MMCF), the museum houses a huge variety of historical artefacts linked to the rulers of Mewar. These include 6th century sculptures and a superb armoury collection, as well as galleries devoted to art, photography, music and silver.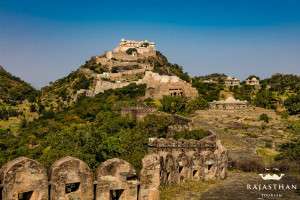 Udaipur is famed for its luxurious hotels and none are situated in more spectacular locations than the Taj Lake Palace and the Jagmandir Island Palace, both of which occupy prime spots in the centre of Lake Pichola. The former was built in the 18th century and is widely regarded as one of India's most exclusive hotels. Jagmandir was constructed in the 17th century and its beauty inspired Mughal emperor Shah Jahan to build the Taj Mahal in Agra, after he sought refuge there in 1623. More recently, this 'floating' hotel hosted the 70th birthday party of JCB boss Lord Anthony Bamford in 2016.
Other major heritage destinations within easy reach of Udaipur include Kumbhalgarh Fort, a hilltop fortress dating from the 15th century set three hours' drive to the north of the city. Chittorgarh Fort lies to the north-west of Udaipur and is another majestic hilltop fort home to a number of magnificent monuments. Both Kumbhalgarh and Chittorgarh are World Heritage Sites.
Data released by Gurgaon-based travel firm Ixigo at the start of the year showed 8.9 million foreign tourists entered India in 2016, up 11 per cent on the previous year. The firm said Rajasthan was one area that had already benefited from this influx of visitors.
Ixigo chief executive Aloke Bajpai said: "While maximum tourists hit base in Delhi, Mumbai and Chennai in 2016, accounting to over 50 per cent of foreign arrivals, we have seen people travel around the country to visit popular destinations such as Goa, Rajasthan, Kerala, etc.
"If government policies continue to remain flexible, 2017 should prove to be an even better year for foreign tourism."