Advertisement

The UN began the International Day of Yoga (IDY) celebrations with the release of stamps, a water puja and meditations for peace in the world's most diverse gathering of nationalities, religions and races….A special report by Arul Louis for Asian Lite News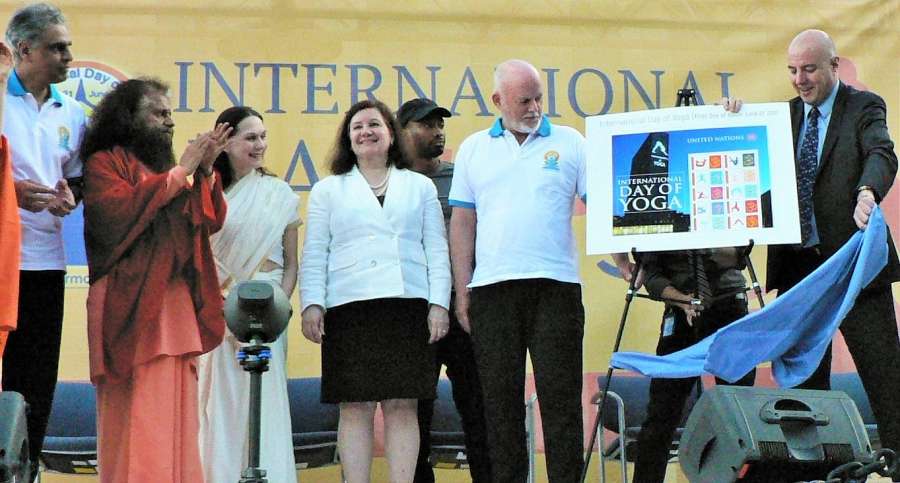 More than 1,000 people, including permanent representatives of several nations, diplomats, UN staff and yoga enthusiasts attended the outdoor "Yoga Session with Yoga Masters" session on Tuesday at the UN headquarters on the eve of the Third IDY.
A unique element in this year's event projecting India's soft power was the water puja ceremony led by Swami Chidanand Saraswatiji and Sadhvi Bhagwati Sarawastiji of the Paramarta Niketan Ashram, Rishikesh.
As water was symbolically poured over a globe, participants raised their hands heavenwards praying for clean water for all and for reclaiming the sanctity of water, the sustainer of life and the link of humanity.
That meshed in with the UN push for achieving the Sustainable Development Goals (SDGs) to better the life of people. Speakers stressed yoga's place in helping reach them.
Peter Thomson, the president of the General Assembly, said the practice of yoga was the embodiment of the saying, "Healthy minds in healthy bodies," and its role in ensuring healthy living directly linked it to the UN's SDGs.
Maria Luiza Ribeiro Viotti, the Secretary-General's chef de cabinet, said the practice of yoga by millions contributed to sustainable development and peace.
Asserting that yoga could bring solutions to problems of development, Chidanand Saraswatiji called upon yoga practitioners and teachers to take the message of "Green Yoga" to the world.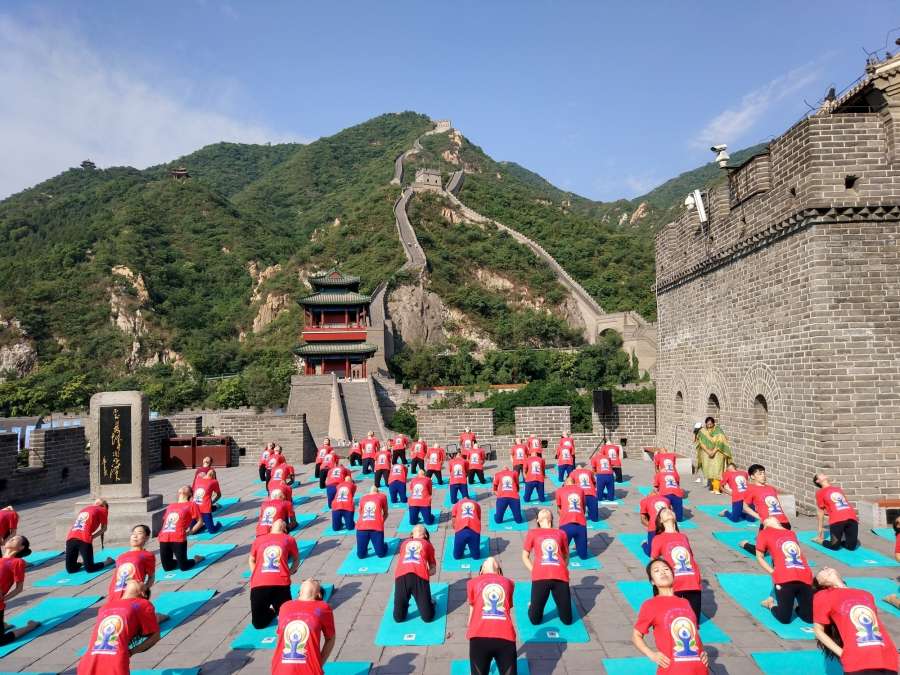 "When we are facing violence and war, (this) is the time to send the message, 'No more war, no more violence,' to take the message from yoga," he said.
India's Permanent Representative Syed Akbaruddin said yoga symbolised the union of humanity and India shares it with the world in an open and inclusive way.
Stephen Cutts, the UN Assistant Secretary-General for Central Support Services, released a set of 10 IDY stamps with Thomson.
The stamps of $1.15 denomination each depict a different yoga pose next to a large Om in Devanagari script.
Bhagwati Sarawastiji called yoga "vasudeva kudumbakam" in action and said it had the power to break borders to bring peace and heal the suffering caused by separation.
Reflecting the universality of the IDY, the celebrations were emceed by Hana AlHashimi, a sustainable development expert with the United Arab Emirates UN mission, who wore a hijab.
The 2014 General Assembly resolution to create IDY was co-sponsored by 174 countries and was adopted unanimously.
Seane Corn, a yoga populariser and social activist, led a meditation for peace and human rights and for an end to all oppression.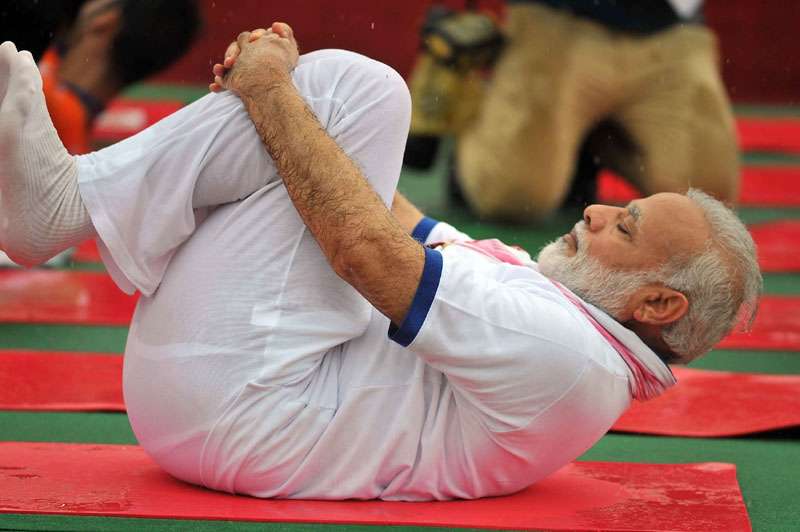 As they inhale and do yoga, people should send a message to their leaders for peace, she said.
Love can bring about political change, rather than hate, and through yoga people could radiate love to all to bring about transformations, Corn added.
Poet and film-maker Prince Ea struck a political note: "We must love everyone, even (US President Donald) Trump." He added: "Love heals."
On Wednesday, which is the IDY, a forum on yoga and health is to be held at the UN with an international panel of swamis and yoga practitioners.
Chidanand Saraswatiji, Bhagwati Sarawastiji, Swami Sivadasananda of the Sivananda Yoga Retreat House, Austria, Keith Mitchel, a yoga practitioner and former US National Football League star, Stanton Kawer, a US business executive, and activist actor Anupam Kher are the scheduled speakers.
Elsewhere in New York, Times Square is hosting the annual "Mind over Madness Yoga" celebrations.
On Sunday, Kher inaugurated the animated light show of 'asanas' projected on the UN Secretariat building.