Advertisement

Dialogues, drama, desperation… cut to UP as action begins. The action has begun in Uttar Pradesh. Election strategists, central and state ministers, Chief Ministers from other states and the Prime Minister himself are criss-crossing the sprawling state as they hard-sell their parties to voters….writes Mohit Dubey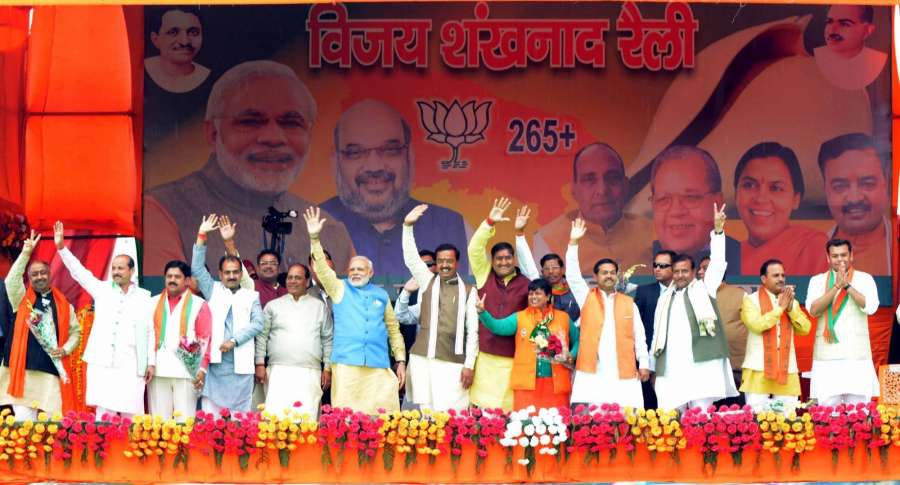 More than a dozen hired choppers are clattering from one rally to the next, carrying leaders of all hues, making stopovers in small towns and dusty hamlets, while thousands of two- and four-wheelers are on the move, ferrying candidates and supporters.
Prime Minister Narendra Modi has addressed two major rallies in Meerut and Aligarh in one week, Chief Minister Akhilesh Yadav has addressed more than 10, Rashtriya Lok Dal (RLD) chief Ajit Singh has been mingling with the Jat community and Bahujan Samaj Party (BSP) chief Mayawati is explaining why she needs to return to power.
Congress Vice President Rahul Gandhi and Akhilesh Yadav have jointly held road shows in Lucknow, Agra and Kanpur. Their next stop is Varanasi, which sent Modi to the Lok Sabha. Many state ministers are spending nights in far-flung villages, many without electricity.
Union ministers Kalraj Mishra, Rajnath Singh, Piyush Goel, Smriti Irani, V.K. Singh, Ravi Shankar Prasad and Mukhtaar Abbas Naqvi have been hopping from one city to another. Modi's digs at his opponents have sparked terse responses.
Modi's action-packed speeches are being responded to by regional satraps in their own ways. Egged on by social media workers, Akhilesh Yadav is at the forefront of taking on Modi with crisp one liners.
Shivpal Yadav, once the tallest of state ministers but now pushed to the sidelines by his nephew and Chief Minister, is leading the emotional brigade with his passionate off-and-on appeals on how some people (Akhilesh) get everything by luck and legacy while some slog it out but get nothing (himself).
Mulayam Singh Yadav, now cut-to-size as a mentor of the Samajwadi Party he founded, may be ageing but many are wondering what his next move would be.
So, if the 78-year-old one day spat on the Congress-Samajwadi alliance, the next day he sobered down saying he will campaign for the coalition as it was stitched up by his son.
Gorakhpur's firebrand MP Mahant Adityanath and other saffron-robed leaders are pitching in with the Ram temple issue, adding their own dash of drama.
Union Home Minister Rajnath Singh has entered the fray, using peppery sentences like "Jo baap ka na hua, wo aap ka kya hoga". The reference to Akhilesh Yadav is not missed.
The 43-year-old Chief Minister, knowing the risk of alienating his father's supporters, has been invoking Mulayam's legacy in places of Yadav dominance: Etah, Auraiyya, Hathras.
Television actor-turned-politician Smriti Zubin Irani added to the heady cocktail in Lucknow. Asked to comment on BJP leader Vinay Katiyar's sexist remark on Priyanka Gandhi Vadra, she snapped back at the scribe, asked him to come to the front row. She handed him her mobile phone and asked him to read out loud a message on a social networking site.
The journalist turned red. The combative Union minister said Priyanka's husband Robert Vadra had made a remark about her and got no criticism from Priyanka Gandhi or any other Congressman.
The first phase of the Uttar Pradesh polls is due on February 11, while campaigning for six others is yet to begin. Yet there is plenty happening in the country's politically most critical state.