Advertisement

For the burgeoning and slack bureaucracy of India's most populous state, peace of mind is the first casualty after the saffron-robed Yogi Adityanath took over the reins as its 21st Chief Minister almost a fortnight back….writes  Mohit Dubey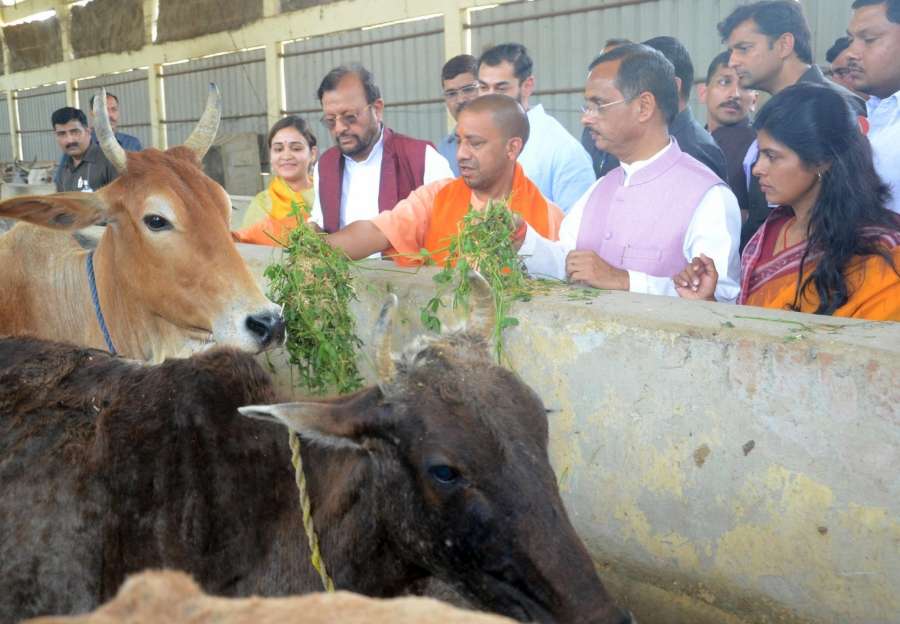 From day one, as the 44-year-old Yogi began functioning out of his suite in the VVIP guest house, bureaucrats have been burning the proverbial midnight oil to get in his good books and also to fix the "wrongs" of the predecessor government. As Adityanath inspected the Annexe office at the Shastri Bhawan, sprucing up of the dingy, unkept offices across the state began at lightening speed.
The officials lost no time in making employees read out and take the "swacchta shapath" (cleanliness oath) and wield the broom to make the offices and the premises spic n' span.
Officials like the district magistrates of Ghaziabad (Nidhi Kesharwani), Lalitpur (Roopesh Kumar), Gonda (Ashutosh Niranjan), Sant Ravidas Nagar (Suresh Kumar Singh) and Hathras (Avinash Krishna Singh) have gone into proactive mode to ensure the tehsil and collectorate offices are clean and drinking water is available for people coming to meet them.
Adityanath's surprise inspection of the Hazratganj police station in the state capital has also spurred the men-in-khakhi into action, with many happily wielding the broom and cleaning up police stations. This seemingly has annoyed former Chief Minister Akhilesh Yadav so much so that he told mediapersons last week that he did not know that "adhikaari itni acchi jhaadoo lagate hai, warna main bhi inse khoob jhaadoo lagwata" (had I known the officals can sweep so well, I too would have got them to wield the broom).
Inspector General of Police (Lucknow) A. Satish Ganesh has been conducting daily inspections at various police stations, ensuring they are clean and that complainants are attended to in a proper manner. As a result of a diktat from Adityanand, referred to as "maharaj ji" by the faithful, almost all police stations now have earthen pitchers (ghadas) full of clean drinking water and jaggery to go with it.
The new Chief Minister's "desire" that officials work for 18-20 hours has also sent jitters down the spine of the babudom.
The effect is for all to see as at a public holiday — Jhulelal Jayanti — contrary to deserted offices earlier, government offices were abuzz with activity as many senior officials were spotted working, preparing presentations for the next review meetings that the chief minister's office has scheduled over the next few weeks.
Pictures of Akhilesh Yadav and his father Mulayam Singh Yadav — the presiding deities of the past dispensation, have been consigned to the store rooms and smiling portraits of Adityanath and Prime Minister Narendra Modi now occupy the place of pride in all major offices.
Time was when government vehicles with blue bacons could be spotted till as late as 10 a.m. in the popular Lohia and Janeshwar Misra parks. They have suddenly gone missing. Fitness freaks in the bureaucracy now wrap up their morning walks early to be at the office by 9.30 a.m., something which was termed "flexible working hours" during the previous government. Gutkaa, paan and paan masaala which hitherto were part of the 'nawaabi rehan sehan' (princely lifestyle) now stand banned and anyone found chewing these prohibited items is hauled up.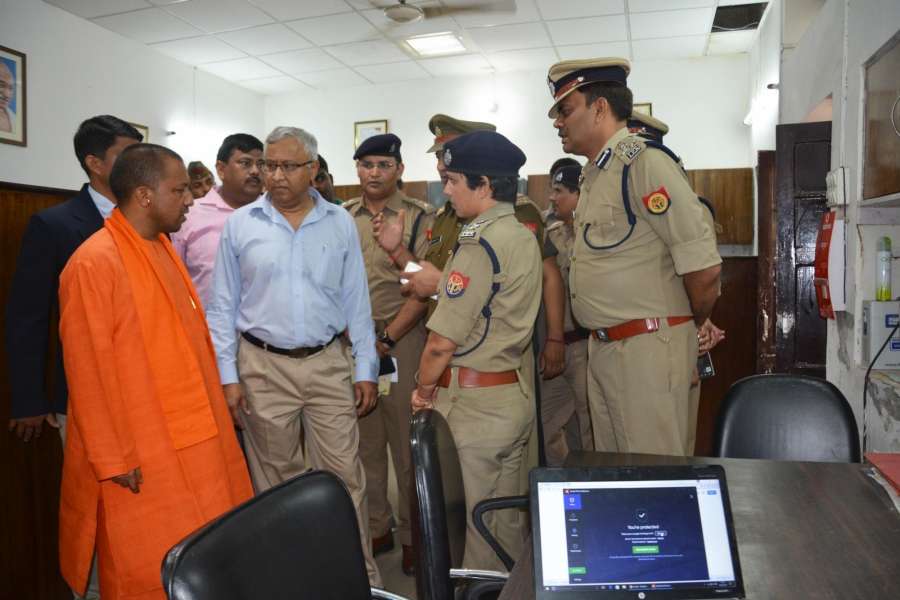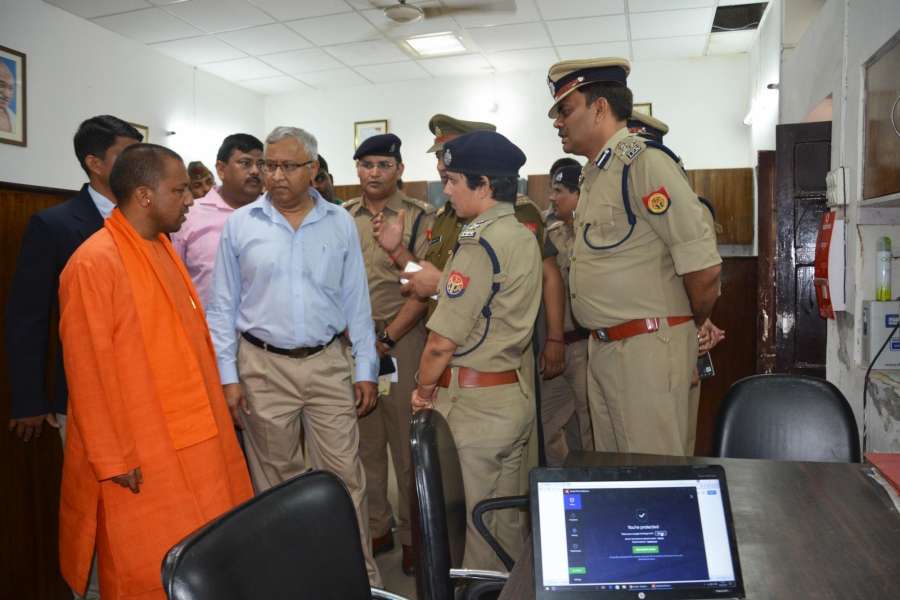 On Friday, a driver in the VVIP fleet of the Chief Minister's cavalcade was fined Rs 500 by the Secretariat Administration Department (SAD) for chewing tobacco in the secretariat premises.
A religious and committed cow lover, Adityanath's ascendancy has also meant more care for stray cows who are now being herded to 'gaushalas' (cow shelters) across the state and given privileged treatment.
Closure of illegal abattoirs, one of the core agenda points of the BJP during the 2017 state assembly polls, has been taken by officials a wee bit more seriously than expected.
In a bid to outdo each other in the maddening race to impress the Chief Minister, they cracked down on slaughter houses across the state, even downing the shutters of legal, license-holding shops. Thousands of people employed at these places were rendered jobless and meat delicacies went off the plates, forcing intervention of the Chief Minister himself, who warned officials against any overzealousness and asked them to stop harassing legal meat traders.
Adityanath's diktat of "perfect" wheat purchase centers for procurement — to eliminate middlemen — has also sent the officials into a tizzy. Having doubled the purchase targets for earlier target of 50,000 metric tonnes, Adityanath got going in his first week of work to provide succour to the farmers, who seemingly voted for the BJP overwhelmingly. These purchase centers began work from and the Chief Minister has asked legislators and party MPs to go and monitor their functioning so that feedback could be gathered on "compliance of his orders".
After a terse warning from Adityanath to ensure pothole-free roads across the state by June 15, officials have begun work on an "elaborate action plan" to get "things moving at the earliest" an official said. The task is uphill, rue officials, while pointing out that this would mean work on some 53,615 km of roads under the Public Works Department.
"We do not know the Chief Minister much, he is still unknown territory," said an official while trying to explain how difficult it is for them to gauge Adityanath's mind.