Advertisement

Paris-based acclaimed artist Sujata Bajaj shares her experiments for perfection and her spiritual inspiration – Ganapati….writes Kaliph Anaz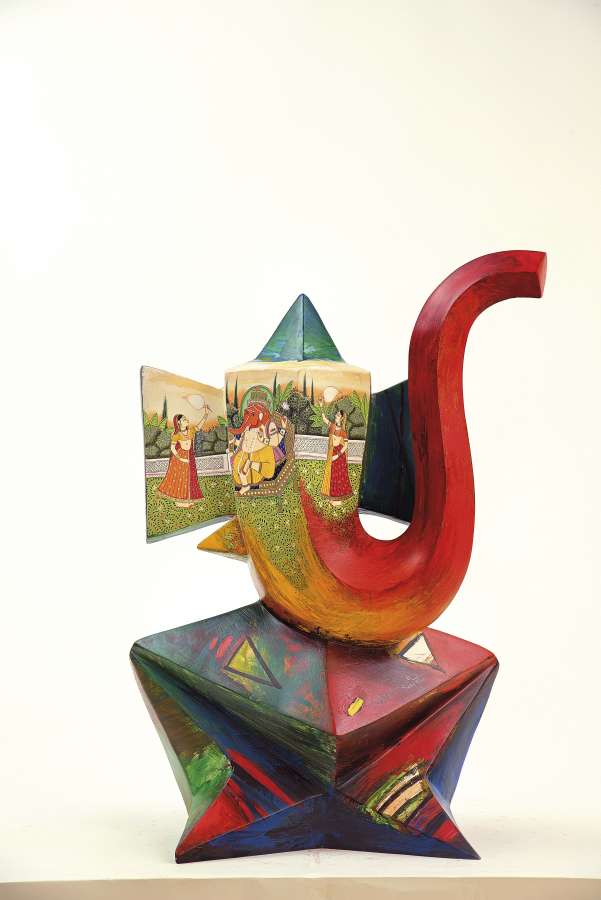 Her art has an exceptional eloquence. Red is her colour because it radiates life and passion and energy but the whole palette follows the impulses that link together effortlessly to make up her inspiration.  Black is for her the quintessential fount of every colour because from that darkness comes light and also presents itself as her starting point. It is almost as if from that void of nothingness come the first tendrils of colour and then they burst into their fullest glory.
Form is a word to which she gives extra depth and dimension. It conjures up in her mind and even she cannot quite tell you how it begins and ends on a canvas, on a piece of wood or a sculptor that seems to speak a language of its own.
Quite the globetrotter, she absorbs influences and nuances like a sponge does water and allows them to mingle and mix and recreate themselves as expressions. Sujata Bajaj then takes these expressions and molds them into timeless pieces of art. She lives between Paris, India and Dubai. Her husband Rune Jul Larsen is Norwegian so that's another oft visited 'home' away from home.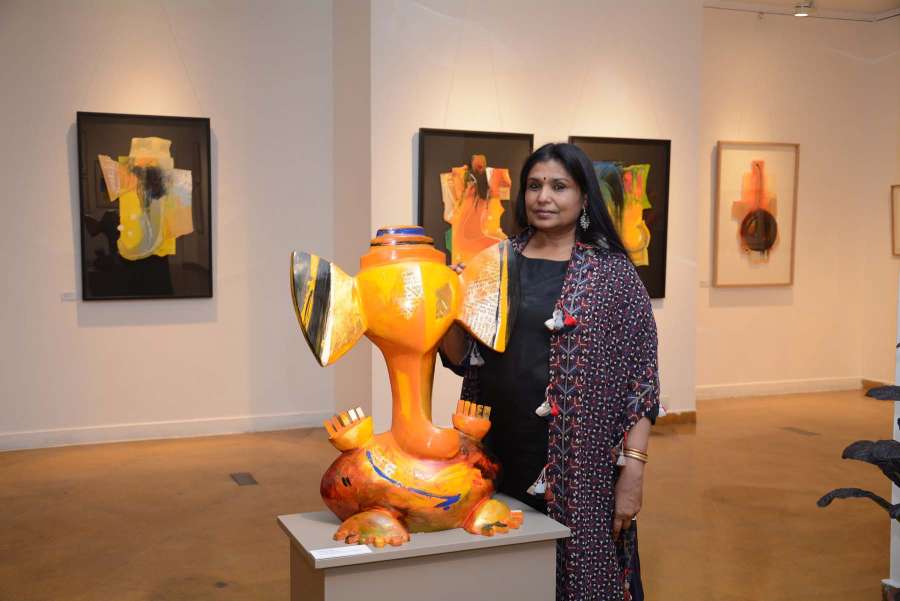 Not the least apologetic about what she believes in with a passion that is overpowering in its intensity Sujata is a formidable personality and has a wit and a charm that enhances the artist in her.  She always underscores her Indianess as well as her global character with grace and elan.
He love for Ganapathi began in the spiritually saturated town of Wardha where the festivals of Ganesha Chaturthi and Anant Chaturdashi are celebrated with fervour.
She says,"My earliest contact with Ganapati is through prasad, arati, festivities, fun, nice clothes. The deity came home for 10 days. We decorated him and gave him a new look every year. Even as children, the ideas and techniques we used for painting and adorning the idols, though simple, were unique. At that time, it was a major project that we undertook and executed (rather cleverly, we felt): a learning experience filled with pleasure and excitement. For us children, it meant an unending feast. My connection with Ganapati grew stronger during my days in college at Pune.. I would always be there every year for this huge Ganapati project with my teacher Shri M.R. Kelkar and others from college. Several artistes participated in making, decorating and then engaging in the immersion of the idols. "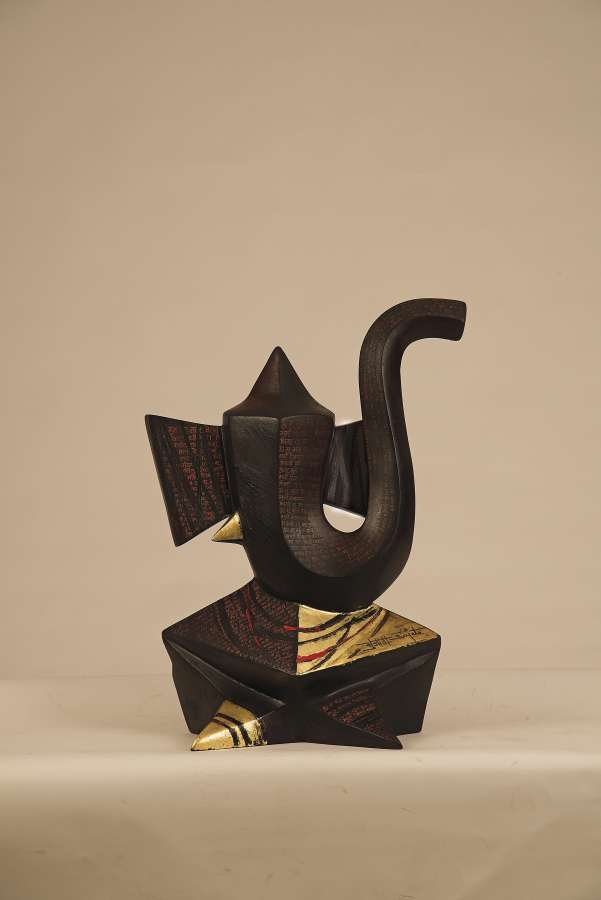 Much like her work, she is cannot be categorised or dismissed in a few sentences of praise. Sujata says it better than any biographer. "My paintings and my family are my reference points so my day adapts itself to and between them. Days, if I have to differentiate, can be those on which I paint and those on which I don't. On the days I do, they seem rather short and pass without a residue. This could be anywhere on the map. My days seem to be consumed between my daughter Helena and Rune and what's left goes towards viewing exhibitions or keeping prior engagements.
She holds great store by clarity. Of thought, motion, life itself. A self-confessed minimilast,  she abhors clutter both in her surroundings and in her mind. Clearly an advocate of 'less is more' her works also reflect this distinctive imprimatur of being clean, lean and sans disarray.
This is not to say that there is a mathematical precision to her works or some sort of geometric perfection. On the contrary when she works there is a flow, a cadence and a rhythm that is liquid in its intensity. When the famous art critic Jean-Claude Carrière says, "She is a painter – this much is certain," he is capturing that talent we are fortunate to witness rarely but with gratefulness.
" She has not erred on her dharma. Before every empty canvas she waits, watchful, for something irresistible to beckon her."
As one will see when they either leaf through the pages of the book or witness the canvases themselves, it does.
"I start my day with lighting a small lamp to my small Ganesha idol in a specially made niche in the kitchen. My mother gave it to me when I was very young. I'm not particularly ritualistic, but I believe I am spiritual."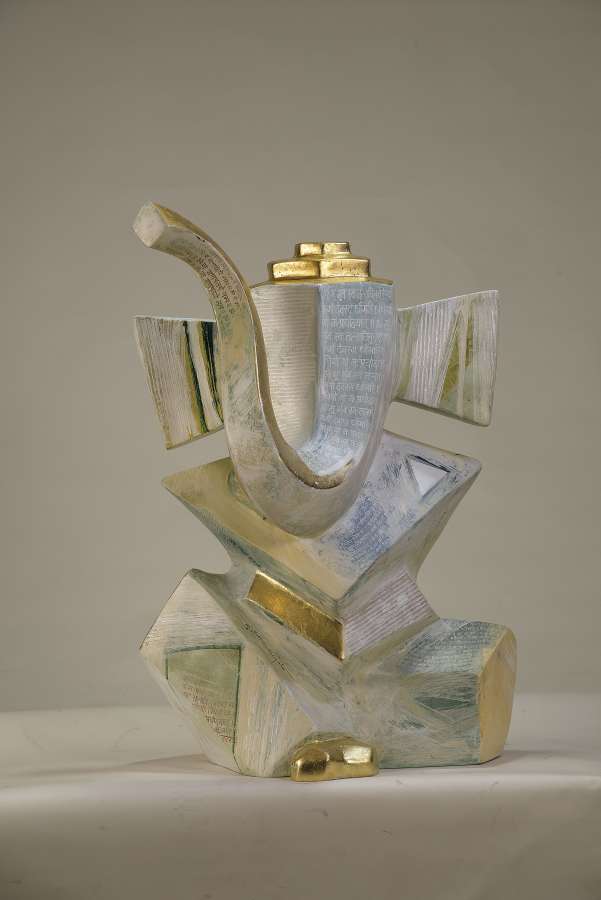 Perhaps it is that very spirituality that coalesces into figures and shapes and silhouettes and frames and creates the outlines for her next venture.
"I dream,' she says succinctly, 'And sometimes I grasp at the elements of that dream, a surreal but tangible imagery that I manage to hold and fill with joyous colours and transport them into manifestations and embodiments of Ganapathi. It just happens as if it was ordained and the strokes and the chisel seem to assume a power of their own, as if they were guiding my hand rather the other way round."
Her husband Rune is in awe of the rareness of her ability to shift from hours of rumination and silence to a sudden surge of energy, as if the bell had been rung in the belfry of her mind and the orchestra was about to play a medley of the next magnificent obsession.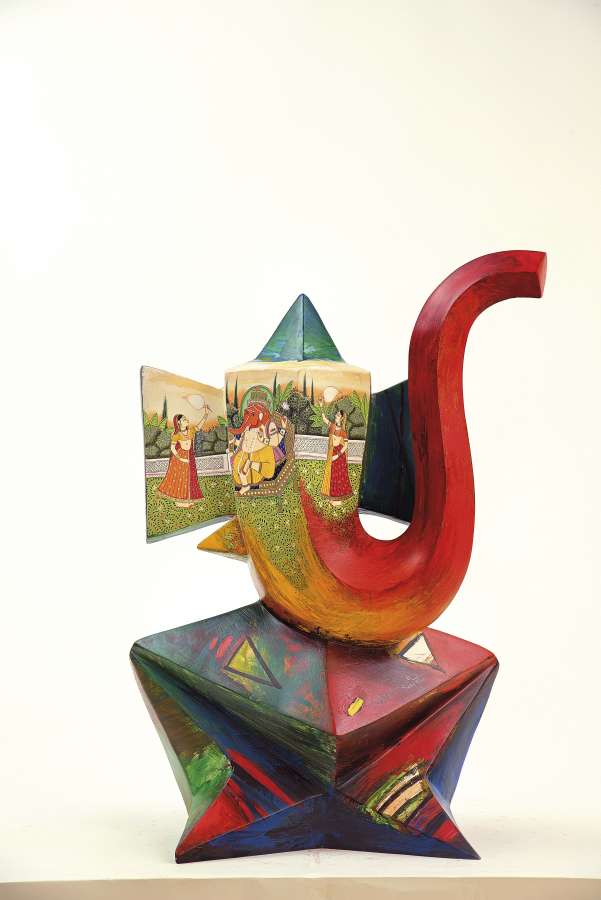 It is not magical as much as it is a certain mystique that she projects as she works. There is an order but it is so liquid and so limpid that only when it crystallises into a recognisable architecture that one can begin to visualise where she is going with the art.
Art writer Lorette Nobecourt said about Sujata: when a colour comes alive, life itself comes alive, yes, and the world is then a matrix of light and energy as reflected in her paintings.
As with great art words are never enough for they cannot capture the power and the glory, the grandeur and the grace that manifest themselves when the human eye makes direct contact with the work itself and the equation between the two assumes its own dialogue into eternity.