Advertisement

The event will feature music and dance by children and adults, alongside professional musicians from all across the country….reports Asian Lite News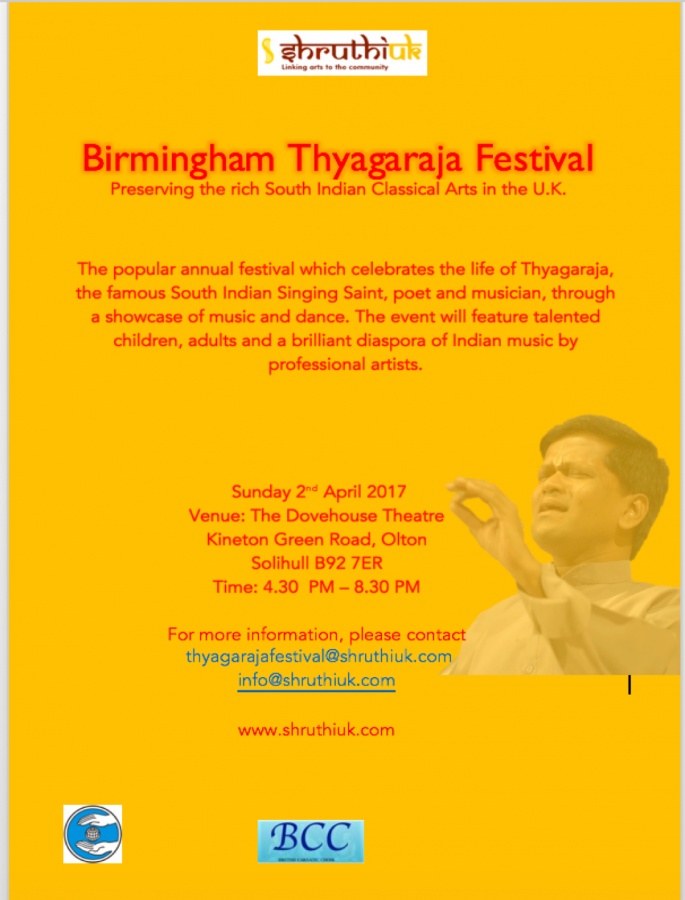 This is a nation wide music festival hosted by ShruthiUK in the West Midlands. It is also celebrated annually around world at different times of the year to pay tribute to the great Singing Saint and composer, Thyagaraja, one of the trinities of South Indian Classical music (Carnatic music).
It is a very important festival or a celebration to promote and sustain our rich cultural tradition through these festivals and uniting various communities through arts.
The event will feature music and dance by children and adults, alongside professional musicians from all across the country. Children and young adults and older people from various communities are encouraged to participate in this event, come together through arts and provide a cultural diaspora to the community in the West Midlands and elsewhere.
The event is on the 2nd of April, at the Dovehouse Theatre in Solihull from 4.30 pm- 8.30 pm and is attended by distinguished dignitaries from all across the country.
Honouring Women at the Birmingham Thyagaraja Festival –  for their contribution to women empowerment and help the other women to pursue their passion.
Every year, ShruthiUK  honours Women, who have contributed, made a huge impact to the community through their skills, passion and commitment in the field of Medical Sciences, Arts, Community, Politics and Education- during the nation wide South Indian Classical Music festival, held in Solihull.