Advertisement

James Jose, 22, a student of University of West of England, Bristol, is seeking a suitable bone marrow donor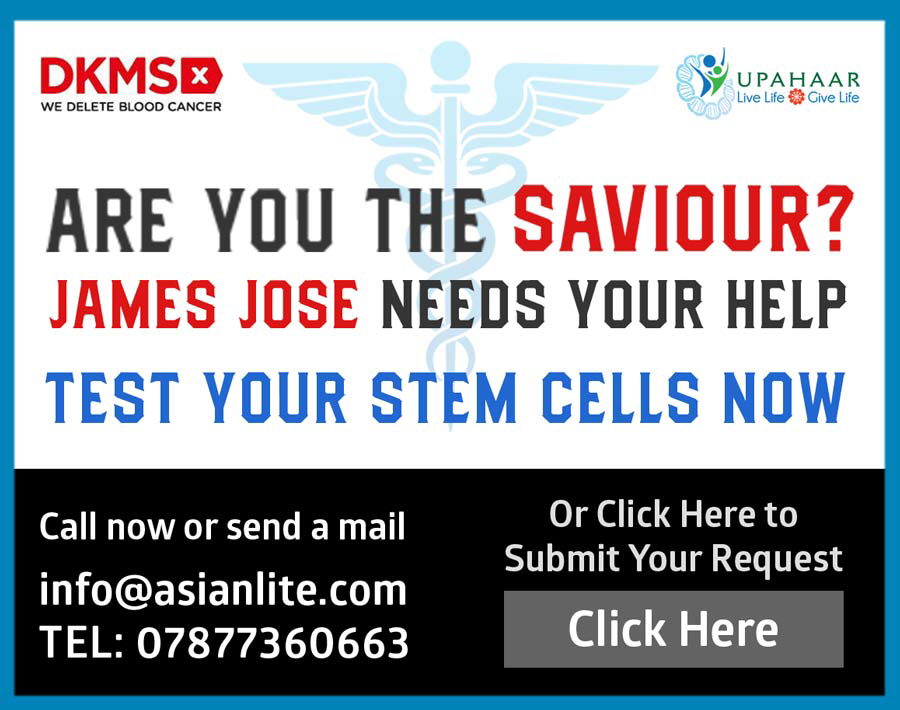 Mr Jose, hailing from south Indian state of Kerala, is now undergoing treatment at prestigious Christie Hospital in Manchester. His dad Jose, mom Gracey and sibling Joel are appealing to the South Indian community to come forward to join the stem cell register.
(FOR DETAILS PLEASE SEND A MESSAGE – http://news.asianlite.com/donaecell)
James was diagnosed with Myelodysplasia, a form of cancer which affects the production of blood cells by the bone marrow is faulty. Bone marrow replacement is the best treatment. The chances to match is higher if the donor is from the same gene pool. So campaigners are appealing to the Kerala community to come forward to test their stem cells. Delete Cancer and Upahaar, a charity promoting stem cell and organ donation among South Asians, are supporting the campaign.
"Since February, we are looking for a suitable match to save Jose," said Jainy Chackochan, a family friend and a Trustee of Upahaar. " I am seeking the support of South Asian community to come on board to help this smart, young man."
Dr Zainul Aabideen, a paediatric cancer specialist, said South Asians in the U K should register as bone marrow stem cell donors. At present only 4 per cent of the South Asian population are on stem cell or bone marrow register, while the percentage of the while population is 59.  It is like searching a 'needle in a haystack.'
Bone Marrow Transplantation (BMT) is a life-saving treatment for several diseases. The most important requirement for a successful Bone Marrow Transplantation (BMT) is to get a matched bone marrow donor. In general, it is difficult to get a matched donor. However, it is proved that It's easy to get the best match for any patient from the same ethnic community. It is surprising to know that only less than 4 % of the potential donors listed on the UK bone marrow donor register are from South Asian communities. Many South Asians with devastating diseases like blood cancers are facing death, when we can help them by donating our stem cells.
Bone marrow stem cells donation is a simple procedure. It can be done without any consequences on the health of the donor. Professor Nalini Ambady an Indian origin professor at Stanford University struggled to find a suitable stem cell donor for bone marrow transplantation as a treatment for her leukemia and she died. Lack of awareness and misunderstanding about bone marrow donation are the causes for less number of South Asians in bone marrow donor registry. So please register today, you may be able to save another life. This may help you in future also.
LINK TO RESPOND: http://news.asianlite.com/donaecell
For details, please give a ring on 07412 934 567 for Dr Siddiq Pulakal or 07877360663 for Anas Azeez