Advertisement

The petition to UK government to stop Trump's visit has crossed 900,000 signatures as of early Monday morning, far more than the 100,000 needed for Parliament to consider a debate….reports Asian Lite News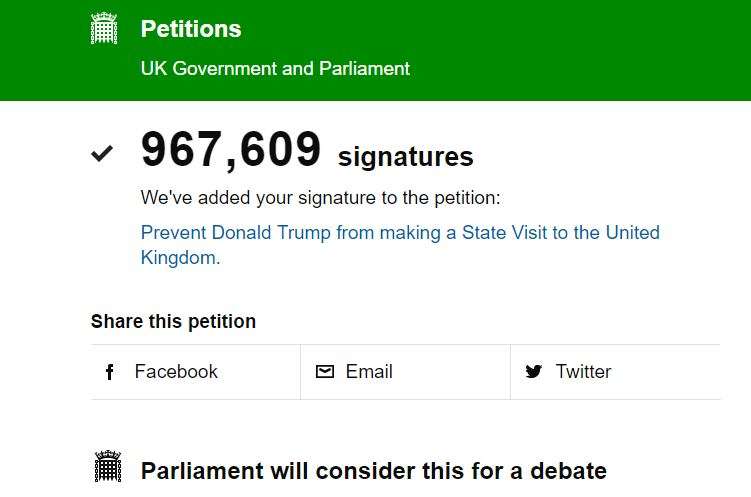 Calls are being made to cancel a proposed state visit to the UK by American President Donald Trump after he signed an order banning refugees and citizens from seven Muslim-majority nations from entering the US.
The petition to UK government to stop Trump's visit has gathered over 903,834 signatures as of early Monday morning, far more than the 100,000 needed for Parliament to consider a debate.
However, Downing Street sources confirmed that Prime Minister Theresa May will not be withdrawing her invitation to Trump because it remains "substantially in the national interest".
Labour leader Jeremy Corbyn said it would be "totally wrong" for the visit which was announced during May's trip to the US last week, to go ahead later this year.
Speaking to ITV on Sunday, Corbyn said: "I think we should make it very clear we are extremely upset about it, and I think it would be totally wrong for him to be coming here while that situation is going on."
"I think he has to be challenged on this. I am not happy with him coming here until that ban is lifted, quite honestly."
Liberal Democrat leader Tim Farron backed the call.
He said: "Any visit by President Trump to Britain should be on hold until his disgraceful ban comes to an end."
"Otherwise, Theresa May would be placing the Queen in an impossible position of welcoming a man who is banning British citizens purely on grounds of their faith."
Alex Salmond, the Scottish Nationalist Party's foreign affairs spokesman, said he thought the state visit of Trump was "a very bad idea".
"You shouldn't be rushing into a headlong relationship with the President of the US," he said to Sky News on Sunday.