Advertisement

Emirates Diplomatic Academy, EDA, the UAE's leading institution for international relations and diplomacy, education, executive training and research, hosted a reception to mark the 100th anniversary of SOAS University of London….reports Asian Lite News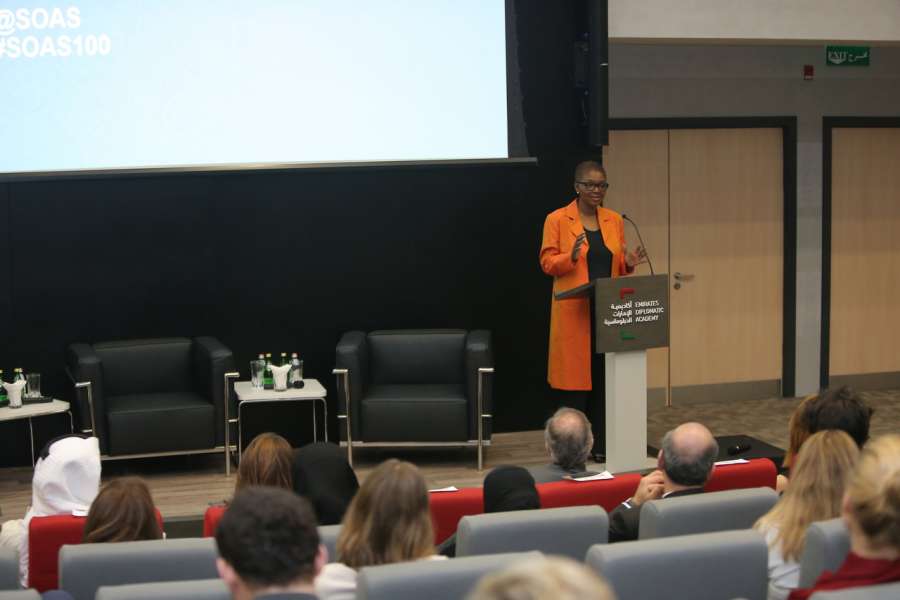 In honour of SOAS's tradition of imparting knowledge on important issues concerning the region, the celebration at EDA included an engaging panel discussion themed "Diplomacy in a Polarising World."
Baroness Valerie Amos CH, Director of SOAS and Member of EDA Advisory Council, hosted the panel that included Mishaal Al Gergawi, Managing Director at the Delma Institute, Tom Fletcher, Special Advisor to the President of EDA, and Dr. Leslie Vinjamuri, Director of the Centre on Conflict, Rights and Justice, Senior Lecturer and Associate Professor in International Relations and Chair of the International Relations Speaker Series at SOAS.
The panel discussed the rapidly changing international political landscape that has recently seen several dramatic developments, from Brexit to the election of Donald Trump as President of the United States. The lively debate offered key insights on the consequences of these events, their implications for future diplomats, as well as their impact on the UAE, the Middle East region, and international organisations.
"SOAS has a long history of teaching and research on the Middle East, and we are pleased to have the opportunity, with EDA, to consider the skills and attributes necessary for diplomats in a rapidly changing and polarising world," said Baroness Amos, who expressed her appreciation for EDA and the event.
"Diplomats need to have the ability to work in many spheres to contribute to tackling global challenges, and helping to find solutions where they continue to evade us," she added.
Bernardino Leon, President of EDA, noted, "We are honoured to welcome these thought-provoking speakers here today and to host SOAS's centenary celebration at our Academy. SOAS has a great history of teaching the rest of the world about the Middle East, and we are very pleased to have this opportunity to build upon the positive relationship between our two institutions."
"EDA seeks to forge lasting and impactful connections with prestigious international universities and their educators, and our reception in honour of SOAS and Baroness Valerie Amos CH is a prime example of working towards this goal. I have met many distinguished alumni from SOAS, and it was a privilege to host for this renowned university," he added.