Advertisement

European Union Council President Donald Tusk accepted Britain's Prime Minister Theresa May's letter officially triggering the Brexit process….reports Asian Lite News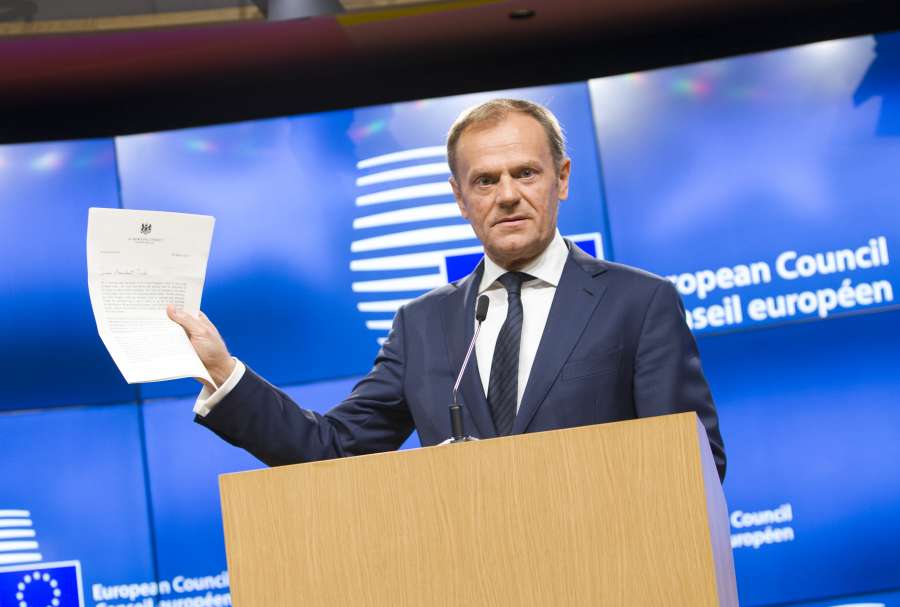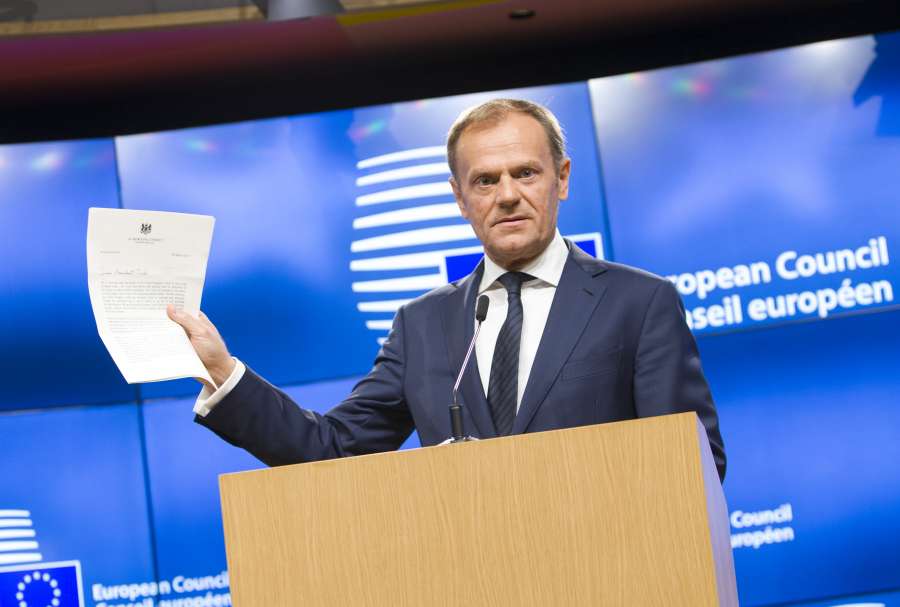 "We already miss you. There is no reason to pretend this is a happy day. Thank you and goodbye," Tusk said in his statement to Britain. He also said that he will have proposal for Brexit negotiating mandate on Friday.
He wasn't completely sentimental about Britain leaving, and said Brexit was about "damage control", reported the Telegraph.
Britain's Ambassador to the EU, Tim Barrow hand delivered a six-page letter from May to Tusk in Brussels to formally begin divorce proceedings.
The move came nearly nine months after British voted for exit from the EU by a margin of 51.9 per cent to 48.1 per cent in a June referendum.
In a statement in the House of Commons, the Prime Minister told members this marks "the moment for the country to come together".
"This is an historic moment from which there can be no turning back. Britain is leaving the European Union. We are going to make our own decisions and our own laws. We are going to take control of the things that matter most to us," she said.
"…And we are going to take this opportunity to build a stronger, fairer Britain — a country that our children and grandchildren are proud to call home," said May, arguing that leaving the EU was both an "ambition and an opportunity", reported the Guardian.
May also said that she accepts Brexit will carry consequences for the UK.
"We understand that there will be consequences for the UK of leaving the EU. We know that we will lose influence over the rules that affect the European economy. We accept that," she said.
She also pledged to "represent every person in the whole United Kingdom" during the negotiations, including EU nationals.
Several MPs congratulated May on the tone of her letter to Tusk, which stressed Britain's commitment to the continent as a close friend and ally.
But others accused her of issuing a "blatant threat" to withdraw security cooperation if the EU27 fails to deliver on a trade agreement.
She urged her European counterparts to help secure a "bold and ambitious free trade agreement" between the EU27 and the UK as she promised to approach the talks "constructively, respectfully, and in a spirit of sincere cooperation".
By triggering Article 50 of the Lisbon Treaty, the Britain and EU are expected to have a two-year process in which the terms of exit will be negotiated. Unless both sides agree to extend the deadline for talks, Britain will leave in March 2019.
Several leaders responded after May triggered the Brexit process.
German Foreign Minister Sigmar Gabriel said: "The sentence often used in private divorces, 'let's stay friends', rings true in this case. Britain remains our neighbour, like the European Union is for Britain. We need each other."
European Parliament chief Antonio Tajani said: "Today isn't a good day. Marks a new chapter in our Union's history, but we're ready, we'll move on, hoping UK remains (a) close partner."
Former UK Independence Party (UKIP) leader and prominent "Leave" campaigner Nigel Farage tweeted a picture of the Brexit letter being handed over with the phrase "you've been triggered".
"The impossible dream is happening. Today we pass the point of no return," he said.