Advertisement

Manchester's Lord Mayor and his Consort have been presented with a customised police helmet as a thank you from Greater Manchester Police….reports Asian Lite News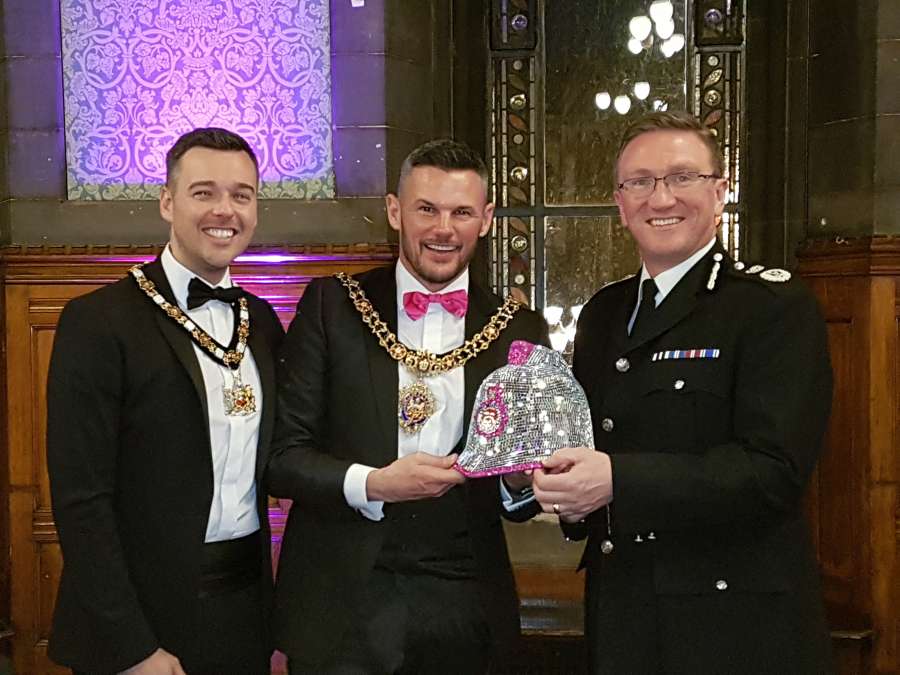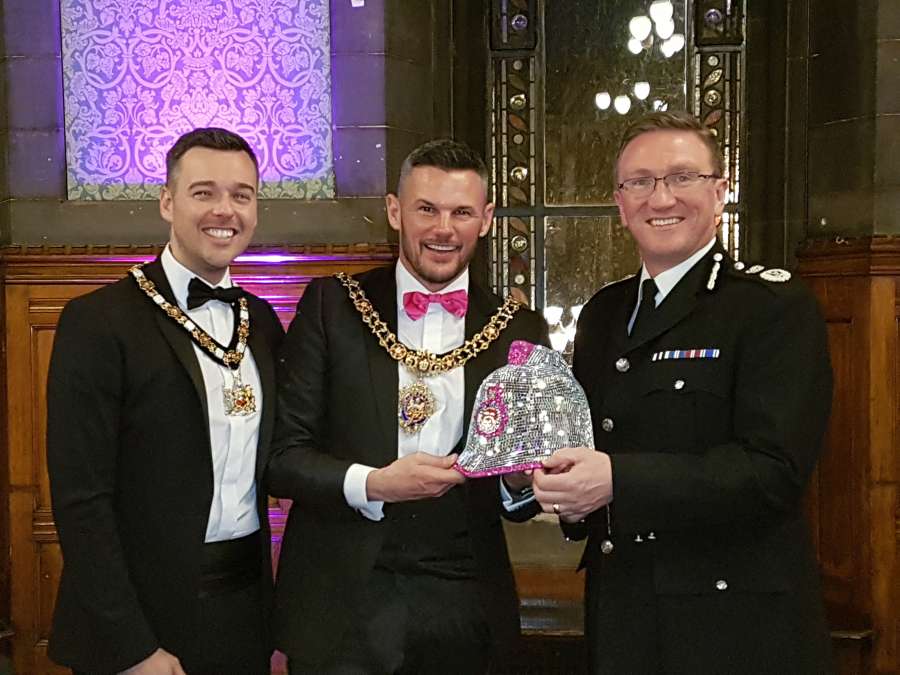 On Thursday, 23 March 2017, during the Civic Head's Dinner, Chief Constable Ian Hopkins handed the personalised helmet to the Lord Mayor Carl Austin-Behan and his Consort and husband Simon Austin-Behan for their help and hard work promoting equality and diversity.
The helmet, dubbed a 'Bobby Dazzler', was part of a series created by Manchester based creative Brett Dearden.
During last year's Manchester's Pride Parade, the helmets achieved worldwide fame when two police officers recreated the Banksy mural 'Kissing Coppers'.
Chief Constable Ian Hopkins said: "The Lord Mayor and his Consort have given exceptional support to GMP during their term of office. In particular the Lord Mayor has given fantastic support in relation to tackling hate crime and inequality across Manchester.
"The Lord Mayor's Consort Simon is a GMP radio operator and we are proud of Simon's role in supporting the Lord Mayor throughout his year in office.
"Both the Lord Mayor and Simon have been outstanding role models and brought so much energy and enthusiasm to their posts, devoting many thousands of hours supporting and promoting a range of organisations and activities throughout the city."
Manchester Lord Mayor Carl Austin-Behan, said: "It's been an absolute honour and privilege for both myself and Simon as Lord Mayor and Lord Mayor's Consort to work so closely with the Chief Constable Ian Hopkins and GMP as a whole. Manchester is proud of its diversity, equality and inclusivity, and I am proud to be part of that.
"We had seen the 'Bobby Dazzler' helmets in the 2016 Manchester Pride Parade and then again at the LGBT 'Never Going Underground' exhibition at the Peoples History Museum and we just loved them.
"When Ian presented us with the helmet we were both completely taken aback emotionally and overwhelmed that GMP had done this for us. We will treasure this gift for life and it will be lasting memory of our year in office."
Brett Dearden, of Creative Headspace, handmade four Bobby Dazzler helmets in total. Each individual helmet contains around 5,000 small reflective tiles, similar to those used in mirror balls, and could take up to 14 hours to craft.
Brett said: "It is very fitting that Lord Mayor Carl Austen-Behan and his husband Simon should receive this particular Bobby Dazzler helmet as a gift for their work with GMP tackling hate crime and striving for equality across all communities. I wanted to make this helmet unique, so I decided to put a bee on the crest of the badge to tie in with the bees of Manchester and the Town Hall.
"I can't speak on their behalf, but I feel that GMP have embraced, wittingly or not, an opportunity to demonstrate just how much things have moved on in the 12 years since Banksy's artwork appeared in Brighton.
"I see this as a positive reflection of our society as a whole, representing the progress of LGBT+ rights in this country."
In exchange for Brett's time, in constructing the four Bobby Dazzlers, he will keep one of the helmets for his own collection.
The remaining two Bobby Dazzlers are currently residing at GMP Force HQ, before they become a permanent addition to the Greater Manchester Police Museum.