Advertisement

World's largest corporate Masala bond starts trading on London Stock Exchange…reports Asian Lite News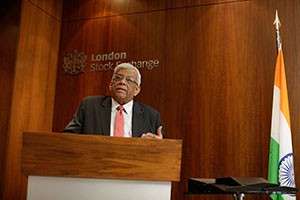 London Stock Exchange welcomes the world's largest corporate Masala bond. The landmark bond issuance from Housing Development Finance Corp (HDFC), one of India's leading banking and financial services companies comes less than 12 months after HDFC's INR 30 billion ($450 million) debt issuance in London, the first ever Indian corporate to list a Masala bond.
The 37 month dated Rupee denominated bond, commonly known as a Masala bond, raised INR 33 billion, equivalent to $504 million, with an annual yield of 7.35%. The issuance secured global investor support, with particularly strong interest from Asian and European investors. It was more than two times oversubscribed and will support HDFC to further fund its expansion.
London Stock Exchange has a strong track record of supporting Masala bond issuance by supranational, municipal and private company institutions on its markets. 37 offshore Indian Rupee bonds have listed in total on London Stock Exchange, raising equivalent to approximately  $5 billion. London Stock Exchange last year saw the listing of the first Masala bond by a foreign government entity, British Columbia, reinforcing London Stock Exchange's position as the leading global listing venue for Rupee denominated bonds.
Nikhil Rathi, CEO, London Stock Exchange plc & Director of International Development, London Stock Exchange Group: "HDFC's $504 million debt issuance is another world first and a significant achievement for HDFC and London's capital markets. It underlines the vital new international channel of funding that is open for Indian corporates in London and the strength of international investor interest in building exposure to India's growth story.
"London Stock Exchange, the global home for Masala bonds, is proud to be the partner of choice for HDFC. We remain committed to building London as the premier centre for Masala bond issuance and look forward to further collaboration with HDFC, as it continues to strengthen its presence in the UK and globally."
"This is another milestone transaction for HDFC. Less than 12 months after our landmark INR 30 billion Masala bond issuance on London Stock Exchange, we have again attracted global capital in the largest fund raise so far in the masala bond market. The fact that we received an overwhelming response from 29 investors across Asia and Europe indicates that there is good demand for high quality Indian paper, and HDFC is proud to continue opening up the Masala bond market," said Deepak Parekh, Chairman, HDFC.
Amit Singh, Partner, Allen & Overy:  "We are honoured to have acted on the most recent masala bond issuance by HDFC Limited which we understand is the largest ever masala bond issuer by an Indian issuer so far. We recently helped establish a medium term programme for HDFC Limited which is listed on the Main Market of London Stock Exchange. Given the frequency of issuances by HDFC Limited, establishing an MTN programme made a lot of commercial sense and helps it access capital markets at short notice. We have been active on a number of London listed masala bond issues over the past year."
HDFC's bond listing is the latest in a long line of global firsts for London Stock Exchange Group, including numerous high profile Rupee denominated bond issuances on London Stock Exchange:
January 2017 – European Bank for Reconstruction & Development issues USD 62 million masala bond, the first in London and Europe in 2017
September 2016 – British Columbia issues world's first Masala bond by a foreign government entity
August 2016 – NTPC, Indian energy conglomerate becomes first Indian green Masala bond issuer
July 2016 – HDFC lists world's first Masala bond by an Indian corporate
June 2016 – Axis Bank lists India's first internationally listed certified green bond & its entire USD 5 billion MTN programme
June 2016 – first Chinese sovereign RMB bond issued outside of China lists in London, bringing total number of offshore RMB bonds issued in 2016 alone in London to 54, more than all other offshore RMB markets combined
August 2015 – International Finance Corporation (IFC) issues world's first offshore green Masala bond, raising $52 million equivalent
February 2014 – IFC lists first Rupee denominated bond, going on to issue a further three Masala bonds in London over two years