Advertisement

Hindu Council UK, represented by Anil Bhanot OBE, Director, joins with other Faiths at the 'Service of Hope' in Westminster Abbey in London….reports Asian Lite News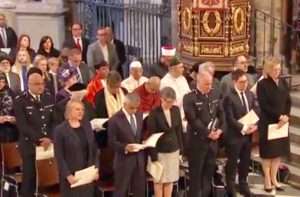 London's majestic Westminster Abbey held a special 'Service of Hope' to pay tribute to the victims of the terror attack which took place at Westminster on 22nd March. The service, was attended by Their Royal Highnesses-The Duke and Duchess of Cambridge, Prince Harry, Home Secretary  Amber Rudd MP, Acting Commissioner of the Metropolitan Police-Craig Mackey, incoming Metropolitan Police Commissioner Cressida Dick, Labour Party Leader Jeremy Corbyn, Commons Speaker John Bercow, Mayor of London Sadiq Khan.
They were joined by families of those killed in the attack, other victims, witnesses and first responders from the police, fire, paramedics, RNLI, lifeboat and NHS hospital services. The major denominations and faiths in the United Kingdom and two hundred diplomatic representatives from across the world also attended the moving memorial service remembering victims.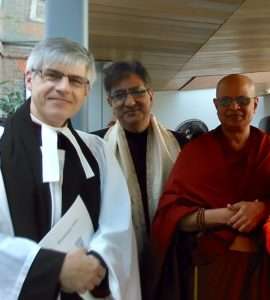 Anil Bhanot OBE, Hindu Council UK's Director of Interfaith Relations, said: "It was a beautiful service with readings from the Bible and other faiths of God's love for all humanity. The Dean of Westminster, The Very Reverend Dr John Hall gave a poignant sermon explaining more fully what the Duke of Cambridge Prince William reminded us of the story of the Good Samaritan from the Bible.
PC Jaskaran Garcha quoted from the Sikh faith, covering all the Dharmic Faiths in her choice of words, 'The Creation is in the Creator, and the Creator is in the Creation, totally pervading and permeating all places'. Thus when we attack others we attack our own part shared in the spirit of God. Each and every Atma, Soul, is a part in the ParamAtma, God who is beyond the sum of all parts which exist of this universe, visible and invisible – Rig.Veda.
The speakers who performed readings and prayers included London Mayor Sadiq Khan, Met Police Commander Mak Chishty, Rabbi Baroness Julia Neuberger DBE, Ayatollah Sayyid Fadhel Hosseini Milani, PC Jaskaran Garcha, the Reverend Anthony Ball, as well as prayers from multi-faith leaders and ambassadors. The service ended with the congregation jointly singing the National Anthem.
The mood at the service was both sombre and resolute about how all of the public services worked together, how the systems that keeps this city, our capital city, moving, worked together. London saw the worst of humanity with the terror attack, but we also saw the best of humanity, coming together, and we saw that again today, in renewed resolution, and solidarity with the families.