Advertisement

Massive fire that engulfed the London tower block still looms over the firefighters and residents trapped inside the apartment. The authorities warns of further rise in death tolls. The fire caught up in London building was imposed a monster effect on everybody that a resident who escaped likening the disaster to a "horror movie"….reports Asian Lite News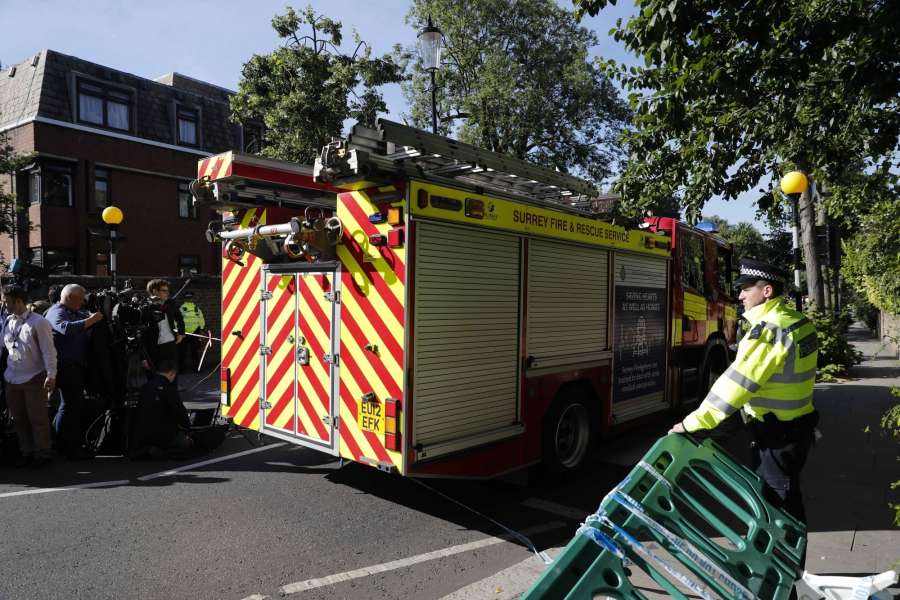 Several people are believed dead as a major fire engulfed a 24-storey apartment complex in west London housing hundreds, with a resident who escaped likening the disaster to a "horror movie". Six bodies were found but the toll is expected to shoot up.
Desperate occupants of the burning Grenfell Tower flocked to apartment windows and screamed for help, many holding their children. Witness Jody Martin said: "I watched one person falling out, I watched another woman holding her baby out in the window… hearing screams."
More than 70 people were in hospitals, over 20 in critical condition, officials said.
More than 12 hours after the fire was seen in the complex, over 250 firefighters continued to battle the leaping flames and thick, choking smoke. London Fire Commissioner Dany Cotton said: "In my 29 years of being a firefighter, I have never ever seen anything of this scale."
Up to 600 people were believed to have been inside the 120 flats in north Kensington when the blaze began shortly after Tuesday midnight, The Telegraph reported.
Authorities said the death toll was expected to rise.
Commander Stuart Cundy of the Metropolitan Police said: "I can confirm six fatalities. This figure is likely to rise during what will be a complex recovery operation over a number of days."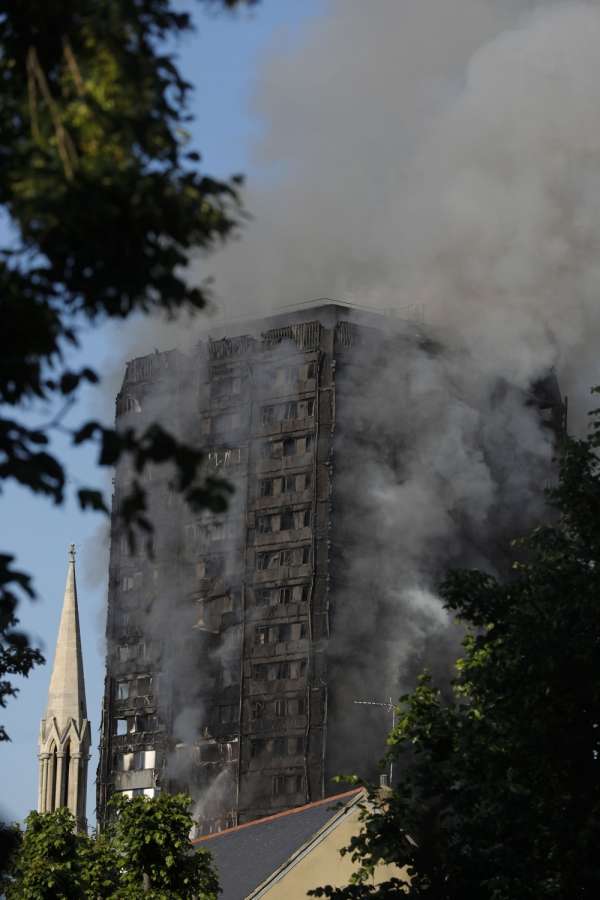 Media reports said the 24-storey appeared it could collapse any time, with cladding already falling to the ground. Explosions could be heard. Windows kept shattering.
Witnesses described people trapped in the burning tower screaming for help and yelling for their children to be saved, the BBC reported. Some people threw their children from windows and others jumped from upper floors.
Many got trapped on upper floors as flames spread rapidly through the building.
One resident who fled from the seventh floor with his girlfriend and young daughter said wrong official advice may have led many residents not to leave the complex.
Michael Paramasivan said he ignored official advice to remain inside.
"If we had stayed in that flat, we would have perished. My gut instinct told me just to get the girls out. I wrapped the little one up because of the smoke and I just got them out," the BBC quoted him as saying.
Some residents reportedly attempted to use bin bags as makeshift parachutes in a desperate attempt to escape. Firefighters rescued large numbers of people, but London Mayor Sadiq Khan said "a lot" of people were unaccounted for.
Cotton said the cause of the fire was not yet known.
Pictures from the scene showed flames engulfing the block and a plume of smoke visible across the capital.
As an investigation into the cause of the blaze began, residents reported that fire alarms had not sounded and that they were told to "stay put" in their flats, The Telegraph reported.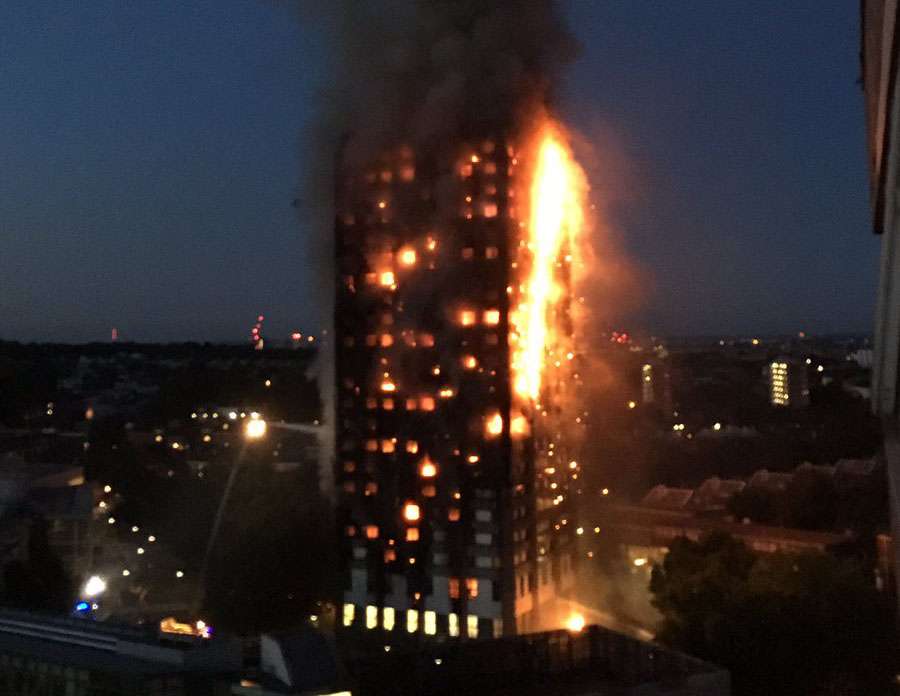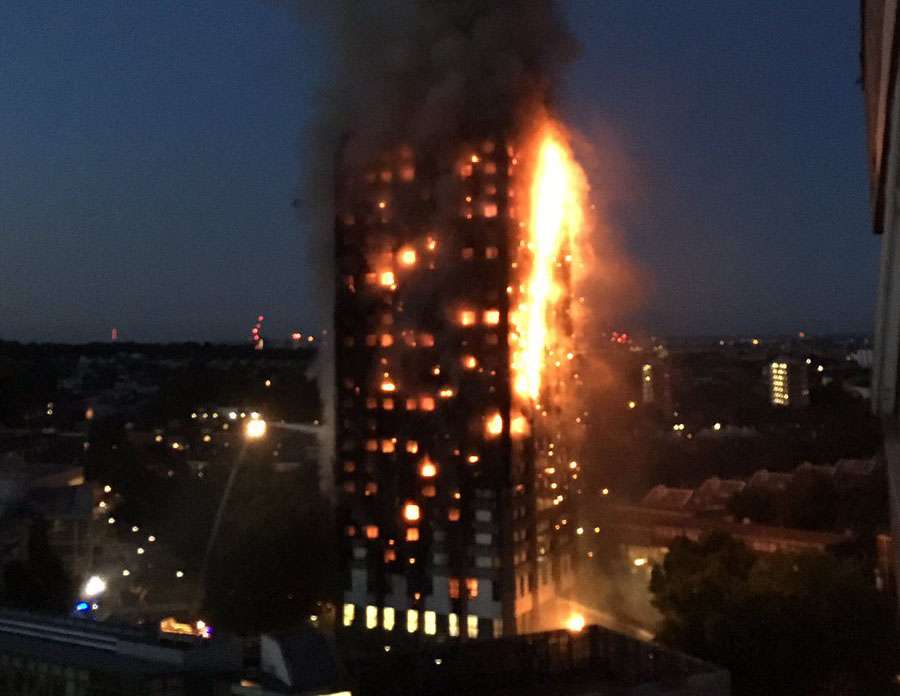 The London Mayor said "questions need to be answered as soon as possible".
Councillor Nick Paget-Brown, who represents the area in which Grenfell Tower is located, said the tower contains some 120 individual apartments, many of which house young families, meaning the number of people trapped could run into hundreds, Efe news reported.
Police closed off roads nearby and asked people to avoid the area.
Paul Munakr, who lives on the seventh floor, managed to escape. "As I was going down the stairs, there were firefighters, truly amazing firefighters that were actually going upstairs, to the fire, trying to get as many people out of the building," he told the BBC.
Matt Wrack of the Fire Brigades Union said something had clearly gone badly wrong with fire prevention procedures at the building built in 1974.
Appeals were made on social media for news of missing friends and relatives.