Advertisement

India and UK commit to strengthen engagement further in Renewable Energy, Climate Change….reports Asian Lite News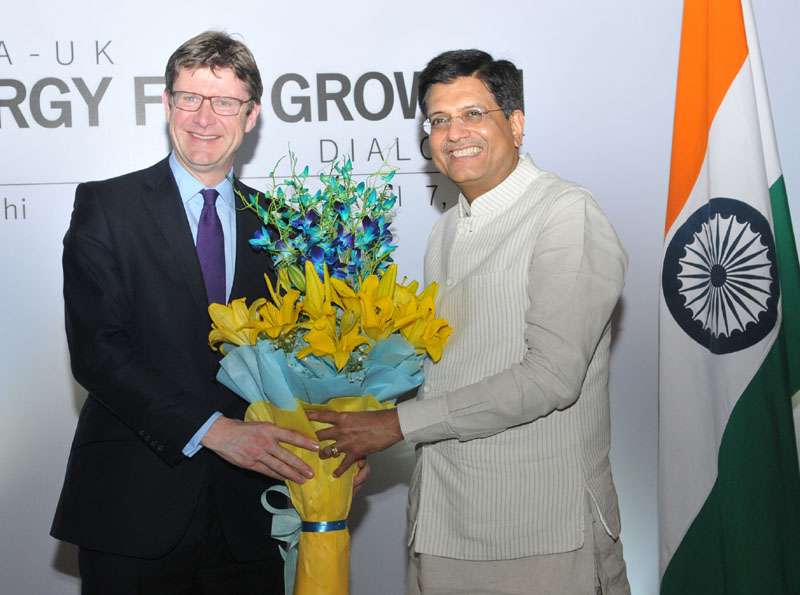 Union Minister of State (IC) for Power, Coal, New & Renewable Energy and Mines, Piyush Goyal, and UK's Secretary of State for Business, Energy and Industrial Strategy, Greg Clark, chaired the inaugural India-UK 'Energy for Growth' Dialogue. The dialogue takes forward the commitment of Prime Minister of India Narendra Modi and Prime Minister of UK Theresa May for an enhanced 'Energy for Growth' Partnership between the two countries.
Both Goyal and Clark welcomed UK's ongoing commitment to India's energy sector. On 4th April 2017 the two countries had reaffirmed their commitment to anchor investment up to £120 million each in the joint fund which aims to raise around £500 million, and has the potential to unlock much more in the future. It was announced that the fund will focus its initial investments on India's rapidly growing energy and renewables market.
India and UK also recognised the importance of combating climate change and mobilising finance from a variety of sources, instruments and channels to mitigate its effects alongside generating economic opportunities. They welcomed the work of the G20 Green Finance Study Group promoting green finance encouraged the issuance of green bonds, among other forms of green finance.
Both Ministers appreciated the strides taken by Energy Efficiency Services Limited (EESL), which has established operations in UK by investing around £7 million in seven energy saving projects after intense technical and financial due diligence. The projects are in operation for more than two years and have been yielding dividends. The Ministers also noted the interest expressed by UK for replicating successful LED business model (UJALA-Unnat Jyoti by Affordable LED's for All) of India in the UK.
India and UK share a strong investment and financial partnership, wherein UK is the third largest FDI investor in India and India is the third largest source of FDI projects in the UK. The India-UK Partnership Fund set up under National Investment and Infrastructure Fund (NIIF) has made substantial progress. The successful issuance of Rupee-denominated bonds in London by Indian entities is encouraging and is reflective of the potential of our financial partnership.
The two Ministers agreed on priority areas for further collaboration in the power and renewable energy areas under the Memorandum of Understanding on Cooperation in the Energy Sector, which was signed during the visit of Prime Minister Modi to the UK in November 2015. The agreed areas include innovation in smart technology to improve performance and reduce losses in India's power sector; support for increased energy efficiency; enhanced energy access; work to accelerate deployment of renewable energy and its integration with the grid; financing for clean energy; decentralized energy scale up and sustainability; and support to states in renewable energy planning and deployment.