Advertisement

Cllr. Reena Ranger, chair-woman of Women Empowered, writes on Viceroy's House directed by BAFTA nominated Gurinder Chadha
There are very few films that you wish away the end credits and the brightening of the houselights as you know the end is only the beginning and you long to know more. There are very few films that have you mesmerised in your seat, so still that wiping away your tears feels like it may distract you for a second too long.
There are very few films that you go to watch with a deep personal interest to learn more about your family history because the reality is, wounds still run deep, scars still embrace so many heartbeats and so many hearts are yet to heal from what they have felt and eyes from what they have seen.
No one ever talks about partition. 70 years still feels too soon to ask detailed questions from those we love, asking them to open up painful memories and losses and perhaps some of us don't feel brave enough to listen to the pain of our most revered. 70 years means that for so many, either the opportunity has passed or is slipping away slowly.
I watched the film, with one eye on the activities and information coming from the Viceroy's House, learning that history is complicated and not all is as you believed it to be; "heroes" in one world can be the "villains" in another and "villains" in one world can be "heroes" in another.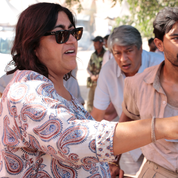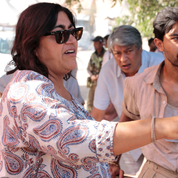 The other eye, intently looking, naively, for my family in the crowds of displaced people, to see them, to tell them, we, your children and grandchildren, watching, want to tell you how this all plays out; there is hope, there is kindness, love and happiness. You will survive the despair and destruction. Would you believe that the British have left India, but your next generations of Indians will be British.
For those who wish to see blame, destruction, heartbreak and horror played out, we have the eyes of tens of millions of people to look into. Those who lost their homes, their loved ones, their lives as they knew them and those who gained their homeland but also at great cost. Viceroy's House may start us thinking about how brave we are to ask and listen to those real stories.
I miss my paternal grandmother often. If she were here, honestly, I don't know if I would have the strength to hear her words. My paternal uncle's words still stuck in my head, with the power to bring me to tears in an instant.
My maternal grandparents, they say that they have seen the real thing, the pain was devastating then and for now it may be too much to watch and relive the experience.
Viceroy's House is one person's view, ultimately it is up to us to individually to make our own decisions. I am glad to have seen the film; I am glad that someone was brave enough to make it; I am glad to have seen her view and grateful to her for starting my own journey and thought processes to formulate my own.
History has many lessons to teach us, the most important of which is, we must learn from history.
Viceroy's House tells the true story of the final five months of British rule in India and coincides with the 70th anniversary of the Independence of India and the founding of Pakistan. The film stars Hugh Bonneville as Lord Mountbatten, Gillian Anderson as his wife, Lady Mountbatten, Manish Dayal and Huma Qureshi as their staff, and the late Om Puri.