Advertisement

The Westminster attacker Khalid Masood was not a "lone wolf" and others had played a key part in indoctrinating him and helping to carry out deadly attacks in London….reports Asian Lite News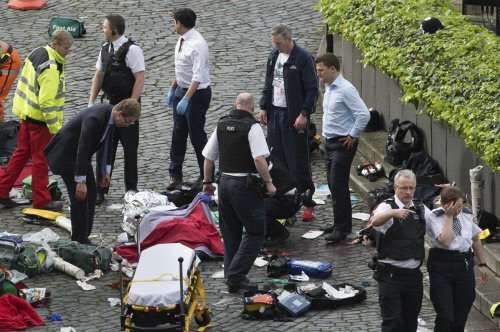 According to the report in Independent, the British-born Muslim convert was likely to have been part of a wider conspiracy.
The disclosure came as armed police detained 11 people in raids across the country with two of the arrests, including that of a woman, described as "significant" in the investigation.
Three cars were also taken away for forensic examination. Police are still hunting associates of Masood who are believed to be linked to the Westminster attack.
It has also emerged that 52-year-old Masood used the Whatsapp messaging service just minutes before he smashed his hired car into the railings at the Houses of Parliament, said the daily.
However, there was no evidence that anyone else accompanied Masood during the rampage in which he murdered four people and injured 50 others.
But the timing and sequence of the radicalisation of Masood, born Adrian Elms, will, the law agencies said, provide important pointers towards what unfolded.
Masood had come to the notice of intelligence agency MI5 and Scotland Yard's Special Branch in the past for associating with known extremists, but he had not been involved in plotting terrorist acts, said securiy officials.
He had previously been engaged in repeated acts of criminality under a number of aliases. Both of his serious convictions had been in relation to stabbing attacks and he had been arrested on other occasions for aggressive actions.
Masood and his wife, who have three children, are said to have divorced.
He is also said to have spent long hours indoors during the day, a lot of the time on the Internet, said the report.
Whether he was steered towards terrorism online is a major part of the inquiry with a number of computers and tablets, of the killer and those detained, being examined by police.
Scotland Yard Assistant Deputy Commissioner Mark Rowley said a "massive amounts of computer data" was seized among 2,700 items in total.
A series of attacks which had been previously written off as being the work of "lone wolves" were later found to have been orchestrated by ISIS "handlers" on the Internet.