Advertisement

Mayor Sadiq Khan hosts first citizenship ceremony at City Hall to welcome 32 new British citizens and sets out new plans to help Londoners become more active citizens….reports Asian Lite News. The ground-breaking new citizenship initiative is aiming to help make the capital of Britain more socially integrated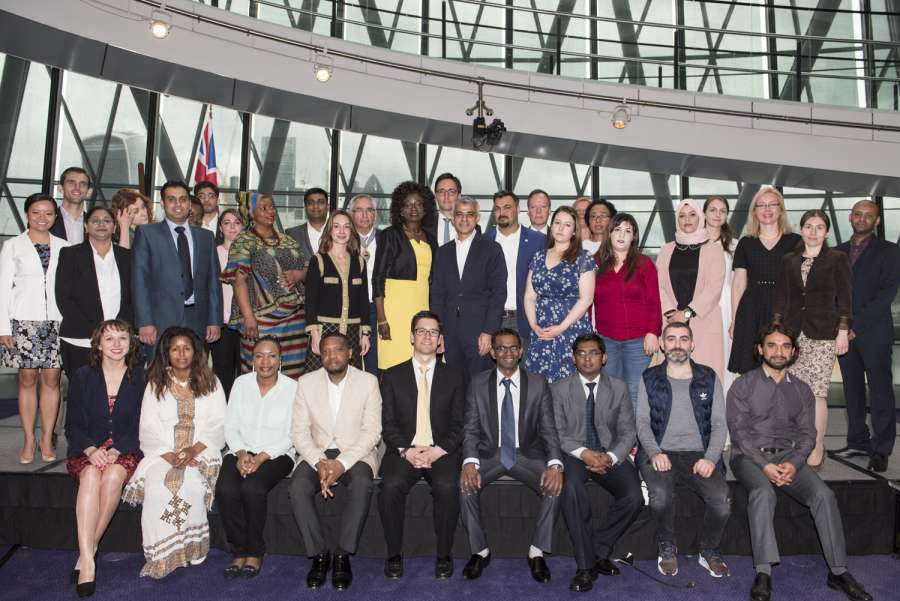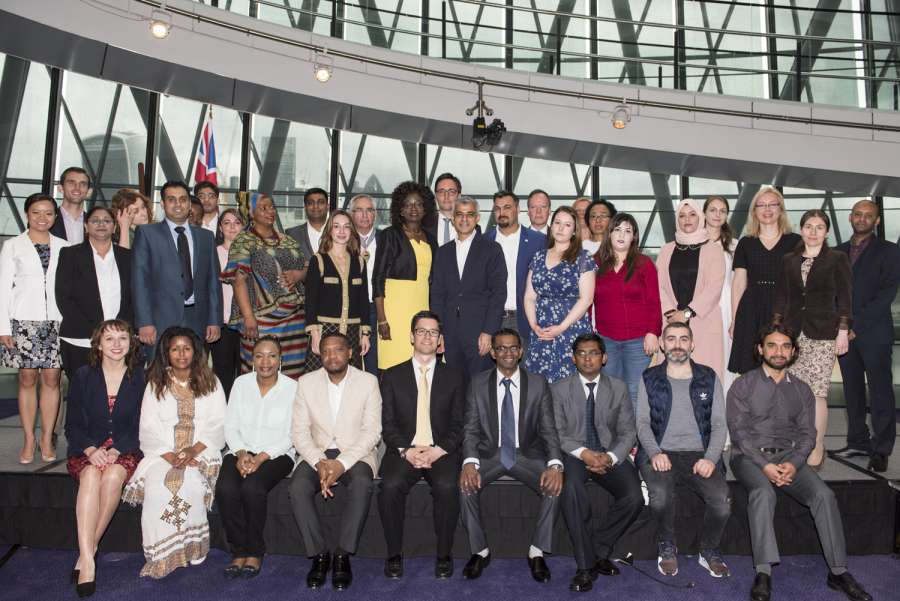 Mayor of London Sadiq Khan hosted his first Mayor's Citizenship Ceremony, where 32 new British citizens – one for every London borough – swore their affirmation of allegiance to Queen and country in front of friends and family at City Hall.
At the ceremony he launched a ground-breaking new citizenship initiative, the first of its kind in the UK, to help Londoners become more engaged in the life of the capital. The programme will tackle social integration, including helping new migrants find a path to citizenship and getting existing London citizens more involved in democracy and the decisions that affect them, with 150,000 Londoners dropping off the electoral register since 2012.
As part of his plans to improve social integration in the capital, the Mayor has announced the new initiative which is the result of a partnership with independent charitable funders, Trust for London and Unbound Philanthropy. Aimed at tackling some of the main barriers preventing all Londoners from getting fully involved in their communities, the partnership will help people to access their citizenship and residency rights, increase civic engagement and celebrate diversity and shared identities across the capital.
The capital's population is rapidly growing and changing – around 50 per cent of people moving to London are from abroad, with the remaining 50 per cent from other UK regions. The Mayor has already made the case for the rights of EU citizens to be protected following the triggering of Article 50, and an integral part of these plans will be to support the take up of British citizenship by Londoners from the EU and abroad.
Whilst 640,000 Londoners became British citizens in the past 11 years, 54 per cent of Londoners born abroad don't hold a British passport. There are also thousands of young Londoners who have grown up in the capital but cannot access higher education or work because they have irregular migration status – as Londoners, they want to contribute more to and fully engage with our society.
The initiative is not limited to those who have migrated to London. It is an integral part of a much broader drive by the Mayor for all Londoners to be more involved in their city, become active citizens and live interconnected lives.
The collaboration will see experts from Migrants Organise, Citizens UK, Coram Children's Legal Centre and Just for Kids Law seconded to City Hall to help shape the Mayor's plans, and work towards the shared goal of making London a truly socially integrated city. This model is inspired by similar initiatives in the USA, but it is the first time it has been delivered here.
To help achieve this, Trust for London and Unbound Philanthropy have set up a pooled fund, the Citizenship and Integration Initiative, with a goal of raising £1 million from independent funders by 2020. City Hall intends to match the investment through its wider work on social integration.
"I was very proud to meet 32 new British citizens at City Hall this morning and hear about their lives in our great city and what it means to them to be a Londoner," said  Sadiq. "London is one of the world's most diverse and vibrant cities, but improving social integration is still one of the biggest challenges we face. Building more cohesive communities across the capital is a top priority for me as Mayor because greater integration will lead to a safer, healthier and more prosperous London. We all benefit when people are given the help they need to contribute fully to society and to their local communities.
"I want every Londoner to be able to actively participate in the life of our great city – that's why we are working to help them access their citizenship rights, have their say in the decisions that affect them and feel like they have the opportunity to get to know their neighbour. By joining forces with Trust for London, civil society organisations and independent funders, we can bring together our collective expertise and networks to achieve real change for Londoners and reach our shared goal of making London the most inclusive and open city in the world."
"As Londoners, we have lots to be proud of. One of our greatest strengths is that our capital is a place where millions of people from different walks of life rub along well together," said Bharat Mehta CBE, Chief Executive of Trust for London.
"This is something precious that we cannot take for granted. However, protecting it and bringing along those Londoners who currently feel left out, is a big job. We can get much further with tackling it with collaboration between charities and the public sector, each maintaining their independence, but drawing on each other's strengths and resources. That's why we have set up this new initiative and we hope it will help support one of the best things about London."
This initiative is one of the first steps in the Mayor's wider work to help all Londoners feel integrated into life in the city. His Deputy Mayor for Social Integration, Social Mobility and Community Engagement, Matthew Ryder, is working with grassroots community organisations across the capital to identify the key barriers to community cohesion and integration. Matthew is also working with local government, voluntary and community sector organisations and communities themselves to develop a strategy, including new ways of measuring social integration.
Deputy Mayor for Social Integration, Social Mobility and Community Engagement, Matthew Ryder, said: "Social integration is not just about bringing certain communities together. It is about every single Londoner feeling like they belong in this city, have a shared set of values with other Londoners, and a role to play in the everyday life of the capital. This initiative very much sets the tone of our work around social integration – working in partnership with communities and civil society to bring real change to the lives of Londoners, and I am very much looking forward to working with Trust for London on this ground-breaking project."
Kamena Dorling, Head of Policy and Programmes at Coram Children's Legal Centre said: "With its long history of supporting children and young people in London, Coram Children's Legal Centre is thrilled to be involved in this initiative and to be contributing its expertise on migration and citizenship to the GLA's important work."
Zrinka Bralo, Chief Executive of Migrants Organise, said: "At Migrants Organise we always say that integration begins on Day 1, when migrants arrive at destination. We have worked with migrant and refugee communities in west London for over 20 years. We look forward to sharing and learning experiences and best practice in enabling migrants to build and take part in a diverse and inclusive city."