Advertisement

Trafalgar Square, the most prestigious venue in London, welcomes thousands of Yoga enthusiasts and practitioners from all over the UK to celebrate International Yoga Day….reports Asian Lite News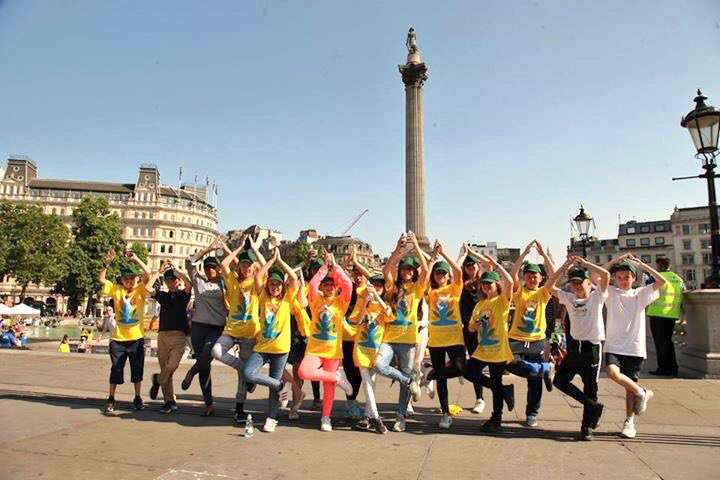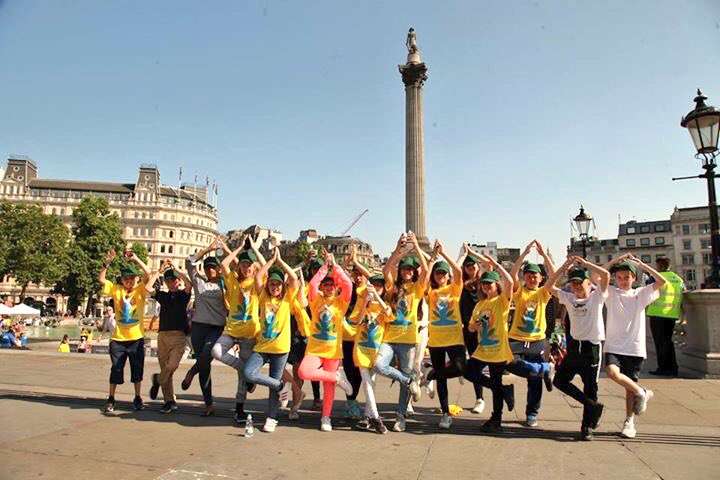 Indians take over Trafalgar Square again. The prestigious venue which hosts annual Diwali festival, this time played host to another major event – International Yoga Day. The famed British weather offered a bright sunny day for the celebrations to take place with the presence of more than 15 reputed Yoga teachers and organisations in the UK. Thousands of Yoga enthusiasts and practitioners from all over the UK at the iconic Trafalgar Square.
The event was organised by High Commission of India, along with India Tourism Office and supported by the Mayor of London. The day commenced with recitation of Vedic Sanskrit Shlokas.  Prime Minister Narendra Modi's video message was played with the Nelson's Column in the backdrop, a message telecast live for the benefit of all in the UK by major ethnic channels.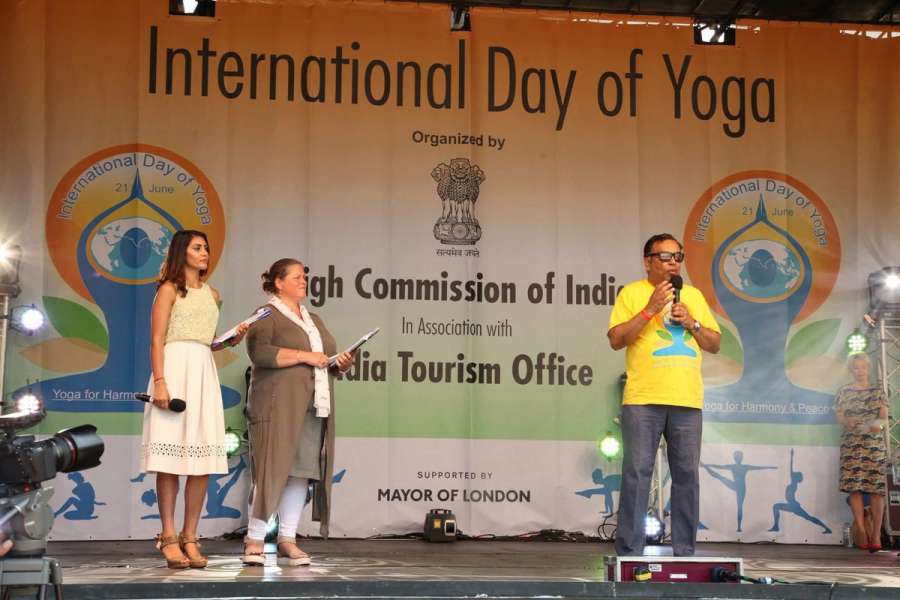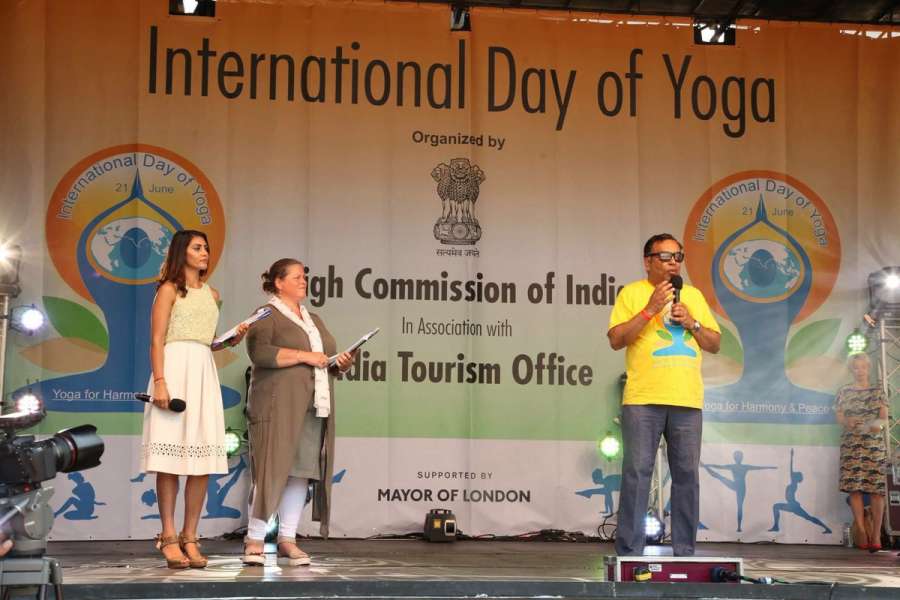 The message of Her Majesty the Queen of the UK Elizabeth II was also displayed to be shared with all attendees during the event.  In his address, High Commissioner Y.K. Sinha thanked the Greater London Authority and the office of the Mayor of London for their support in organising the event. He said that the word 'yoga' is from Sanskrit and means to join or to unite, symbolizing the union of body and consciousness.
At a time when the world is faced with the grave challenge of terrorism, Yoga shows the way to lasting peace and harmony. Yoga is not just a form of exercise but a way to attain peace through physical, mental and spiritual well-being.
On June 18, High Commission of India and India Tourism's UK division, held pre-launch events in connection with the IDY celebrations with a takeover of the Coca Cola London Eye, teaming up with UK-based yoga organisations to unite in a 'wheel of yoga' yoga for peace class within the 32 pods of the London Eye.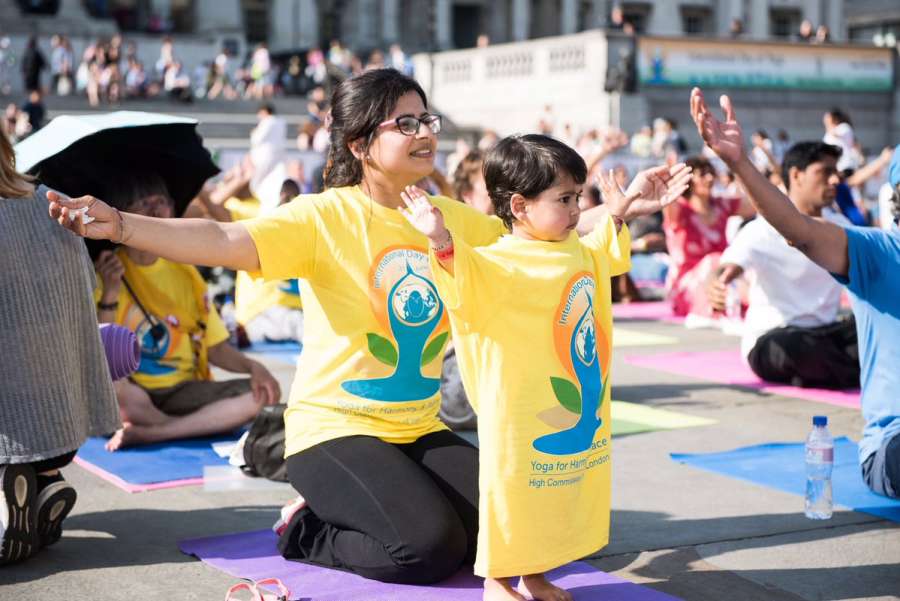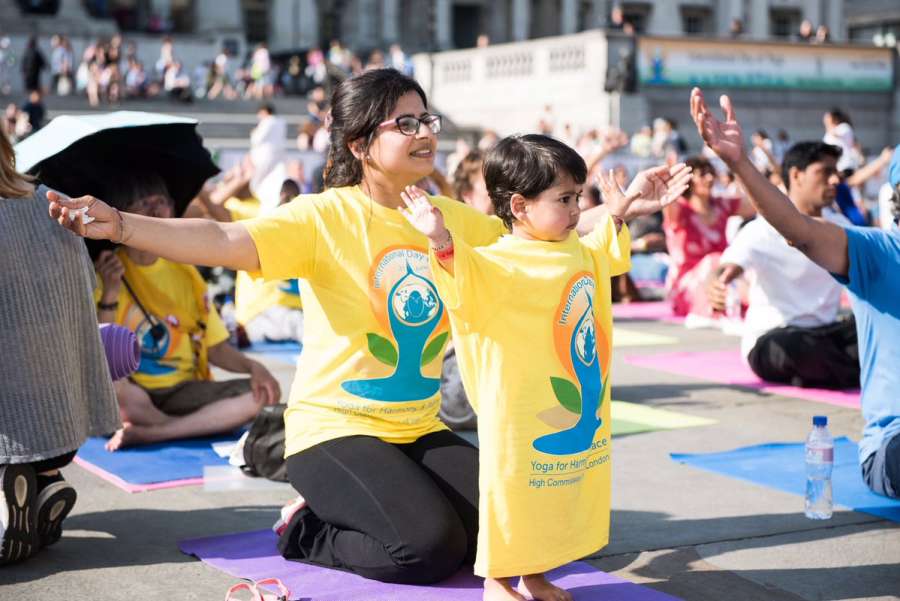 In addition, London's Alexandra Place saw a day-long Yoga Day celebration on June 18. High Commissioner also spoke of the significance of the day as a harbinger of global health, well-being, peace and harmony. He welcomed all to this historic celebration and thanked them for joining in this global initiative of sharing the richness of yogic and Sanskritic heritage with the world in the form of International Day of Yoga.
Deputy Mayor of Culture, London, Ms Justine Simons also greeted the participants to this special occasion. Akadami UK presented a beautiful Vedic Nritya Yoga performance in the beginning followed by Yoga demonstrations in its various forms by successive groups and organisations.  So far ,some of the key participants have been Chi Kri Classes, Sky UK Yoga, Patanjali Yoga, Advaya Initiative, Art of Living, Brahma Kumaris, Special Yoga Foundation (Family Yoga), Hindu Swayamsevak Sangh & Hindu Sevika Samiti (HSS UK).