Advertisement

Around 2,000 people gathered at Westminster Abbey for a memorial service dedicated to the victims of the Westminster terror attack….reports Asian Lite News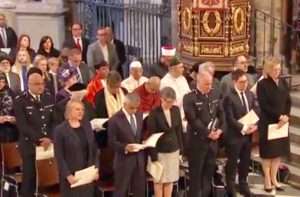 On 22 March Khalid Masood killed three people when he drove into crowds and stabbed a policeman to death before being shot dead at the UK Parliament.
The service was led by the Dean of Westminster, the Very Reverend John Hall, and was attended by the Royal Family, the Mayor of London, MET Police, faith leaders and survivors of Khalid Masood's murderous rampage.
Lord Singh attended in his capacity as a faith leader, something he does routinely at civic occasions like the Commonwealth Service and the Remembrance Day Service at the Cenotaph.
American tourist Melissa Payne Cochran who lost her husband during the terrorist incident was also in attendance with her parents. She had been celebrating her 25th wedding anniversary with her husband on the day of the terror attack.
In a moving tribute to those who had lost their lives, Prince William read a passage from the Bible about the Good Samaritan. The Home Secretary Amber Rudd read from the Book of Jeremiah and PC J Garcha, a serving officer in the MET Police read from the Guru Granth Sahib (Sikh scriptures).
Some representatives from the Sikh Federation and Sikh Council were also among audience members.
Debate: Syrian Chemical Weapons Attack
Members of the House of Lords called for a 'credible investigation' into the chemical weapons attack in Syria, which was responsible for over 70 deaths in Khan Sheikhoun, Idlib on Tuesday.
According to UK-based monitoring group the Syrian Observatory for Human Rights, 20 children and 52 adults were killed in the chemical incident.
Calling for an investigation into the atrocity, Baroness Northover said: "If it turns out to be sarin from the regime's stocks, what actions will be taken to ensure that this time there is full destruction of all Syria's chemical weapons?"
Referring to a recent US military airstrike against IS which killed a significant number of civilians, Lord Singh said: "My Lords, does the Minister agree with the sentiments of the great human rights activist Andrei Sakharov, who said that there will be no progress on human rights until we are even-handed in condemnation?"
He went on: "Having said that, does she further agree that the indiscriminate bombing of civilians in Mosul should be equally condemned as the chemical attack? For survivors and for the relatives of those killed and maimed, it is equally bad."