Advertisement

British Prime Minister Theresa May strike a deal with Northern Ireland's Democratic Unionist Party (DUP) to form a minority government which means the DUP members will back Conservatives in key votes, but there will be no formal coalition….reports Asian Lite News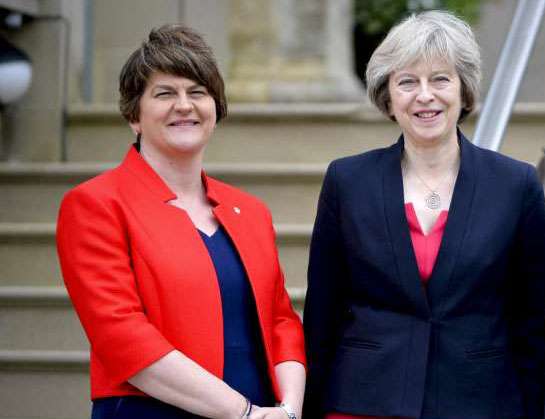 British Prime Minister Theresa May on Monday reached a supply and confidence deal with Northern Ireland's Democratic Unionist Party (DUP), enabling her to form a functioning minority government in London.
The deal comes after two weeks of talks between the DUP and May's Conservatives since the June 8 general election resulted in a hung Parliament, reports the BBC.
The DUP's 10 members of Parliament will back the Conservatives in key Commons votes, starting with the Queen's Speech later this week, but there will be no formal coalition.
The DUP has claimed the UK government has agreed to improve the treatment of military veterans in Northern Ireland as part of the agreement, but played down reports that it had sought 2 billion pounds in extra funding for Northern Ireland in return for its support.
May shook hands with DUP leader Arlene Foster as she and other senior party figures arrived at Downing Street earlier on Monday to finalise the accord.
Foster said she was "delighted" with the arrangement and that May believed the deal was a "very good one" and the parties "share many values", the BBC reported.
May fell nine seats short of an overall majority after the snap election, meaning she is reliant on other parties to pass legislation, including Brexit terms.
The support of the DUP will give her an effective working majority of 13.