Advertisement

The Lord Bagri, CBE – 1930-2017. The Indian-origin peer was the man behind the rejuvenation of global metals industry. Even in his sick bed, he was asking about the price of copper. His career was started when he was just 15 and the country honoured him with a life peerage. Asian Lite pays tribute to Lord Bagri, CBE. He was awarded the peerage during his tenure as the longest serving chairman in the history of the London Metal Exchange, has died in London at the age of 86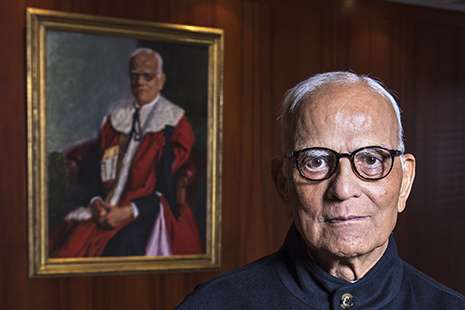 There are few names that are synonymous with the LME and the global metals industry; Bagri is certainly one. With a career that started when he was just 15 and went on to span eight decades, Bagri oversaw some of the most significant moments in the LME's history and remained in constant touch with the market until his passing in London this week.
Bagri has often been described by his peers as a born leader, whose use of his strategic foresight, intellect and passion fundamentally shaped the metals industry.
Never one to stand still, Bagri was a strong believer in the need to move with the times. His approach to change was visionary, and led the exchange not only to stay ahead of its competitors but also to reinvent itself and stay relevant. He championed the demutualisation of the LME in September 2000, an event that changed the foundations of the LME by transferring the market from a cooperative-style structure to a private shareholder-owned exchange, which in turn accelerated the market's modernisation, ensured its continued growth and to retain its dominant position as the world leading metals exchange.
It was a move which led the exchange to eventually become a for-profit organisation, a process that Bagri believed was necessary in order for the LME to continue to evolve. He was right; in 2012, the LME was sold to Hong Kong Exchanges & Clearing for £1.388 billion ($1.77 billion).
Bagri was chairman of the LME when the global metals industry was shaken in 1996 by the declaration of $2.6 billion losses by Japan's Sumitomo Corp, caused by a rogue trader in its copper department. Many predicted the event would substantially damage, or even destroy, the LME.
Yet that same year, the Securities and Investment Board gave the LME a clean bill of health after accepting its invitation to review the exchange post-Sumitomo. It was an extremely rewarding moment for Bagri, whose hands-on guidance, unwavering belief in the exchange and dedication to the metals world he loved is credited to the LME emerging unscathed and, remarkably, a stronger market.
He also oversaw the introduction of an electronic trading platform at the LME, launching LMEselect in February 2001 as he understood that the exchange could not let technology move ahead without it.
But he never forgot his roots in the trade and industry – Bagri described the LME's prompt date structure as a "key weapon in the LME's arsenal in terms of its links with trade and industry" in a 2015 interview with Metal Bulletin Magazine – and was a strong proponent of the need to protect the LME's unique trading methodologies of open outcry and the telephone market.
His link to the trading floor was intensely personal; Bagri set up a company which in February 1970 became one of the first two overseas members of the exchange, something he described as one of the highs of his career.
That firm, Metdist, was a ring dealing member of the LME and continued on the trading floor after CCBI, the investment banking arm of China Construction Bank, completed its purchase of a 75% stake in Metdist Trading Ltd in April 2016. CCBI Metdist became the first company majority-owned by a Chinese bank with category I membership of the LME.
"For someone of humble origins and very modest means, gaining the trust of the metals community and becoming a ring dealing member was a milestone, an event that I still remember today," Bagri told Metal Bulletin Magazine in 2015.
While his background did not suggest that he would one day become The Lord Bagri CBE, his tenacity and sharp-witted intellect might have. Born in 1930 to a middle-class Indian family, Bagri lost his father when he was just three. His mother sent him to work at 15 as a filing clerk for a metals firm in Calcutta in order to understand the value of money; his love affair with metals began.
A young Raj Bagri, apprenticed to Binani family company Metal Distributors, learned quickly and became passionate about the metals world. He eventually convinced his bosses to send him to Malaysia to pitch to a major tin producer in Penang.
Contracting typhoid en route, a feverish Bagri still managed to secure a major deal and returned to Calcutta with a passion for travel and a vision for how to globalise his employer's business. He went to London, eventually moving there permanently with his wife Usha after persuading his bosses to allow him to set up a trading firm, Metal Distributors (UK).
Unable to become a member of the LME due to Indian foreign exchange controls at the time, Bagri continued to run Metal Distributors (UK) but also set up Metdist, which finally joined the LME a decade later after he worked assiduously to persuade the LME to open its door to foreign membership. The rest is history.
Bagri approached life with steadfast determination and a deep sense of compassion for all. These unique qualities, combined with his strong conviction and focus, earned him tremendous respect in both his professional and personal life.
His strong sense of civic responsibility spearheaded the creation of the Bagri Foundation, a UK registered charity, in 1990. The organisation was established to provide philanthropic assistance through education, relief-work, the advancement of health and the preservation of Asia's cultural heritage. This work, along with his generosity and commitment to helping others, inspired many along his journey.
The other passion for Bagri – who was an LME board director from 1983, LME vice chairman from 1990 and then LME chairman from 1993 to 2002 – was his family.
His wife of over 60 years has been at his side throughout his life; Bagri has spoken lovingly of Usha's unwavering support for him "both when the sun was shining and on days when it never stopped raining".
The couple had two children: a son Apurv, who took over as ceo of Metdist in 1991, and a daughter Amita, who lives in India. Bagri also leaves behind four grandchildren, Aditi, Amisha, Avani and Avanti.
Although Bagri made a conscious decision not to comment publicly on the LME when he stepped down as chairman in 2002, his own personal commitment to metals continued until the end of his life. He continued to go into the office daily until ill-health prevented him, and even when he could not physically make the trip he would still avidly dissect market developments, particularly in the global physical copper market.
Lord Bagri's fascination with the world of metals are perhaps best evidenced through his own words. When regaining consciousness after a protracted period this month, his first question to his son Apurv was, "What's the price of copper?"
A modern day champion of the metals world, Bagri will be sadly missed.