Advertisement

The President of Pakistan has pledged support for the University of Leicester to promote international collaboration in higher education….reports Asian Lite News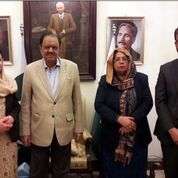 Mr Mamnoon Hussain, the President of the Islamic Republic of Pakistan, met with University of Leicester academic Dr Saeeda Shah in Karachi where he said: "Improving higher education in Pakistan is my first priority, and the office of the President will make all support available to the University of Leicester efforts in this regard."
The President is Chancellor of a number of Federal universities in Pakistan and has a keen interest in developing education in the country.
Dr Shah from the University of Leicester School of Education is co-Director with Professor David Pedder, developing a proposal to submit to the SPHEIR scheme (Strategic Partnerships for Higher Education Innovation and Reform).
This proposal focuses on working in partnership with a large group of universities in Pakistan to improve higher education – the partners include five women-only universities in Pakistan as well.
The funding scheme is issued by DFID to transform higher education systems in focus countries in Sub-Saharan Africa, Asia and the Middle East to better meet the needs of graduates and employers. It supports diverse, large-scale partnerships to improve the quality, relevance, accessibility and affordability of higher education and focuses on creating new and innovative solutions to key higher education challenges to deliver systemic and sustainable change at national and international scales.
Dr Shah said: "I am in Pakistan to meet the vice-chancellors and other senior leaders in the proposed partner universities tofinalise partnership details as well as to identify members of the project steering committee, and most importantly to seek support from the President of Pakistan which is very important for any impact on relevant policies and systems.
"The President, when approached, not only granted meeting time but also showed keen interest in all aspects of the proposed project and discussed details of the proposal in an hour long meeting at the State Guest House Karachi. During this meeting Dr Fatema Hassan, a senior academic and educationist of extensive experience and a proposed member of the project steering committee was also present. The President asked about potential partners and gave valuable advice regarding selecting appropriate partner institutions and also highlighted the possible needs in higher education sector in the country.
"He appreciated the proposed project as highly relevant to the current needs of the sector in the country and promised all possible support from the office of the President.
"The President's knowledge of the education sector in Pakistan and his clear vision of how it can be improved is highly valuable for developing details of the project.
"I am extremely obliged that the President made time available for this meeting during the very busy schedule of his visit to Karachi, and I greatly appreciate his support for the project which will facilitate this partnership work."
Dr Shah's research focuses on gender and leadership which aligns with the institutional policy and aims. The University of Leicester is a champion of HeForShe -a global solidarity movement for gender equality, with the aim to promote female empowerment. The proposed project also aims to improve the role and contributions of women-only universities in Pakistan.
"Informed by our previous experiences of collaborative projects with the universities in Pakistan we are now working on developing further multi-dimensional and cross-regional partnerships," said Dr Shah.