Advertisement

Shivani Ahluwalia presents the exclusive high end Indian designer  Mayyur R Girotra Couture along with Inaaya Jewellery at London …. reports Richa Grover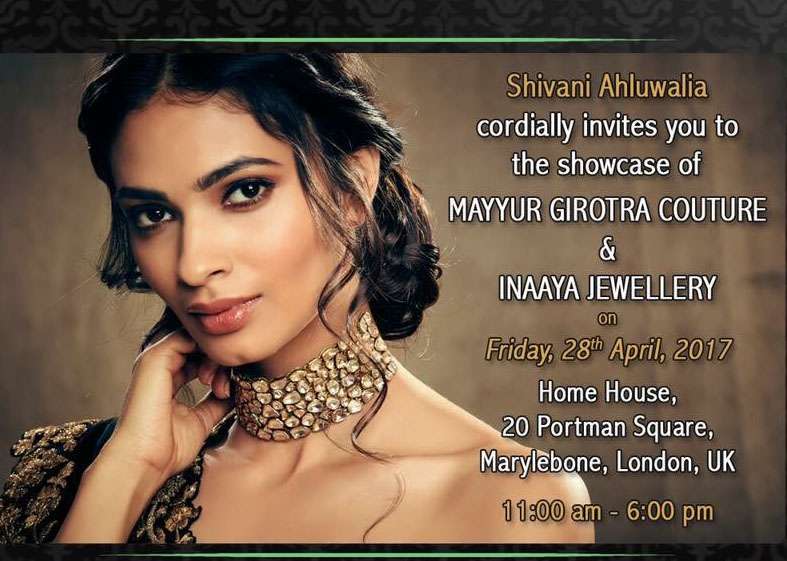 The exhibition, to be held between 11am & 6pm, on Friday, April 28 at Home House, 20 Portman Square, Marylebone, will bring the latest designs in the fashion & jewellery segment from two world renowned designers.
Shivani Ahluwalia is a London-based communication and networking expert as well as luxury consultant and stylist representation on an array of leading artists, fashion designers, jewellers and home accessory manufacturers from all over the world.
A family woman and a proud mother of two, she began her career as an interior designer and art aficionado having worked with and trained under the likes of Feroze Gujral & Vadehra Art. Due to heavy demand, she branched out into bringing "one of a kind" products for her clients and their homes.
Weaving together the threads of extravagance and expert design, Mayyur Girotra pushes the envelope of high fashion as he concocts a diverse collection of Indian wear that is truly fit for Royalty.
A well respected creator of a broad spectrum of design, he breaks free from conventions and rules to spell magic with his work in Indian festive dressing. Mayyur has been part of several platforms such a LakmeFashion week, Dubai Fashion Week, Seychelles India Day and many known celebrities such as  Deepika Padukone, Sonam Kapoor, Sridevi, Sushmita Sen and many more have been dressed by him.
Inaaya by Deepa Mehra is an award winning designer, who creates jewellery of understated elegance that is meant to be worn everyday from day to evening, from black tie to jeans and everything in between. 
Deepa designs versatile jewellery with a special twist, ancient inspired, classically informed, timeless, yet moderniSed to complement today's wardrobe. Get ready to experience shopping delight as Shivani's handpicked style statements make their way to you.