Advertisement

Sikh family give blood in Coventry in memory of their father  and encourage  more Asian people to donate blood….reports Asian Lite News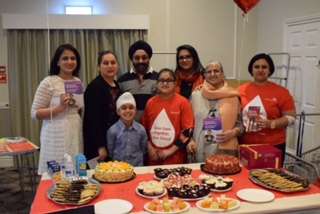 A Sikh family were joined by friends and family in Coventry to donate blood in memory of their late father Mr Lal Singh as an appreciation of the blood transfusions he received due to severe anaemia. The blood transfusions Mr Singh received were vital in helping to prolong his life.
Mr Singh sadly died in January 2016. Due to his illness Mr Singh received blood transfusions every two weeks during many years of treatment. As a result of seeing how the blood transfusions improved the quality of his life, his family have pledged to donate blood in his memory and attended the Holiday Inn session on London Road in Coventry recently.
Mr Singh's family and extended network of friends provided extra snacks and treats for blood donors at the session as a thank you for their generosity. His grandchildren Eksahib, aged 10 and Jasgobind, aged 7 also baked themed cupcakes and muffins for the event and created a special poem in memory of their Grandfather.  Twelve members of the group gave blood and three members also joined the British Bone Marrow register.
Mr Singh's son Ranbir Singh Lakhpuri, 44, a fund manager said: "My father's illness made us realise first hand how important it is to give blood. My father benefitted from regular blood transfusions and the transfusions he received literally bought life to him each time he had them. As a family we wanted to give something back to the community and we would encourage more people from the Asian communities and the Sikh community in particular to help save lives and give blood. There really cannot be a higher form of 'seva' or service to others than donating your own blood to save the life of someone else without fear or favour. I was a little tense before donating but the staff were wonderful and very caring and the thought of giving blood was actually more painful then the donation itself. The sense of satisfaction and pride that another human being will benefit from one hour of my time giving blood was immense."
Although overall blood use within the NHS has reduced thanks to improvements in clinical and surgical practices, around 6,000 donations are needed every day to meet the need of patients in England.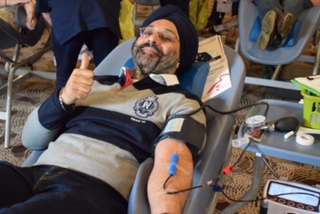 Blood is required to treat patients for a whole range of reasons. The blood you donate is used to treat critically ill patients, whether they have cancer or other blood disorders, been in an accident, having surgery or after childbirth.
NHS Blood and Transplant needs donors from all blood groups and communities but is particularly looking for new donors from black and Asian communities, and donors with the universal blood group O negative, as well as from groups A negative, B negative and AB negative. Don't worry if you don't know your blood group before donating.
In general, as long as you are fit and healthy, weigh over 7 stone 12 lbs (50kg) and are aged between 17 and 66 (up to 70 if you have given blood before) you should be able to give blood. If you are over 70, you need to have given blood in the last two years to continue donating.
Become a blood donor. Register today and book an appointment at www.blood.co.uk or call 0300 123 23 23.
Eksahib also displayed a poem for blood donors to read whilst waiting which she had written remembering the good times with her grandfather:
The sun shines in the bright blue sky,
We watch as the noisy airplanes fly by
The cool fresh air blows in our toes
We play volleyball for hours or even plant some flowers
More time is bought
So we stay without a thought
We sit on the swing, stories we bring
We sleep tired in the shade
A memory has been made