Advertisement

Soumik Datta is a British Indian composer and virtuoso player of the sarod – a 19 stringed fretless instrument with a nomadic history spanning ancient Afghanistan, colonial India and modern day global downloads. In the run up to his upcoming event at the Globe Theatre as a part of the Festival of Independence, Richa Grover caught up with Soumik Datta for Asian Lite News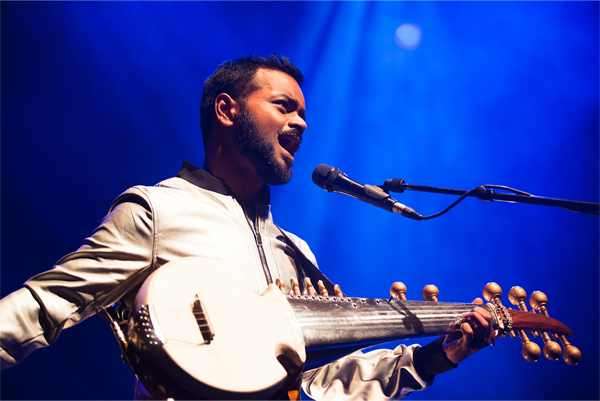 Soumik is not only a solo virtuoso. He is also innovative and generous, working with other musicians to create fabulous new pieces, bringing his sarod and their instruments to new and wider audiences around the world.
Trained by the sarod legend, Pandit Buddhadev Das Gupta while completing his Masters in Composition at Trinity College of Music, Soumik's concerts bridge the world of Indian classical and contemporary music. His artistic hallmarks are his collaborations with other artists: Beyonce, Jay-Z, Bill Bailey, Manu Delago, Akram Khan, Nitin Sawhney, Anoushka Shankar, Bernhard Schimpelsberger, Talvin Singh, Joss Stone, Shankar Mahadevan to name a few.
What does the festival of independence performance mean to you? Focus..
This year we celebrate India's 70th year of Indian Independence from the British Raj. At the same time we also celebrate the rich cultural exchange between these two nations. In this spirit I've chosen to focus my concert at the Globe theatre on collaboration. Performing with Talvin Singh in the first half and the City of London Sinfonia who will play my cinematic score of 'King of Ghosts' in the second, I hope to create an evening that brings together east and west, old and new, cinema and live music. The Festival of Independence will be a wonderful opportunity to unify these elements!
What can your fans expect from the show ?
When I was young, I trained as an Indian classical Sarod player. But over the years I've developed a contemporary style which allows me to play progressive music for younger audiences. And until now, I've always kept these two sides of my self completely separate. The concert at the Globe will for the very first time allow listeners an opportunity to hear both my classical and contemporary music in one evening. It's a mental and physical challenge to balance both halves of the show but one that I am very much looking forward to!
Anything else you wish to convey to London audiences ?
London has been an inspiration for me. Working with the best museums and venues to curate and perform music, I've found that London has a resilience unlike any other. This is why despite international tours, I continue to return to this city to continue my work here. Next month I am curating a FREE all day festival of dance and music at the Horniman Museum Sunday, 23 July!