Advertisement

London's prestigious Southbank Centre sign a Letter of Cooperation with the Abu Dhabi Music and Arts Foundation….reports Asian Lite News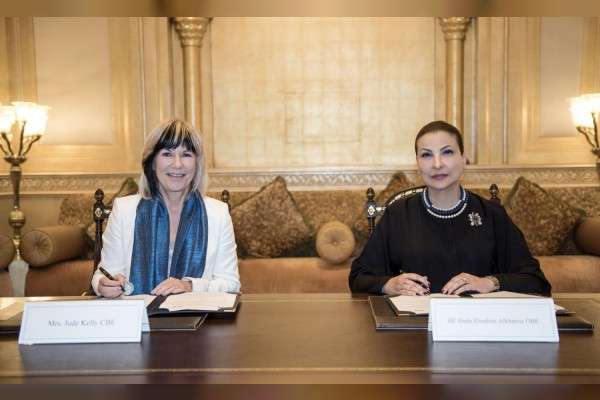 The Abu Dhabi Music and Arts Foundation (ADMAF) has signed a Letter of Cooperation (LoC) with London's Southbank Centre, the world's largest festival site, home to the Royal festival Hall, Queen Elizabeth hall, Purcell Room and Hayward Gallery, and four world-class orchestras.
Acknowledging common principles, goals and areas of common interest for joint collaboration in culture and education, the LoC was signed in a ceremony at the Emirates Palace by Huda Ebrahim Al Khamis OBE, Founder of the Abu Dhabi Music and Arts Foundation and Jude Kelly CBE, Artistic Director of the Southbank Centre, in the presence of ADMAF Advisors and Gavin Anderson, UAE Country Director of the British Council. The agreement will focus on enhancing the strategic value of individual cultural exchange projects through mutually beneficial programmes, and aid in collaboration leading to joint commissions, artistic creations and educational initiatives.
The strategic partnership will encourage exchange, dialogue and other opportunities for cultural professionals and practitioners to foster greater understanding in all aspects of cultural and artistic development.
Commenting on the signing of the LoC, Huda Al Khamis said: "We are delighted to join the Southbank Centre to nurture artistic excellence across multiple artform disciplines, particularly through initiatives that will further innovate forms of expression and empower women in culture and society such as the Women of the World Festival. This letter of cooperation reinforces the bonds of creative cooperation between ADMAF and the UK that date back over 20 years. Partnerships such as this enable ADMAF to be an effective creative catalyst, facilitating collaborations between the UAE and the arts and culture sector worldwide."
Jude Kelly, who was appointed Artistic Director of Southbank Centre in 2006, said, "Southbank Centre connects with the world in order to further not just culture but the idea of the role of peace, harmony and progress. It is one of the most strategic decisions we take to partner with people and organisations such as the Abu Dhabi Music and Arts Foundation, who share our values."
The Southbank Centre attracts over 6 million visitors a year and encompasses over 5,000 events with world-class artists. The centre has a dynamic year-round festivals programme and was founded in 1951. The collaboration with ADMAF will empower original artistic expression whilst working to preserve the UAE's cultural legacy and inspire creativity and cultivate emerging talent.