Advertisement

Two prominent stars from southern India attended the Palace event to launch Indo-UK year of culture….reports Asian Lite News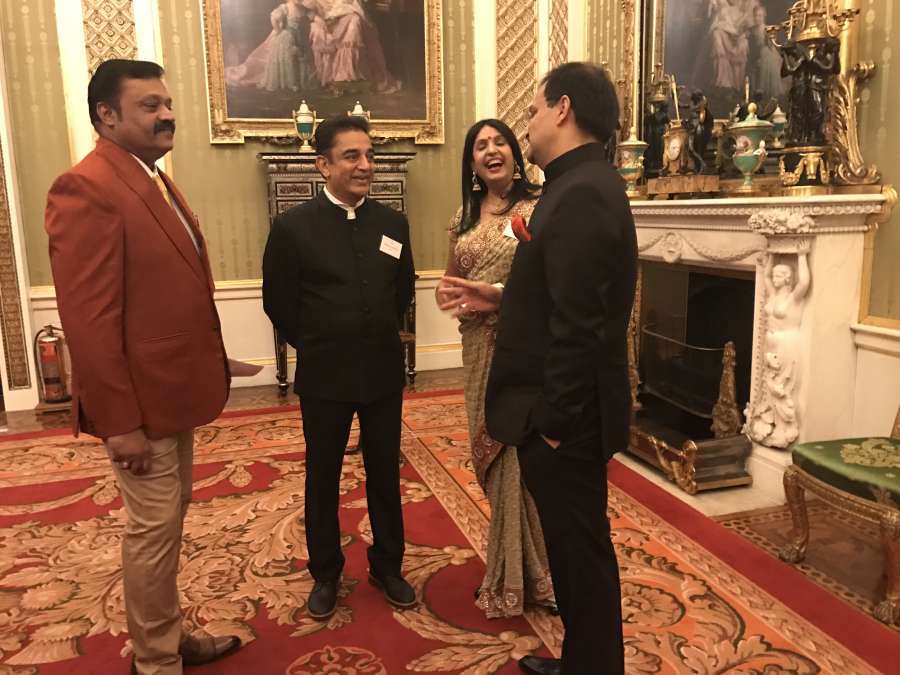 Kamal Hassan, Suresh Gopi, Kapil Dev, Gurdas Mann, fashion designers Manish Arora and Manish Malhotra, sitar maestro Anoushka Shankar were among the celebrities attended the palace event.
"That my name was recommended by Prime Minister Narendra Modi is a huge honour," said Kamal Hassan. "This is a great occasion to celebrate the shared history of India and the UK. The English language is the best example of that and I often refer to it as a great Indian language that unites us all."
Suresh Gopi said: "As we celebrate this 70th year of Indian independence, we remember the soulful soul of Mahatma Gandhi. I am looking forward to having eye contact with the legendary Queen who is the longest reigning British monarch. We were under this regime and we have lots of good things they initiated in India, which we carry on with pride… but we built over that and are zooming into one of the most developed nations."
The Year of Culture is a year-long celebration of this partnership between India and the UK, and will see a vast programme of cultural exchange and activity taking place in cities across both countries.
This will include programmes celebrating India's heritage and contemporary culture as part of the dynamic India@UK2017festival. The India@UK2017 programme organised by the Indian High Commission and the Ministry of Culture, with a number of partner organisations and institutions, will blend artistic traditions from the UK with a wide spectrum of Indian cultural and literary traditions across multiple venues in the UK.
Simultaneously, UK/India2017 organised by the British Council, with a number of partners and institutions, is developing a programme of cultural activity which will connect and inspire people in both countries, and strengthen and celebrate the UK and India's cultural ties.
2017 is a year of great significance for the world's largest democracy – India, marking 70 years as an independent democratic republic, standing for its core values of inclusiveness, peace, and progress. In the past seven decades, India has travelled through upheaval and transformation with a spirit that has remained indomitable and forward-looking. It has seen the steady formation of a variegated, multifaceted and flavourful cultural matrix created by a formidable past legacy and a new contemporary identity. Continuous exploration of the complexities of ancient cultural traditions have brought India's classical arts into a modern idiom which is acclaimed across continents.