Advertisement

The huge project to repair Manchester's famous Piccadilly Gardens fountain is now complete….reports Asian Lite News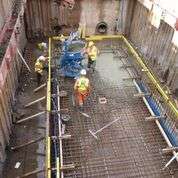 Problems with the water feature's main pump has meant the much-loved attracted has been out of action for some months, but an intensive programme of repair that began in September last year has now finished and the fountain is back online.
The massive operation required the two colossal water tanks to be completely removed and replaced, along with major repairs to the fountain's plant room.
This incredible undertaking required the broken machinery to be lifted out and a significant amount of earth removal works to give access to the water feature's system. (See accompanying pictures to appreciate the scale of the project)
The reinforced concrete tank now has a water capacity of 70,000 litres that will feed 15 pumps to power the 180 jets that create the incredible water show above the surface – throwing water up to 6metres into the air.
Each jet has two sets of LED lights, controlled by an underground system that allows the water above ground to be up lit in any combination of colours, which can also be programmed for different events and celebrations.
The final stage of the works will see the irrigation system repaired before the majority of the grassed are re-turfed, along with cleansing the statues around the Gardens.
Piccadilly Gardens will be completely open to the public by the late spring 2017.
Cllr Pat Karney, Manchester City Council's city centre spokesperson, said: "It would be easy to underestimate the massive scale of the repair project. We've had to dig more than 10 meters below the surface to remove the huge machinery hidden under the Gardens.
"It's hugely exciting to see fountain flow again, and it will be complete reopen in time for the spring and summer months.
"We appreciate your patience while the work has been complete, but I know you will think it's been worth the wait. The fountain is a huge draw in the city centre and it fantastic to have it back."