Advertisement

Amit Tandon, The Married Guy and one of the most popular stand-up comedians in Asia, has unveiled his first UK tour which contains seven shows in cities across the UK….reports Rich Grover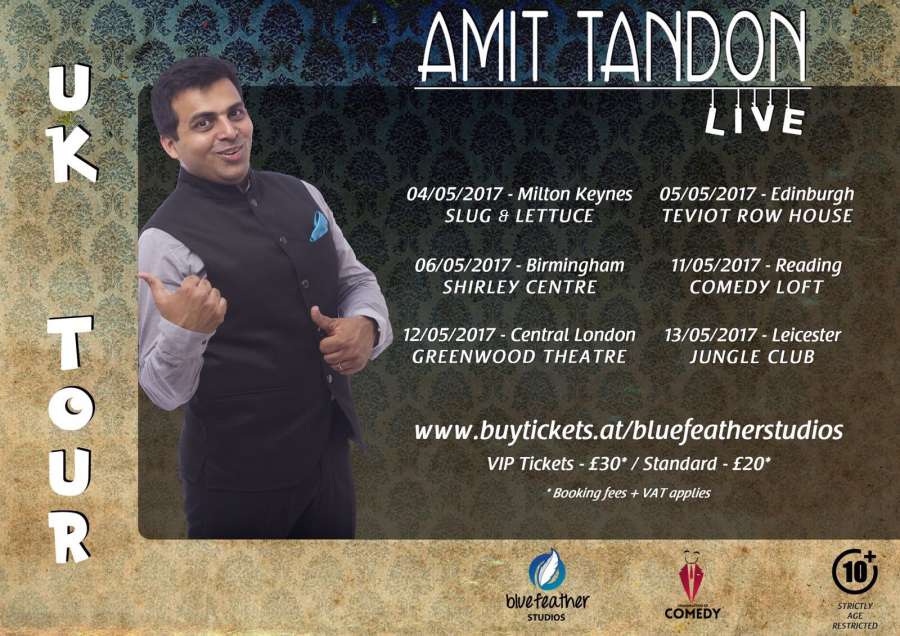 After a few sold out and successful Indian comedy nights in the UK, Bluefeather studios has now partnered with Grandmasters of Comedy and Free spirit entertainment to bring India's very own Amit Tandon on his first ever UK Tour from 4th May to 14th May 2017. This will be Amit Tandon's first ever UK tour and he will perform at 7 shows in cities across the UK.
"We are thrilled to be able to bring Amit to London for his first ever tour. It is going to be 90 minutes of non-stop fun," said Sandhya Anantharaman of BluefeatherStudios.
Amit kicks off his tour with Milton Keynes, on 4th May and then has a series of shows across Edinburgh, Birmingham, Watford, Reading, Central London and Leicester.
Tickets for the show have opened with a bang and are expected to sell out across venues with central London already sold out and conjectures of a second London show being announced! The shows are being held at great venues from the Treviot House Debating Hall in Edinburgh to the Greenwood Theatre and Comedy Club in London.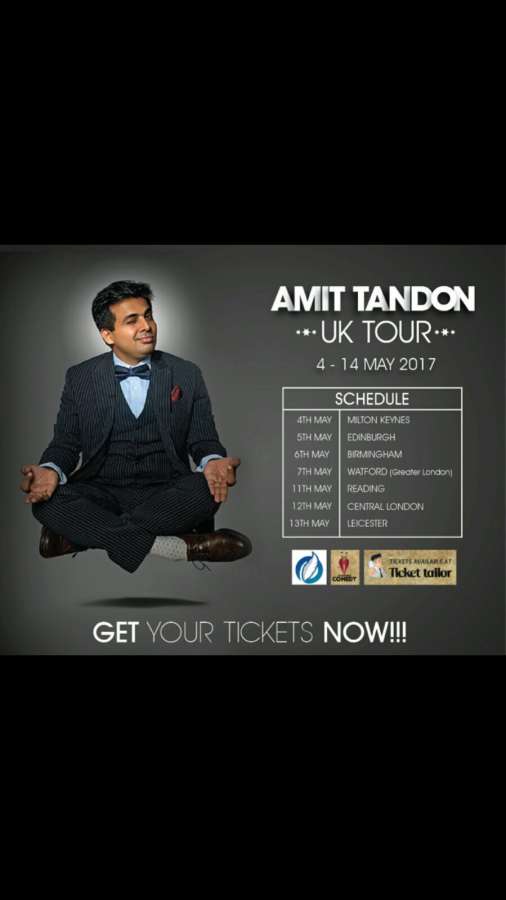 'I have constantly been requested by the people of UK to perform here. I am truly excited and overwhelmed by the support we are getting already.' said Amit Tandon.
With a massive Indian and South Asian community all over UK and Amit's popularity these shows are not to be missed by anyone who is looking for 'clean comedy'.
With more than 1000 shows across three continents and 10 countries, Amit is one of the best known observational comics in India. He is known as 'The Married Guy' in the stand-up comedy circuit. After two kids and one marriage, he realized it couldn't get any worse and took to comedy.
In the last three years he has toured multiple solo shows across India and has co-produced a number of shows. He was also responsible for bringing a popular comedy face-off show of Singapore, Fight Comic to India. He also hosts a weekly show on Radio City 91.1, a leading Radio Channel in India.
He is also the first comedian featured on NDTV, Rising stars of Comedy. Amit hosted the new year show on Doordarshan, India's National TV Broadcaster also led the spread the cheer campaign for Comedy Central in Delhi.
Tickets can be bought online at www.buytickets.at/bluefeatherstudios