Advertisement

Hours of cultural extravaganza, food court area with appetising Indian street food cuisine, stalls for entertaining children and women, dance workshops and other informative sessions have all formed part of the crown of festivals, Diwali on Trafalgar Square….A Special Report by Ragasudha Vinjamuri for Asian Lite News


Running into its 16th year, the spectacular Diwali celebrations on Trafalgar Square  saw an estimated 35,000 people throng the area enjoying live entertainment, delectable food and other activities. A perfect day and weather for family entertainment, the stage was packed with performances by professional and community organisations. For the first time, there was a Comedy stage hosted by Aditi Mittal which presented the best of UK and Indian comedy.
Mayor of London Sadiq Khan, Deputy Mayor of London for Business Rajesh Agrawal, High Commissioner of India YK Sinha, Chair of Diwali Committee 2017 Ravi Bhanot, DiL Committee members, members from Armed Forces and other distinguished personalities have all reiitrated the importance of the Festival of Lights celebrated by different communities in the United Kingdom and across the world, and applauded the Trafalgar congregation in particular. In a unified voice, they all gave a powerful message for solidarity, integration and celebration.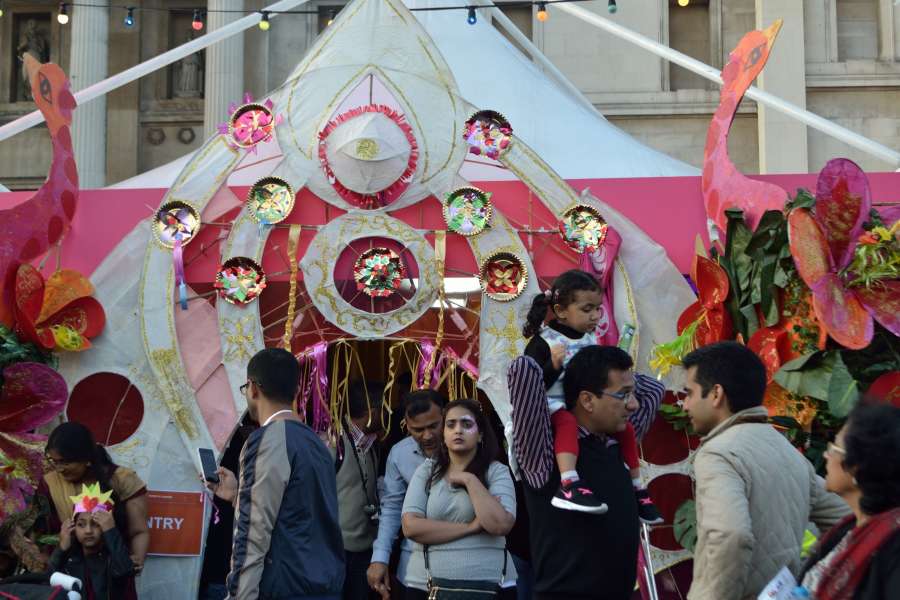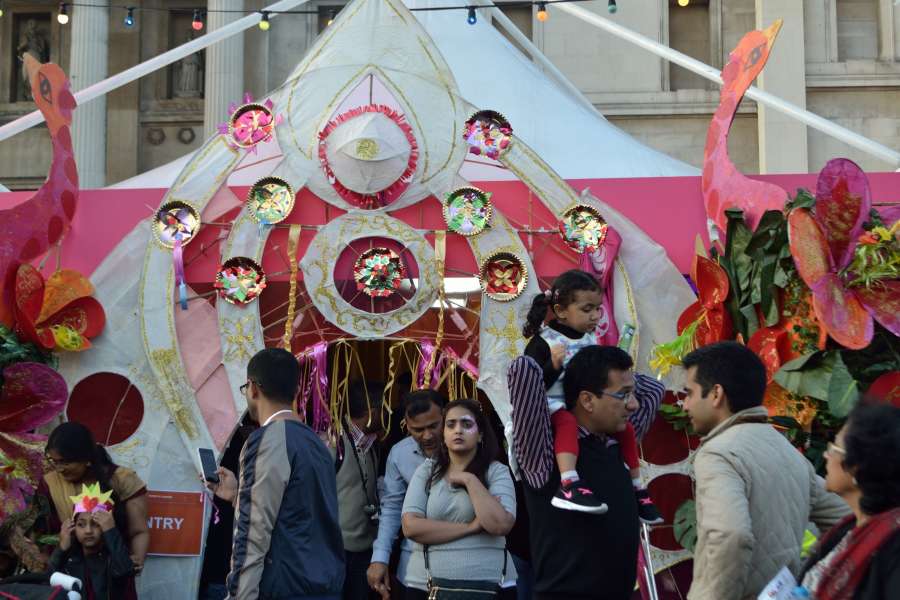 The program included procession of hand-painted silk scrolls, part of Silk River Project that demonstrates the shared history between Bengal's Kolkatta and London through textile art, through an artistic exchange between communities along Thames Estuary and River Hooghly.
Bollywood performances, folk dance presentation, meditation, songs and other live entertainment have had captive audiences that descended on the iconic site. Saree zone, Children's Zone, Yoga and Meditation Zone intended to reduce stress and increase health and happiness, Diwali zone explaining the significance of the festival and bhajans, and how to draw Rangolis have attracted scores of visitors. Dance workshops got many enthusiasts trying some classical, fusion and Bollywood moves.
The selected acts were presented on the stage by participants and professional and community groups including Priyanka Shah, Nishi Dance Shakti, Twinkle, Sanskruti Centre for Cultural Excellence, Back to Back Dance n Beats, Inspiring Women, Senjuti's Rhythm n Beats, Manohar Das. Imperial Bhangra Team, Absolute Bollywood, Dia, BollyRed, Jiya, London School of  Bollywood, Aradhana Group,  besides Bhajan by DiL and Yoga Moment by Brahma Kumaris. BBC Asian Network presented Panjabi Hit, Parle n Prittee, Rika and RaOol.
The evening also saw the London Eye changing to Indian Tricolour, the lights being switched by significant personalities. Hosted on Tattershall Castle Ship, a brief and distinct taste of Indian art and culture was also presented through Lambadi dance and Peacock dance by Sanskruti Centre for Cultural Excellence.