Advertisement

The UAE embassy in the UK organised a reception in honour of a Federal National Council (FNC) delegation, headed by Dr. Amal Abdullah Al Qubaisi, Speaker of the FNC, with the attendance of a number of ambassadors from Gulf and Arab countries….reports Asian Lite News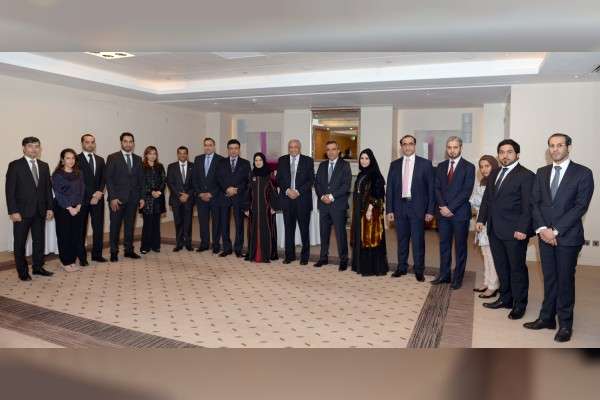 During the meeting, Dr. Al Qubaisi began her official multi-day visit to Britain, where she will meet with a number of high British officials and parliament members.
The meeting was attended by the FNC delegation that accompanied Dr. Al Qubaisi, including Abdulaziz Abdullah Al Zaabi, Second Deputy for the Speaker of the Council; Dr. Mohammed Abdullah Al Mehrezi; Dr. Saeed Abdullah Al Mutawa; Aza Sulaiman bin Sulaiman; Saeed Saleh Al Rumaithi and Hamad bin Ghalita Al Ghafli.
The meeting was also attended by Suleiman Hamed Salem Al Mazrouei, the UAE's Ambassador to the UK, and Khaled Al-Duwaisan, Dean of the Diplomatic Corps, the Ambassador of Kuwait to the UK.
During the meeting, several topics of interest to Gulf and Arab countries were highlighted, including events and developments in some Arab countries, the issue of refugees, sustainable development, the role of parliaments in defending Arab and international rights, the importance of parliamentary diplomacy in supporting official politics, caring for youth and protecting them from destructive thoughts, and fighting terrorism.
At the beginning of the meeting Dr. Al Qubaisi delivered to the ambassadors the regards of the UAE's leadership and people, and the FNC's members. She stated the meeting's importance in discussing a number of topics that are relevant to all countries, communities, the region and the world, highlighting the importance of communication between Arab and European countries and between their people, through strengthening cultural and heritage co-operation.
She expressed her appreciation to Suleiman Al Mazrouei, the UAE's ambassador in the UK, and to the members of the embassy for their efforts in organising the delegation's eventful schedule, as well as this meeting. She also expressed her appreciation to Khaled Al-Duwaisan, for his efforts in initiating ties between Arab countries and the UK, and for adopting Arab causes.
She mentioned that the tour, which includes Ireland, Britain and Germany, comes as part of the council's opening of parliamentary diplomacy, to keep up with the country's direction.
She also stressed that the visit will contribute in strengthening bilateral ties between the UAE and the UK.
The delegation valued the role of the UAE's wise leadership, which is respected and appreciated by all the world's countries, and the exceptionalism of UAE parliamentary diplomacy and its effective activities on different levels.