Advertisement

Asian Lite, UK's leading newspaper for the British Asian, honours one of the most prominent British Indian doctors at British Parliament….reports Asian Lite News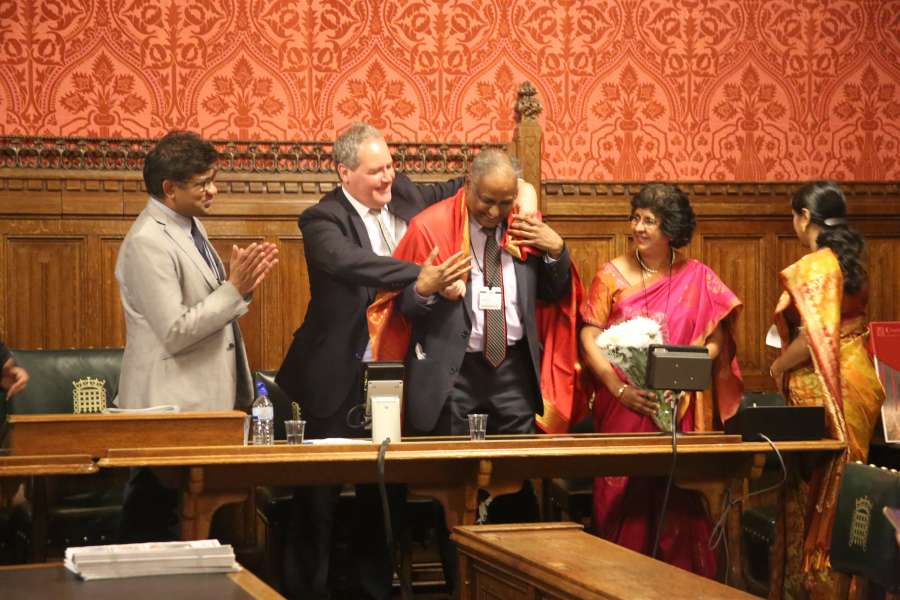 Dr Prasad Rao, hailing from Tenali, Guntur district of Andhra Pradesh, who served British National Health Service for over four decades, was honoured with Ugadi Puraskar at a ceremony held at Parliament. Dr  Rao, who was worked at his surgery till March 23, said the honour is a tribute to thousands of Indian doctors working at NHS. Mr Rao completed his medical degree at Visakhapatnam Medical College.
Dr Rao, of Trentham, has worked as a GP for 40 years and ran Belgrave Medical Centre in Dresden for 25 years. He was chairman of the Stoke-on-Trent Clinical Commissioning Group (CCG) for three years before leaving in January 2016. And he was also one of the local medical committee's longest serving members, clocking up 25 years.
Ragasudha Vinjamuri paid tribute to Dr Rao. She gave a nut shell of his rise from a single Telugu doctor at Stoke to become the most popular GP in the region.
The event was organised by Telugu NRI Forum in association with Asian Lite, to celebrate Ugadi at the House of Commons. Harrow MP Bob Blackman was the chief guest. Dr Sekhar Vemuri welcomed the audience. Harrow MP Bob Blackman was the chief guest and Asian Lite editor Anasudhin Azeez conveyed his Ugadi greetings.