Advertisement

Come this November, It's going to be yet another day of celebrating the state Formation Day also known as Rajyotsava for the Kannada Community here in United Kingdom….reports Asian Lite News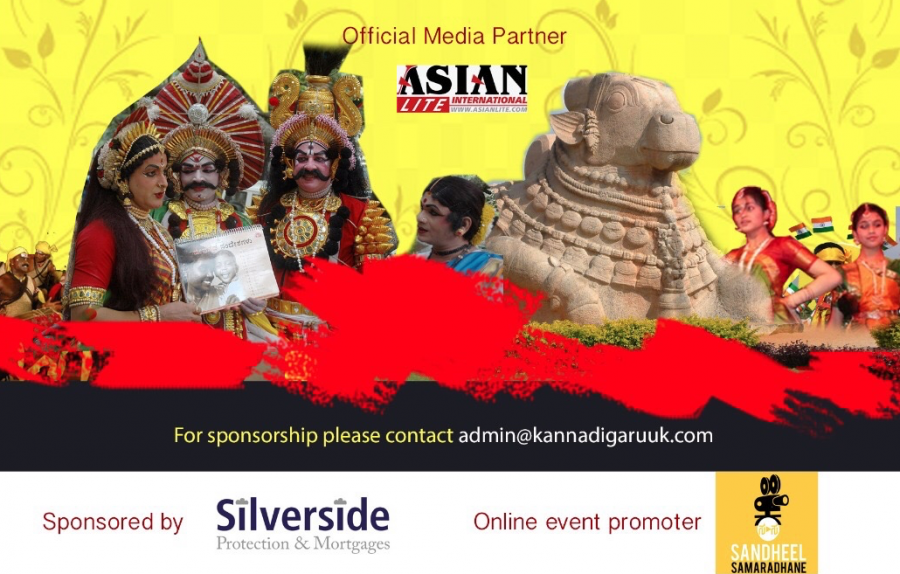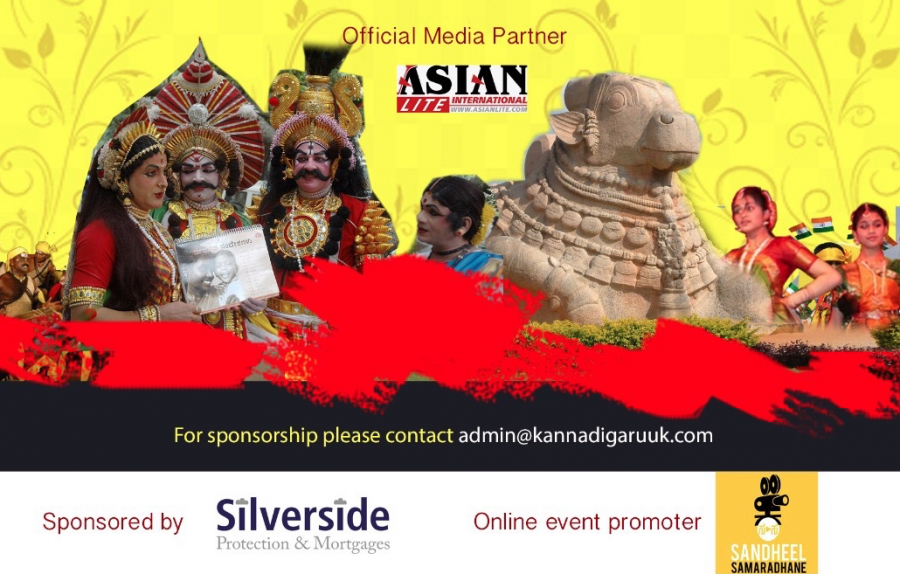 KannadigaruUK (KUK), a community interest organisation is all set to celebrate Kannada Rajyotsava in a big way with a grand event called "Kannada Habba" primarily focused around showcasing rich culture of folk songs, comedy, theatre arts and various cultural performances from local artists.
About KannadigaruUK
KannadigaruUK (KUK) is a Community Interest Organisation with an intention to promote Kannada culture and language in the UK. To achieve this KUK organises social, cultural, educational, and recreational and other welfare activities, and also holds celebrations in which Kannada speaking people are interested. KUK also aims to bridge cultural relationship among Kannada speaking people all over the United Kingdom and wider Europe. KannadigaruUK has been in operation since 2005 and legalised its existence in 2008.
Across UK there are thousands of Kannadigas (first, second and subsequent generations) working in the areas of Medicine, research and IT and integrated tightly into the local community and culture.  KUK mission is to promote, foster and keep alive the Kannada culture, heritage and language within these communities of Kannada origin. In this direction KUK has been organising cultural events such as Rajyotsava every November, Ugaadi Festival, 10th Year Anniversary -Dashamanotsava, World Kannada Conference – Vishwa Kannada Samelanaeetc in and around the London city.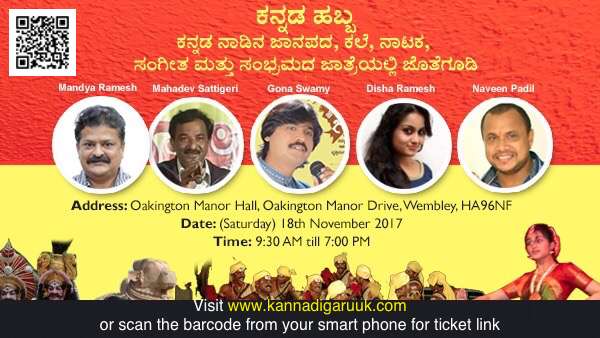 Over the last few years, KUK is successfully conducting Kannada Language classes for the children with the help of volunteer teachers in more than 5 locations within UK. The objective of this programme is to teach Kannada for the budding children and help embrace the Indian language even though they are thousands of miles away from Karnataka. KUK is also involved in many other activities such as showcasing Kannada movies, sports day etc with the sole intention of bringing Kannadigas under one roof for creating a stronger network and bonding.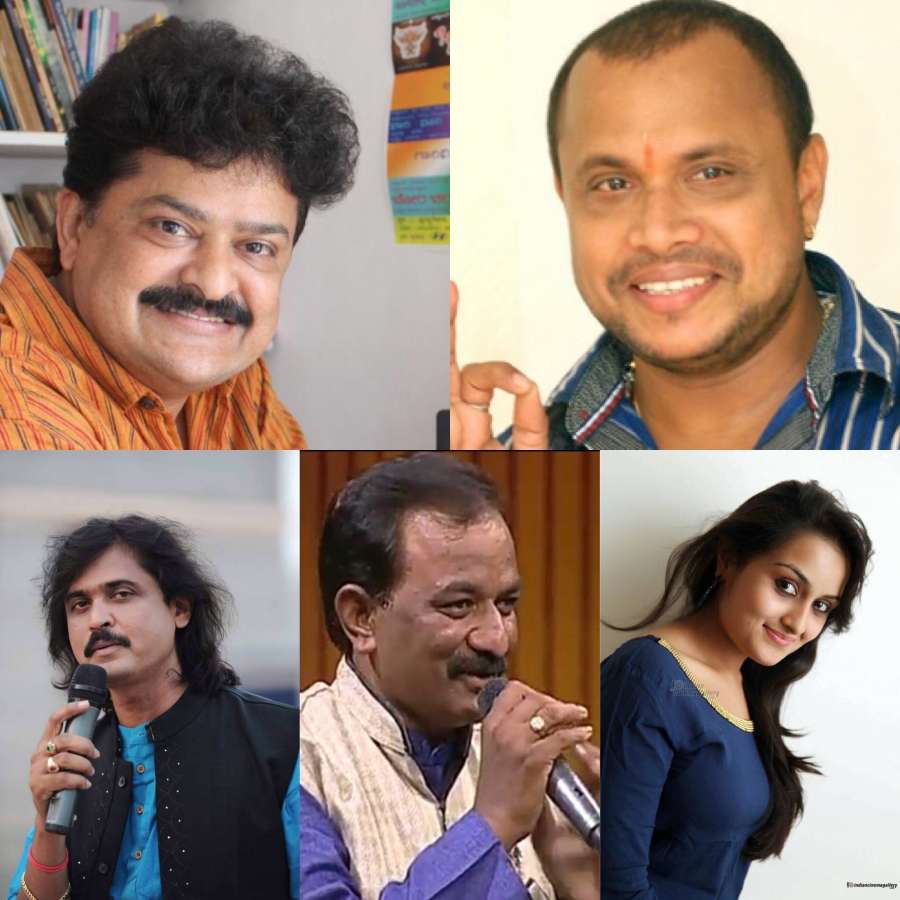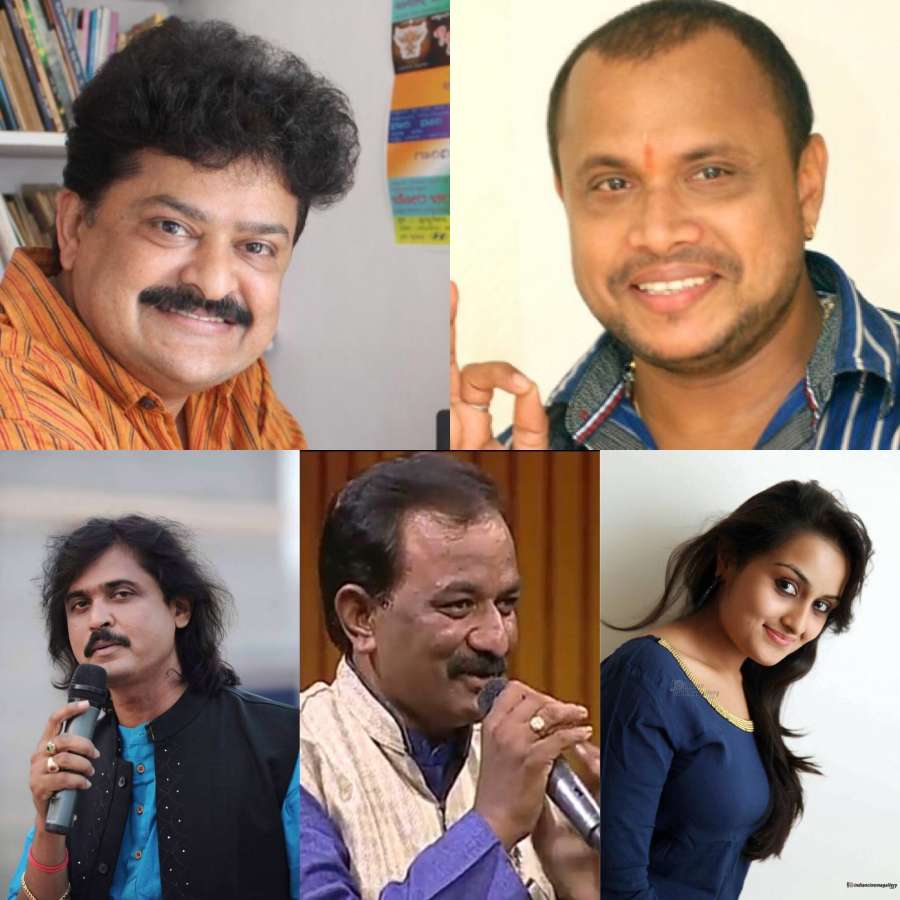 About Kannada Habba 2017
KUK is proud to have hosted Kannada Rajyotsava for the last 13 years. The last year KUK had invited Kannada actor, director and TV anchor Ramesh Aravind and India's famous female ventriloquist Indushree to entertain Kannadigas in the UK.  Nearly 700 people from all corners of the UK braved the freezing winter to enjoy the performance by these artistes and experience other cultural programmes.
This year the event is called Kannada Habbawith number of artists representing all regions of Karnataka. Senior actor, theatre artist ShriMandya Ramesh and his daughter Disha Ramesh from Mysore, famous folk singer ShriGonaSwamy from Bengaluru,ShriMahadevSattigeri basically from Belgaum district and ShriNaveen Padil from Mangalore! Its going to be wonderful gathering of talents from various part of the state coupled with local UK based artists performances.
In addition to the overseas Karnataka artists and local talents, there are many dignitaries flying from the state of Karnataka as well as local UK based renown personalities are set to attend the Kannada Habba to be held in Wembley on 18th November 2017.