Advertisement

'Yugpurush – the Play' by Shrimad Rajchandra Mission Dharampur UK Manchester (SRMD UK), was recently launched at the Village Hotel in Cheadle, Stockport, announcing its first International Tour beginning in the UK from April 27th to 11th May 2017….reports Asian Lite News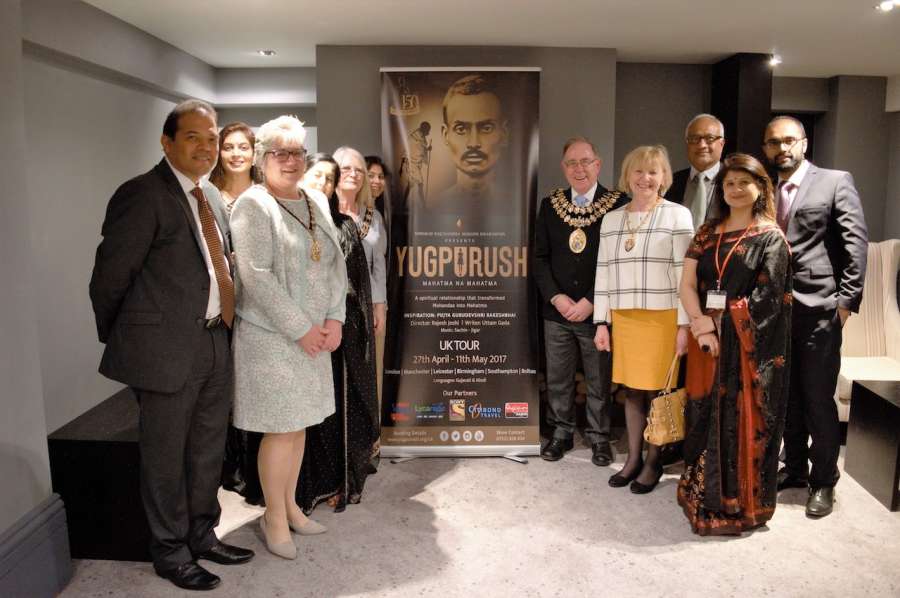 The UK tour comprises over 15 shows, planned in cities including Manchester, Bolton, Leicester, London and Sout'hampton. A UK premier of the play will commence the tour in Manchester, on 27th April.
Yugpurush is the untold story of two philosophical titans of Indian history, Mohandas Karamchand Gandhiji and his spiritual mentor Shrimad Rajchandraji. It portrays their heart-touching relationship that helped transform Mohandas into Mahatma.
The year 2017 marks the 150th birth anniversary of Shrimad Rajchandraji. It is in commemoration of this occasion, and under the able guidance of Pujya Gurudevshri Rakeshbhai, Founder of Shrimad Rajchandra Mission Dharampur and inspiration for the Yugpurush Drama, that SRMD presents 'Yugpurush – Mahatma na Mahatma' to UK audiences.
An audience of over 200 VIP guests from all sectors of the Gujarati and Hindi speaking community around the North of England gathered at the Village Hotel Cheadle, to watch reviews, video clips and hear the latest news about this drama. Since its world premiere in Mumbai on 14th November 2016, it has been staged all over India, with 290 sell out shows in under 120 days in over 80 cities, with another incredible further 200 shows already planned.
Guest speakers Mr S.M. Chakraborty, Consul and Head of Chancery High Commission of India (Birmingham), Councillor Chris Gordon, Lord Mayor of Stockport and  Councillor Judith Lloyd, Lord Mayor of Trafford addressed the audience with anecdotes underlining the importance of the key principles of compassion, non-violence and truth in the modern world.
Mr S.M. Chakraborty commented on the life of Shrimad Rajchandraji and also his special relationship with Mahatma Gandhi, spiritually infulencing Mahatma Gandhi at the time when Gandhiji was in deep despair on the path of non violence, using peace as a weapon of change.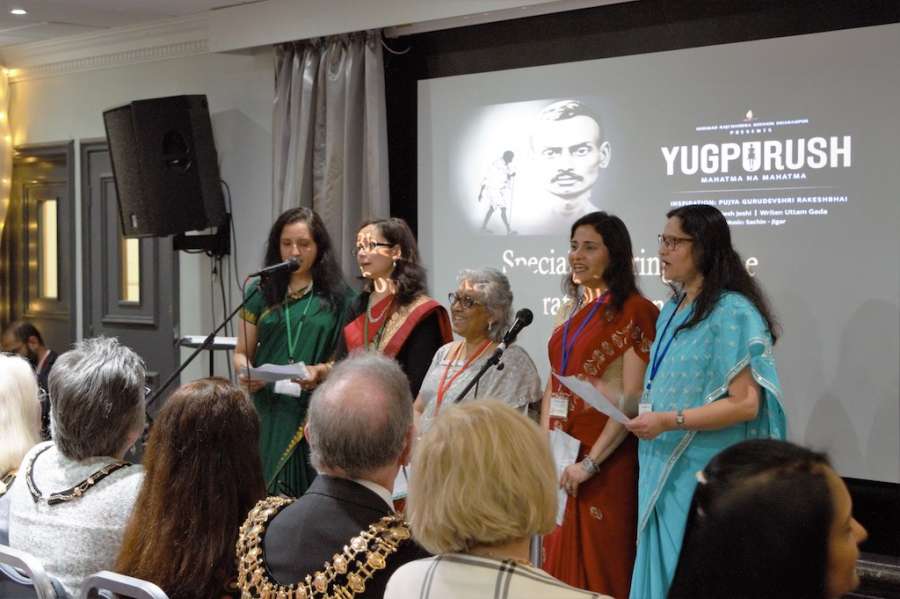 Councillors Chris Gordon and Judith Lloyd, Lord Mayors of Stockport and Trafford respectively mentioned that they were keen admirers of Mahatma Gandhi and were intrigued to find out more about his spiritual mentor, Shrimad Rajchandraji. They also emphasised on the importance of maintaining ones own culture and that every member of the community should watch the play.
Approximately 50 organisations were represented at the launch, spread across the Indian diaspora in the UK, including Jain Samaj Manchester, Brahma Kumaris, Art of Living, National Council of Hindu Temples UK, Northwest Hindu Council, Gujarat Hindu Society Preston, Shree Ram Mandir, Shree Bharatiya Mandal Ashton and the Indian Association of Manchester and Oldham. Opportunities to sponsor the UK tour and specific shows were announced with many partnerships immediately taken up.
'Yugpurush – The Play' is also being recognised for critical acclaim by the arts and drama Industry having recently received four nominations in the 16th annual Transmedia Gujarati Screen and Stage Awards 2016 including Best Play and Best Director!
Yugpurush highlights the values of expanding one's capacity to love and give selflessly, respecting diversity, supporting truth, fostering trust, and building lasting communities. It brings to the forefront a powerful experience of looking within, upholding truth and fearlessness, as well as transforming character and consciousness. It revives an inspiring spiritual legacy and the cultural ethos of India, that lies mostly forgotten, today. The legacies of Shrimadji and Gandhiji continue to offer new paradigms to global peace and human progress.
Prime Minister Narendra Modi of India on the occasion of India's 70th Independence Day said, "The country is celebrating the 150th birth anniversary of Shrimad Rajchandraji, Mahatma Gandhiji's Guru. In one of His letters to Gandhiji, Shrimadji writes … the principle of non-violence has existed ever since the existence of violence. What is important is which one do we utilise for the welfare of mankind." A question that underlines the relevance of this profound relationship in today's turbulent world.
The great-grandson of Mahatma Gandhi, Shri Tushar Gandhi, shared his thoughts after watching the world premiere of 'Yugpurush in Mumbai. He said, "What is important for me is the humility and the selflessness that Shrimadji instilled in Bapu, because of which an ordinary man could rise to become a Mahatma. I hope you take this play all over the world, but especially to those places that need it the most – where the message of ahimsa is absent. These two greats have sown in us the seeds of becoming better human beings. It's now upon us to irrigate it with our own experiences, and with the humility of the belief that we are nothing but instruments."
The Play will also support the cause of Shrimad Rajchandra Hospital – a new 200-bed multi-specialty charity hospital for the economically underprivileged in one of the poorest rural area's of Southern Gujarat. SRMD's aim behind the year-long celebration of Shrimad Rajchandraji's 150th birth anniversary is to spread Shrimad Rajchandraji's values of non-violence and truth that shaped Gandhiji's beliefs, and to bring His spiritually uplifting teachings to the maximum number of people from all walks of life.