Advertisement

After signing big names like Beijing Olympians Vijender Singh, Akhil Kumar and Jitender Kumar, IOS Boxing Promotions announced the signing of 13 more pugilists….reports Asian Lite News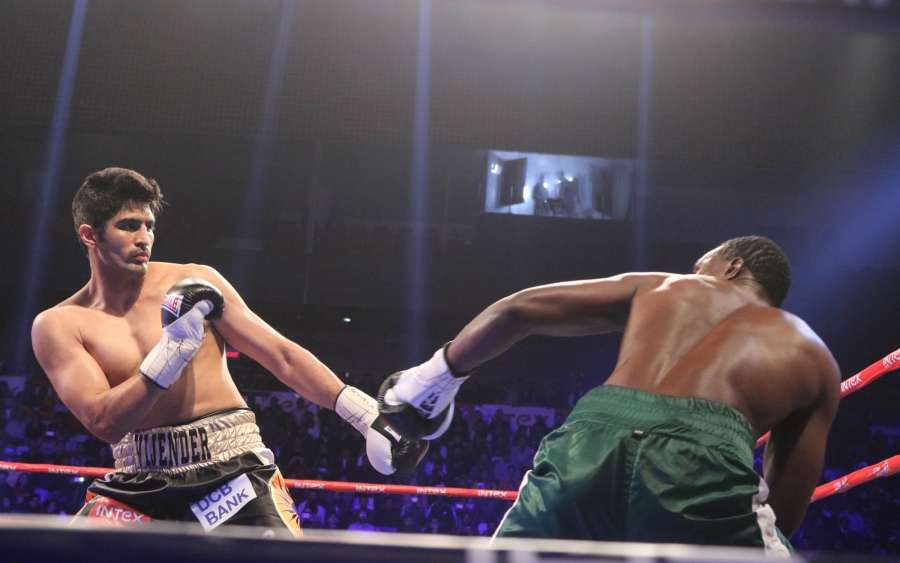 Among them are Olympian Diwakar Prasad, Commonwealth Games medallist Amandeep Singh and WBC Asia welterweight champion Neeraj Goyat and MMA champion fighter Pawan Mann here.
With this addition, IOS pool has now risen to a total of 16 boxers who will start their training under the guidance of foreign trainers at the IOS boxing training facility being set up in Gurugram.
The 32-year-old Diwakar Prasad, who will make his debut in pro-boxing with IOS this year, has previously qualified to compete in the bantamweight category at the 2004 Olympics in Athens, Greece.
Diwakar has earned accolades for India in many international events, including the Commonwealth Boxing Championship 2003 (Bronze), Asian Olympic Qualifiers 2003 (Bronze), Asian Games Qualifiers 2004 (Silver), SAFF Games 2004 (Bronze) and Grand Prix Boxing 2006 (Silver).
On turning pro, the Jharkhand-based Diwakar said: "I believe this is a great step in my boxing career, I love boxing and what better way to live my dreams than to turn towards professional."
"I am sure I will be able to make India proud at the international level. With a lot of senior boxers turning professional, I think this will attract lot of other boxers to turn pro. I am looking forward to this new beginning with IOS."
Amandeep, 29, who turned professional last year, has won both his bouts so far. He has had a great amateur career, grabbing a bronze in the Commonwealth Games 2010.
"I am really excited on joining IOS since they have delivered excellence in the field of professional boxing. After successful debut of Vijender Singh, I feel this is the right decision to join IOS Boxing Promotions and prove my talent in the circuit of professional boxing," he said after the signing.
The 26-year-old Neeraj from Haryana made his professional debut in 2011 against Gou Wen Dong in China. He has fought 12 bouts with an experience of 71 rounds under his belt and claimed eight wins, with two knockouts.
Currently placed 35th in the World Boxing Council (WBC) list, he had won the bronze medal in the International Boxing Association (AIBA) Olympic qualifier.
"It is a great step for my professional career, IOS boxing promotions is dedicated to promoting boxing in the country. I am doing pro boxing from last six years but I feel that IOS is the only company which has successfully created a buzz of pro boxing in the country. I feel they will help me reach greater heights in pro-boxing," he said after being signed by IOS, headed by Neerav Tomar.
The 29-year old Pawan is an unbeaten Mixed Martial Arts (MMA) fighter, and has fought five professional fights in the Super Fight League (SFL) under the welterweight and lightweight categories and has been named the champion in both.
"This is a great platform for me, turning a pro boxer from MMA fighter. I am really excited to start my pro training soon. I know pro boxing is really a big challenge, but I am ready for it and looking forward for my debut," he said.
Commenting on the latest signings, Tomar said: "We are fully committed to promote pro boxing in our country and signing of these new boxers is a step forward towards it. With an aim to train our boxers in our country, we are setting up a World class training facility with international trainers in Gurugram."
"With the kind of interest, we have seen in these amateur boxers who turned professional with IOS, we feel that pro boxing is growing in the country at a fast rate. I am confident that in the coming days more and more boxers will come forward and join pro boxing."