Advertisement

Ending a nine-year wait for Indian boxing fans, the famed Olympian trio of Akhil Kumar, Jitender Kumar and Vijender Singh will be seen hitting the same ring in their respective professional bouts on April 1 in Mumbai….writes Tridib Baparnash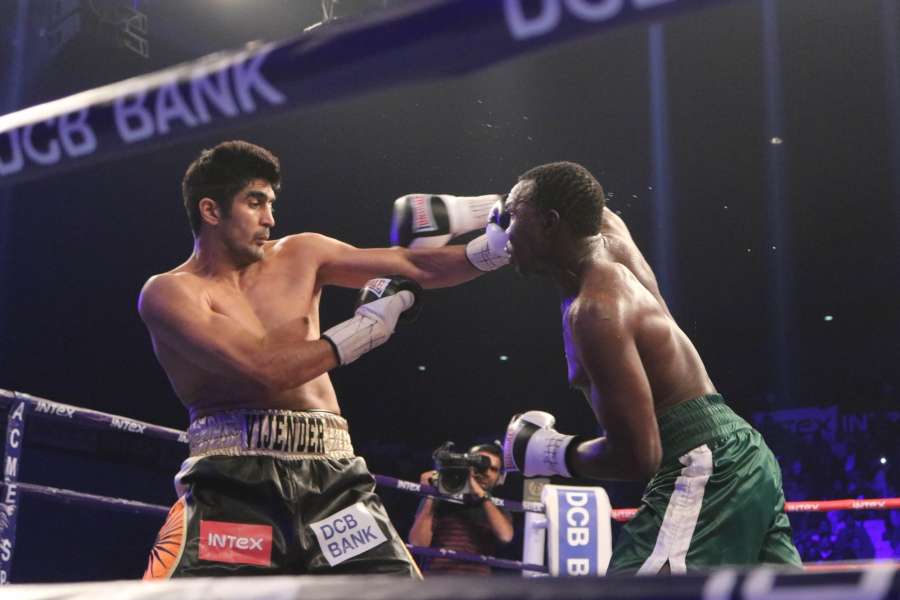 Akhil, a gold-medallist at the 2006 Melbourne Commonwealth Games and Asian Championship bronze medallist Jitender confirmed a multi-year deal with IOS Boxing, the company which has been managing Vijender's pro-boxing career.
The 35-year-old Akhil, one of India's medal contenders at the 2008 Beijing Olympics, said despite being on the later side of the 30's, its all about the "willpower" and he is confident of a successful debut in his new innings.
"If you see most of the amateur boxers who have turned professional have been highly successful. This does not mean that you are done with your game once you retire from your amateur career," Akhil told IANS here.
"Age, body or injuries are factors but what I feel is the willpower which is most important for any sportsperson.
"Pro boxing has provided a great opportunity be it financially or otherwise, to those boxers whose amateur career could not take wings or have very less hopes in the amateur circuit," he added.
On being asked the reason behind his decision to switch to professional boxing, Akhil said: "I was in constant touch with IOS and was to make my debut two years back but on November 30, 2015, I suffered a ligament tear in my right knee while playing football."
"The injury delayed my debut but I am delighted that IOS had retained faith on me."
"Boxing has given us the due recognition and we (he and Jitender) are glad to turn professionals. Yes, it's a fact of life in modern day that you cannot survive without money and if you can get cuts, bleed and in return get some fame and money, what's wrong in turning pro then?"
Akhil, however did not have a word with Vijender, who have remained unbeaten in his seven professional bouts but said he has enough experience to handle things on his own in the professional circuit.
"I haven't spoken to Vijender about turning Pro, but I have enough experience in the amateur circuit and that gives me the confidence to do well in the new innings," he said.
Jitender, on the other hand, said he made up his mind to turn professional way back in 2008 after bowing out of the Beijing Olympics at the quarter-finals stage following his loss to Georgy Balakshin of Russia.
"At that time pro boxing was rarely thought or heard about in India though we had two three boxers in the circuit. After the Olympics, I made up my mind but somehow things did not work out.
"Very often I had a word or two with Akhil about turning professional, and in between I was also busy with my job in the Haryana Police. Years passed by and I kept on my training and suddenly one fine day got a call from IOS and I am glad that that the dream has now turned true," said Jitender, who is currently posted in Chandigarh.
"Returning to the ring as a professional boxer is something very encouraging and motivating not just for me as a boxer but also all the youngsters around India who want to turn towards boxing," the 28-year-old added.
Both Akhil and Jitender also revealed that they were in talks with the promoters and were even scheduled to make their profesional boxing debut when Vijender beat Francis Cheka in December last year.
However, the duo, who are serving as Deputy Superintendent of Police with the Haryana Government got the permission to turn professional only recently.
Both boxers will be trained at an academy being developed by IOS in Gurgaon and a trainer from Manchester would be joining them by the end of this month.
The fight night on April 1 will see Vijender, a WBO Asia Pacific Super Middlweight champion, take on WBO Oriental champion and Chinese No.1 Zulpikar Maimaitiali while Akhil and Jitender's opponents will be finalised by the last week of March.