Advertisement

Germany's best-form football club at the moment is not any of the usual suspects like Bayern Munich or Borussia Dortmund, but rather Borussia Monchengladbach. After five wins in the six games since the Bundesliga restarted after the winter break, they sit atop the table for the second half of the season….reports Asian Lite News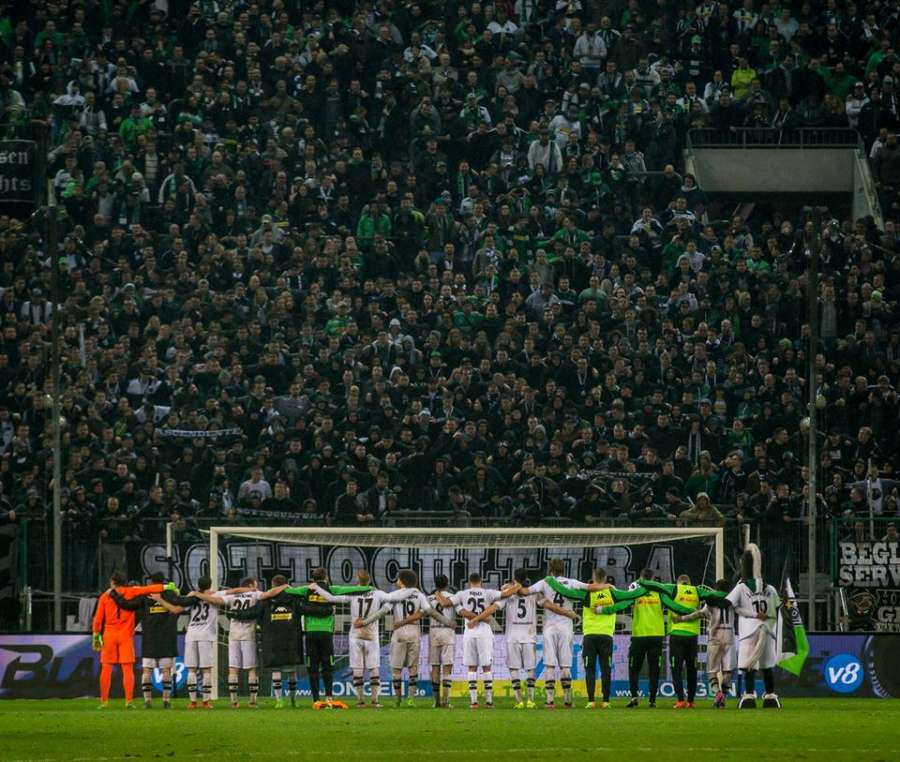 After a comfortable 4-2 win against FC Schalke 04, coach Dieter Hecking's side is momentarily best in the league, at 15 points ahead of Bayern (14) and Dortmund (13). Things were completely different in the first half of the season, when they finished a lowly 14th. The club reacted by sacking head coach Andre Schubert and replacing him with the 52-year old former policemen Hecking, who immediately turned things around, reports Xinhua news agency.
Under Schubert, Monchengladbach struggled to find consistency and lost its way. Although brilliant at times in attack, the team has serious holes in its defence. Monchengladbach were like Bayer Leverkusen (who sacked coach Roger Schmidt this weekend) and FC Schalke 04 in not being able to find a healthy balance in their game between a desire to attack and the necessity to keep opponents at bay.
Hecking came in and promptly dug his team out of a hole. Like Bayern Munich's coach Carlo Ancelotti, Hecking is not interested in getting artistic performances out of his team. He and his colleague are more pragmatic, following the motto, "result beats performance".
The former Wolfsburg coach emphasised the need to keep nine to ten key figures on the pitch and stopping Schubert's rotation system. Monchengladbach are now not only wining games but playing successful football too. It seems Hecking is the right man at the right time for his new club.
Not everybody was convinced Hecking would be as successful as he currently is. After winning the 2015 German Cup with VfL Wolfsburg, his team finished the league runner-up in the same year and he was duly voted Coach of the Year. Twelve months later, he found himself trouble after Wolfsburg struggled on the pitch as its owner Volkswagen endured a corporate crisis related to the emissions cheating scandal. Hecking was sacked in autumn 2016 and was expected to take a break.
"Our defensive stability is the key to success," said Monchengladbach's general manager Max Eberl. Hecking's quick success has surprised many, including the coach himself. "If somebody had told me four weeks ago that we'd win five of our next six games, there's no way I'd have believed him," Hecking said. Having scored 14 goals in seven games under Hecking, Monchengladbach has regained its confidence and have had their best second-half start of the past 44 years.
Hecking has returned to a four-man defense and in midfield and the tactics have worked spectacularly well. Monchengladbach's new coach can count on a team full of willing players such as seven-goal midfielder/striker Lars Stindl and 2014 World Cup winner Christoph Kramer who drives his team forward in midfield.
"Lars is the leader of the team on and off the pitch," Hecking said. He says his entire squad is willing to take responsibility and that it is committing itself to the new tactics. Sometimes, as Hecking says, he does not feel like a coach that has to command, but more like a supervisor providing general direction while "the team does the rest".
Two different styles are battling for supremacy in world football – the possession game and fast counter-attacking game. Hecking seems to have found the golden key to combine both. Monchengladbach have also turned matches around completely like the one in Leverkusen (coming back from 0-2 behind to win 3-2) or in the Europa League (4-2 win against AC Fiorentina after being 1-2 down). Within a short space of time, the team can develop power and speed to break their opponents down without leaving any holes at the back.
In the five games they have won since the winter break, Monchengladbach have had less than 50 percent of possession except when they lost 1-2 at home against RB Leipzig (59 percent).
"We want to ride the wave," Hecking said after his team has reached the semi-final of the German Cup and is due to face Schalke in the last 16 of the Europa League. They are also back in the race to reach an international competition.