Advertisement

German football champions Bayern Munich face a serious discussion about the quality of their squad after their 1-2 defeat against Real Madrid in the first leg of their Champions League quarter-final….reports Asian Lite News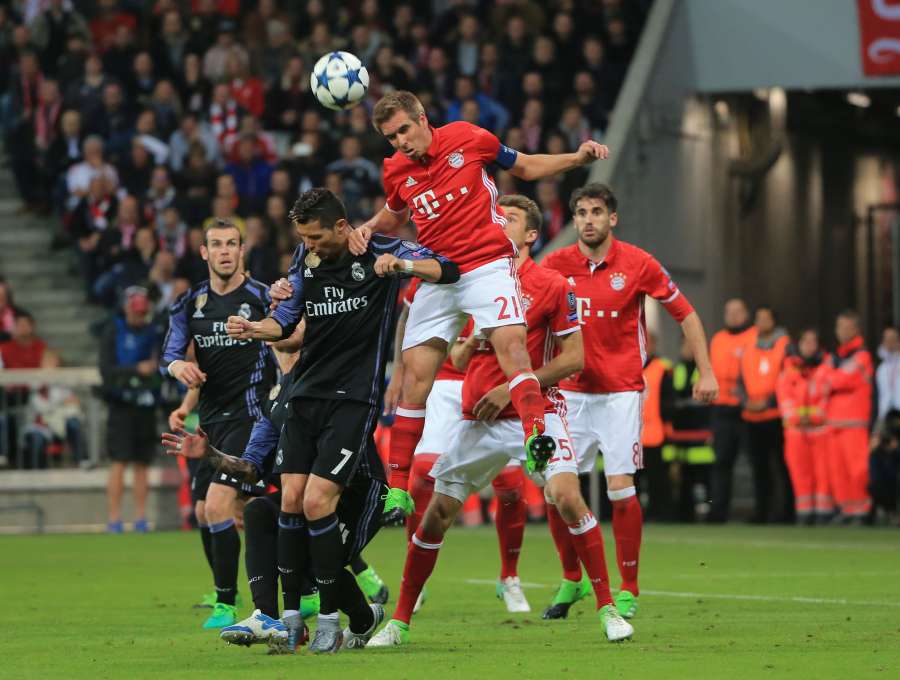 In the clash with the reigning champions, it was obvious that Bayern could not afford to replace key players like Robert Lewandowski who was sidelined with a shoulder injury. And the failure to have strengthened the squad could now turn out to be a mistake as Bayern may well be eliminated after the second leg in the Spanish capital, reports Xinhua news agency.
A few weeks ago, Lewandowski praised the German side for not adding more top quality players. The Pole assumed that 18 to 19 players would be ideal as they all were close being included in the starting eleven and would not have to fear being left out.
Last summer and in the winter break, Bayern coach Carlo Ancelotti expressed satisfaction with the size of the squad and decided together with club leaders Karl-Heinz Rummenigge and Uli Hoeness to rely on the current squad.
But against Real's world class side, Lewandowski's replacement Thomas Mueller was unable to match the Pole's performances. Mueller was ineffective despite the team using its usual 4-2-3-1 system. He was unable to keep the ball long enough for his teammates to move forward.
Disappointment could not be greater as the wingers Franck Ribery and Arjen Robben were below their best and substitutes Douglas Costa and Kingsley Coman are still a long way off becoming top class.
Problems are increasing as it is still uncertain if the injured central defender Mats Hummels and Lewandowski will return until next Tuesday. Javi Martinez was additionally sent off after seeing two yellow cards within the space of three minutes. The Spaniard will be banned for the second leg. Should Hummels be unable to return, Ancelotti will be forced to consider further chances such as moving left back David Alaba or youngster Joshua Kimmich into central defense.
Defender Jerome Boateng was far from being in top form against Real after a long injury break undergoing a shoulder operation in winter.
Ancelotti tried to ease the team's worries by saying, "we still have some days to get the missing players ready." The Italian legendary coach, who in 2014 coached Real to the Champions League win, said his side is still alive. Losing to Real was the first defeat for Bayern after 16 consecutive victories in Champions League home games.
After putting Bayern 1-0 up with a header, Arturo Vidal missed a penalty shortly before half time to double Bayern's lead. Captain Philipp Lahm called it game changer when Martinez was sent off. Bayern lost confidence and stability and was lucky as keeper Manuel Neuer was in top form to keep them in with a chance of progressing.
Former Bayern keeper Oliver Kahn blamed the team for the performance, and was especially disappointed by the way Bayern defended. Even with only 10 players, a team of Bayern's quality must do better, but they weren't working in unison which gave Real far too much space when counter attacking. "Bayern never got hold of Madrid's strikers in the second half," Kahn complained.
Despite their disappointment, neither Ancelotti nor his players felt they were out of it. Keeper Neuer is convinced that Bayern can still change things around as "we hold the key in our hands".
Striker Mueller was sure that Bayern does not need "a football miracle, but a top performance". Tuesday's game will be like a final, Mueller said.
While Bayern are on the way to winning the German league title and is in the semi-finals of the German Cup, elimination in the Champions League would be a major disappointment and would influence the future of the head coach Ancelotti.
This season's Champions League is regarded as the last chance for Bayern's golden generation to win a major title. Players such as Lahm, Xabi Alonso, Ribery, Robben are beyond their 30s and the team might need a substantial update next summer.
Should Bayern be eliminated, it would be the fourth consecutive time for the 2013 Champions League winner to be knocked out by Spanish clubs such as Barcelona, Real and Atletico Madrid.