Advertisement

No other Indian cricketer has set so many long-enduring Test records as him, including the highest first-wicket partnership and the fastest 1,000 runs and 100 wickets. Vinoo Mankad is also one of the four who batted at all spots and the only Indian to have a match named after him. But as Virender Sehwag, who came close in 2005 to breaking the partnership record, didn't even know him, it might be the case with many Indians even now….writes Vikas Datta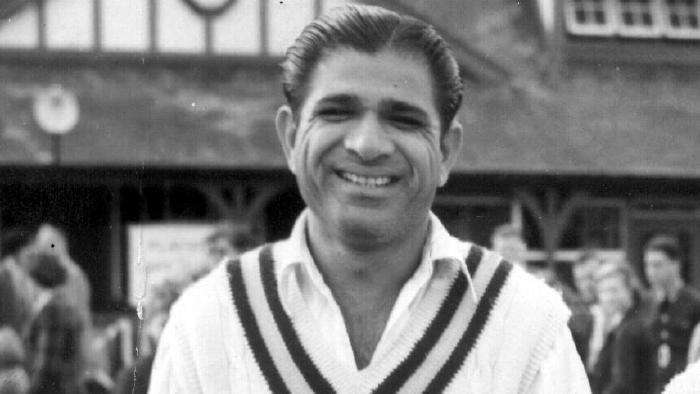 While this is explainable in these days of too-frequent cricket and short attention spans, it is still unfortunate. Mulvantrai Himmatlal 'Vinoo' Mankad, whose 100th birth anniversary is on April 12, was an accomplished all-rounder (right-hand bat/slow left-arm orthodox), instrumental in India's first Test victory (against England in Chennai in 1952 with his bowling: 8-55 and 4-53) and set some prominent records.
But Mankad, born in Jamnagar in 1917, was a little unlucky too. While he first played in 1937 in the unofficial Tests against the visiting England XI (led by Lord Tennyson, the grandson of the famous poet), World War II delayed his official career by nearly a decade.
Playing 44 tests between 1946 and 1959, he scored 2,109 runs, including five centuries, and took 162 wickets while also captaining the side in 1955-56 and 1958-59. His centuries included the first double ton by an Indian (his 231 against New Zealand at Madras in 1956 also was the highest individual national score till Sunil Gavaskar broke it in 1983 — also in Madras) while he was the first Indian to get 100 wickets, and had eight five-wicket hauls in an innings (including two eight wicket hauls).
His 231 was part of a 413 run first-wicket partnership with Pankaj Roy, which remained the world record till 2008 till — rather aptly — a New Zealand opening duo broke it, surpassing it by only 2 runs. His haul of 1,000 runs and 100 wickets in 23 matches stood for a quarter-century before Ian Botham broke it — in only two Tests less.
But mere statistics never tell the full story — and certainly not the colour.
My father, Vijay Datta, (whose own inclination for cricket was cut short at the varsity level by his father who stressed more focus on studies), recalls Mankad was very popular in the 1950s for his stylish but powerful batting (a six on the first ball of an innings at Lords) and bewildering bowling arsenal, being capable of six different kinds of deliveries in one over.
There was one occasion, he remembers hearing about (in those non-TV days), when during a Test match at Lord's in 1952, Mankad kept Sir Len Hutton from scoring for over half an hour. As the crowd booed the batsman, the Yorkshireman challenged them to come in and see if they could fare better.
This was possibly in what has become known as "Mankad's Match" — despite India losing the Test. Cricket writer John Woodcock notes Mankad "scored 72 on the first day at Lord's and then bowled 73 overs in England's first innings, in which he took 5 for 196", then "went in again and made what at the time was India's highest individual score in Test cricket — 184 — in just under five hours".
"By the time England won by eight wickets on the fifth morning, his bowling figures for the match were 97-36-231-5… No one else has ever been on the field for anything like as long in a match at Lord's. Of the 24 hours 35 minutes for which the match lasted, he spent 18 hours 45 minutes in the middle," he added. When England only needed 79 to win, Mankad still didn't give up — half of of his 24 overs to the formidable batting trio of Hutton, Peter May and Denis Compton were maidens.
In his "Legendary Indian Cricketers", famous commentator Ravi Chaturvedi provides an evocative description of both the man and his art. "Hair parted in the middle, shirt buttons open to the midriff, light-skinned, his green eyes enhanced by 'kajal' (eye-liner), he was pleasant to befriend, but very unpleasant with the ball, and when he replaced the ball with the bat he was equally good. He could chip, chop, cut, drive, hook, punch, sweep and smote any ball to any part of the field. However, he got most of his runs through square-cuts and placements to leg," he wrote.
But Mankad had his share of controversy too, lending his name to a form of dismissal. 'Mankading' became the aroused Australian media's term for the bowler running out the non-striker for backing up before the delivery when he resorted to it during a 1947-48 tour of Australia, despite Sir Donald Bradman defending him.
On his death in 1978, the Wisden obituary termed him "one of the greatest all-rounders that India has ever produced". We must also honour his memory.